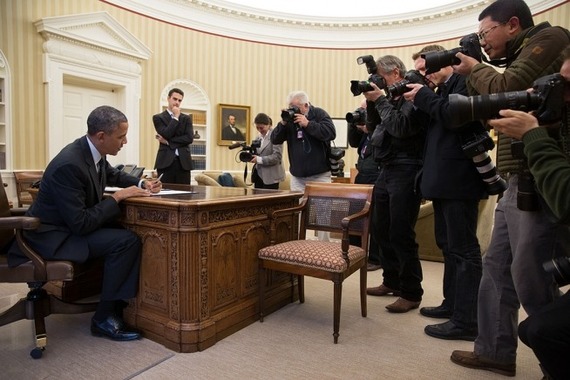 Imagine you're the President, or better yet, head of the President's communications office.  And imagine that day finally comes when the national press corps decides it has had enough of being denied photo access to the President -- even more incensed because, all the while, you've been flooding Twitter, Instagram and Flickr, and the media through handouts, with candid pix of the man's day-to-day like it was the Truman Show. (Not Harry, Carrey.)
Now imagine, you decide to make a gesture. A peace gesture. A goodwill gesture to the Washington visual press corps. And what might that gesture be on this fine Thursday? Might it be access to the President and his family before the girls go off to school like we saw on the Transition website on January 5, 2009? (If you notice the words with that wonderful portrait, by the way, we've been raising the question of press access from the get-go.) Or, perusing yesterday's White House schedule, perhaps you could have offered a quick portrait of the President and the VP before their lunch in the Private Dining Room?
But as your gesture, rather -- because you had the omnipresent Pete Souza there for the 2:20 pool spray-- you end up dedicating the Thursday White House "Photo of the Day" to an inelegant picture of photojournalists, in that herd they can't stand, shooting the President signing some no name bills with an aide in the background, his arms crossed tightly over his chest and his fist propping up his chin, looking like he can't wait to get these folks out of here.
People in high places should always be mindful how much they are saying, or not saying, with a picture. If the White House intended even a half-respectful gesture, they would have provided access  to the president  yesterday in a spot that was personal, doing something personal -- graciously offering  to the visual media (if just to lower the heat and at least suggest you get it) just one of the hundreds, maybe even thousands of scenes only Pete Souza has been privy to for six years now. But instead, they offer up a photo, again taken by their own photographer and published through their own distribution pipeline, of a cheap little nothing moment, patronizing the visual press with a caption starting off: "Photojournalists photograph President Obama..."
It might not be a "fuck you" exactly, but it's extraordinarily petty, this crass: "see, they have access!"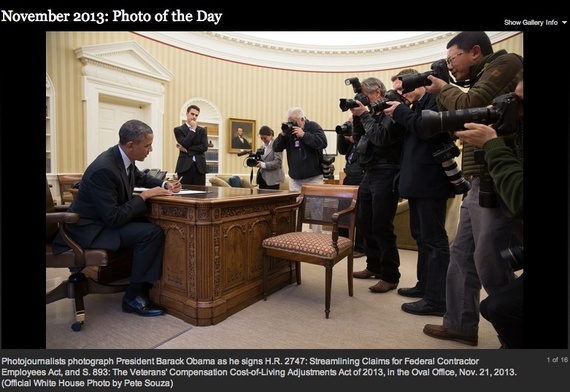 (photo: Pete Souza/White House. caption: Photojournalists photograph President Barack Obama as he signs H.R. 2747: Streamlining Claims for Federal Contractor Employees Act, and S. 893: The Veterans' Compensation Cost-of-Living Adjustments Act of 2013, in the Oval Office, Nov. 21, 2013.)
Calling all HuffPost superfans!
Sign up for membership to become a founding member and help shape HuffPost's next chapter