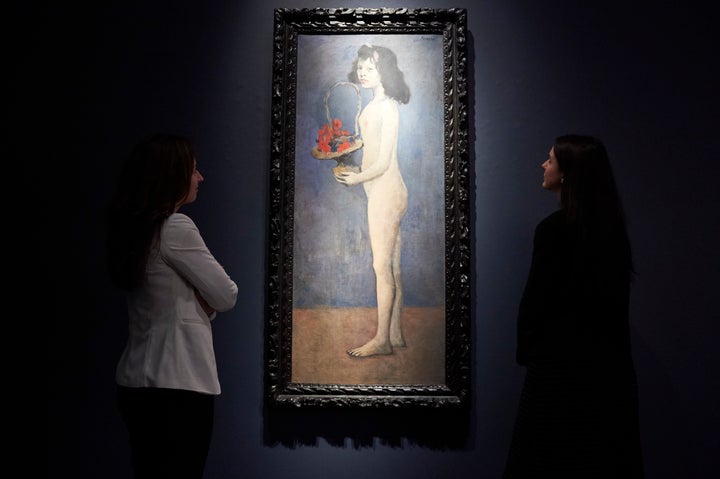 We know the painter referred to her as Linda, and according to a description on Christie's website, she lived on the "mean streets" of Paris' bohemian Montmartre district. (It's also possible, given that Picasso was Spanish, that "Linda," which translates to "pretty," was just a nickname.) We know she supported herself financially through sex work and flower sales. We know she posed for other artists, including Amedeo Modigliani and Kees van Dongen.
We also know that when Picasso painted her, she was a pubescent girl. We know what her body looks like ― thin, pale and hairless, breasts not yet developed.
But the majority of Linda's story remains undocumented: Her true identity, her age, where she came from, where she ended up, or what transpired when she took off her clothes and posed for a then-21-year-old Picasso, not yet the "greatest artist of the 20th century" as Marc Porter, chairman of Christie's America, would later describe the man. (The same man who allegedly beat one of his muses unconscious and threatened to put out a cigarette on the face of another.)
Linda's is a paradoxical position many women deemed "muses" occupy, their images iconic and their identities irrelevant.
"Known and nameless, it's that dichotomy that stands out," Shelly Bahl, an artist, curator and educator at St. Francis College in Brooklyn, told HuffPost. Throughout her career, Bahl has worked with museums and public galleries to diversify and re-contextualize their programming and collections, towards challenging institutional sexism and racism.
"Linda's is a paradoxical position many women deemed 'muses' occupy, their images iconic and their identities irrelevant."
Not even the sudden newsiness of Picasso's painting ― on the auction block after sitting in Peggy and David Rockefeller's possession since 1968 ― has provoked substantial academic inquiry into its subject's identity. (It was purchased over the phone by an unknown bidder at $102,000,000, plus $13,000,000 in additional fees.)
Indeed, Porter's lot essay cataloging the painting's provenance is well over 4,000 words long, yet it does not delve deeply into Linda's life, save for the detail that she probably "died sadly young."
She was "the female equivalent of 'p'tit Louis,'" Porter writes, referring to the model for Picasso's "Garçon à la pipe," presumed to have died at a young age on the streets. "We do not know what became of Linda, but the long-term odds of evading a similar fate were not in her favor."
The essay does, however, feature ample commentary on Linda's appearance, including art historian John Richardson's description of her as a "sultry looking gamin" and former owner Gertrude Stein's belief that she possessed "feet like a monkey."
Online, Christie's describes the subject's "burgeoning adolescent sexual awareness" as contributing to the paintings' "suggestively erotic edge," foregrounding the subject's youth and nascent sexuality as a source of intrigue, rather than evidence of exploitation.
"Many critics call this painting a masterpiece, and that may be true, but it poses a question: why we are willing [to] overlook inhumane, monstrous behavior when it comes to artists?" Mia Merrill, director of talent at The Wing, an all-women's co-working space in New York, wrote in an email to HuffPost.
Earlier this year, Merrill and her sister Anna Zuccaro penned a petition demanding that New York's Metropolitan Museum of Art either remove or contextualize a sexualized depiction of a young girl, Balthus' "Thérèse Dreaming." (The Met refused to do either.)
For Merrill, both Picasso and Balthus' sexualized images of children require further investigation. She said Picasso's documented history of abusing women, coupled with the lack of available information about Linda, is troubling.
"We want to know why Picasso chose to paint this naked child and what he was trying to convey by doing so," Merrill said. "[Picasso's and Balthus'] work exists no matter how we feel about it, but does that mean we should simply ignore these actions because we like the work?"
While Merrill is primarily concerned with the possibility that Picasso acted abusively toward Linda while painting her, Bahl is interested in how the painting itself sets an artistic precedent, aligning avant-garde artistry with misogyny, a pairing she believes persists today.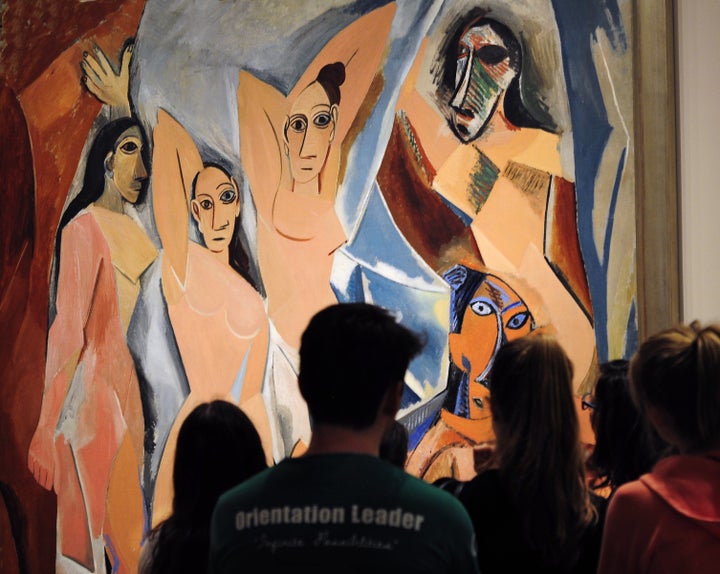 Picasso painted "Fillette à la corbeille fleurie" during his "Rose Period," which took place after the monochromatic melancholy of his "Blue Period" and before the creation of his 1907 "Demoiselles d'Avignon."
"Fillette" depicts the undressed girl against a dusty periwinkle backdrop. She holds a basket of red flowers against her belly; the girl and her flowers are laid bare for the viewer, both are for sale. Her white skin contrasts starkly with the flowers' scarlet tone, the juxtaposition signaling both chastity and sexuality, innocence and corruption.
Linda peers over her shoulder to meet the viewer's gaze. Her expression looks bored, critical and almost world-weary. "Her face seems so much older than her body," Bahl described.
The distance between Linda's face and body in "Fillette" foreshadows Picasso's eventual foray into the avant-garde. "You can see he's working toward a point of abstraction," Bahl said, "in her body and the completely different way he painted her head."
Just two years later, Picasso would complete the legendary "Demoiselles," featuring the nude forms of five Barcelona-based sex workers whose heads he replaced with the likenesses of African masks. The piece casts women as "grotesque," Bahl asserts, transforming their human shapes into jagged vessels of eroticism.
Bahl sees "Fillette" as a precursor to this dehumanization of the feminine form. "It objectifies the body but not in a sexual way," Bahl said. "She's so wooden."
The painting embodies the "curious and disturbing" ways avant-garde art can reposition aspects of the status quo as "challenging," "transgressive" or "provocative," Bahl noted. In other words, "Fillette" is yet another image of a nameless woman, papered in the formal aspects of the avant-garde to obscure its banality.
"Many critics call this painting a masterpiece, and that may be true, but it poses a question: why we are willing [to] overlook inhumane, monstrous behavior when it comes to artists?"
Today, contemporary artists like John Currin, Jeff Koons and Richard Prince are praised for arguably misogynist, avant-garde mashups.
For example, Prince, in 2014, took screenshots of emerging female artists' sexy Instagram photos, printed them on canvas and sold them for up to $100,000 each. In defense of his work, he spoke of the subversiveness baked into his strategy ― he was repurposing internet context as fine art. But beneath it all lurked the same, timeless tradition: men capitalizing off women's images without their consent.
Prince himself recently appeared to express disgust with Picasso's "Filette," tweeting, "This should be boycotted. Or 'girlcotted.' Take your pick." (Prince tweets often, and it's not always clear whether he does so earnestly or not. He declined to be interviewed for this story.)
For centuries, women like Linda, who pose for and collaborate with powerful male artists, have been seen but not heard, objectified rather than humanized. Recently, however, the Me Too movement has prompted some "muses" to share their experiences, recounting humiliation, exploitation, sexual misconduct and assault. Artists like Chuck Close, Nobuyoshi Araki and Terry Richardson have all recently been accused of abusing their power as artists, taking advantage of their prominence and the unregulated nature of their work. Who knows what story Linda would tell if she were alive today?
As Merrill expressed, those challenging the art world to address its longstanding gender imbalances aren't asking paintings like "Fillette" to go away. Rather, they are imploring powerful art institutions like Christie's to contextualize potentially exploitative works that have rarely been questioned.
Rather than framing "Fillette" as "suggestively erotic," supplementary materials could take Picasso's work for what it is ― a historical representation of how male artists treated women for centuries.
In his "Fillette" essay, Porter describes Linda as an abstract image. "She represents the themes that Picasso would wrestle with for his life — love, sex, beauty, tenderness, violence — and all that defines humanity," he wrote, leaving the reader to interpret exactly what "violence" might have entailed.
But by accepting that mystery, the essay perpetuates a longstanding tradition in art history: the erasure of the women behind the easel. Everyone knows the name Picasso, but few know the name Dora Maar, the subject and lover he allegedly abused. Or Marie-Therese Walter, a Picasso model and lover who eventually committed suicide after his death. Or Jacqueline Roque, his subject and second wife, who also took her own life.
Or Linda, who likely "died sadly young."
Popular in the Community