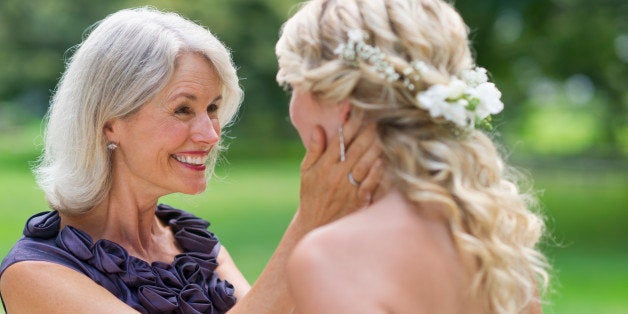 It's difficult enough picking out your wedding dress, but picking out Mom's dress can be drama-filled too. Traditional etiquette calls for the mother of the bride to select a dress that complements the wedding dress and color theme selected by the bride. She'll either do this on her own, or the bride will help with the selection. Either option can make the sparks fly if mother and daughter have different tastes or ideas about what's appropriate. So what do you do if you really dislike the dress Mom has already picked out? And if you're the Mom whose daughter picked out your dress, how do you let the bride know you want to wear something else?
If you don't like what Mom has already selected for herself:
1. Help Mom understand that you are anxious about her looking great on the big wedding day. All eyes will be on Mom as well as yourself. A wedding is a public display of the tastes and values of the entire family, and it is important for both you and Mom to feel comfortable and confident.
2. Many mothers of the bride and groom have certain dress colors they tend to gravitate to on a regular basis. You may want to help Mom look for different dress color options by searching online together to see if there are variations on her favorite colors that will work with the wedding color theme.
3. Some Moms instantly reach for the traditional MOB jacket dress in a lackluster color that is shapeless and matronly. Other Moms may have their eye on a dress that is too flashy or revealing for the occasion. You'll need to gently make your feelings known.
If you're the disappointed Mom:
1. Help the bride understand that you too are anxious about looking great on the big wedding day.
2. Many Moms have felt conflicted about the color of dress the bride has requested her to wear. For example, some brides have asked mothers of the bride and groom to wear shades of brown that can be unattractive. You may want to ask the bride if there are variations on the color brown that you can explore such as beige, champagne or lace overlays that will soften the color and make it more universally flattering. I've seen designers like Tadashi Shoji and Sue Wong create gorgeous gowns and dresses with lace overlays that would meet these criteria.
If either of you is dead set on a dress that the other doesn't like, I recommend you start trying to find middle ground, and compromise earlier rather than right before the wedding. Often a wedding planner or a mutual friend can be the peacemaker and act as a buffer to help with the negotiations.
Popular in the Community