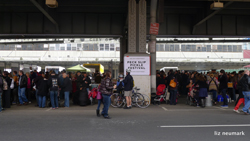 What could have more appeal than a Pickle Festival? And this year, the Lower East Side International Pickle Day was held at the New Amsterdam Market, an historic food site not far from the immigrant roots of our pickling forefathers/mothers.
I am one of those fermented food lovers who collects jars of pickled pleasures the way Carrie Bradshaw collects shoes. And recalling the wisdom of my Grandmother Nelly -- 'Give me something I can eat' (referring to her preference for chocolate over a bouquet of flowers), the beauty of the preserved item is that it is an edible work of art one can savor for weeks or months before eating. As I write, I gaze up at no less than 20 jars that I have acquired in the past 2 months. The previous 3-dozen were cleared out this summer to new homes. And in spite of my resolution to NOT collect anew, I surrendered to my pickle-passion and restocked with selections from my recent East Coast travels.
Back to the Festival! Pickles have evolved. What was once exclusively cucumber or beet territory has broadened, as has our embrace of other ethnic fare. The original Lower East Side pickle was of Jewish heritage but now the pickle competes with Kimchi, Japanese pickled vegetables and new American Artisanal products. The resulting cacophony is delightful!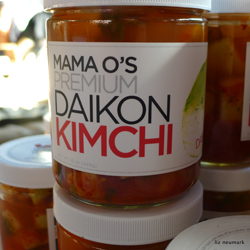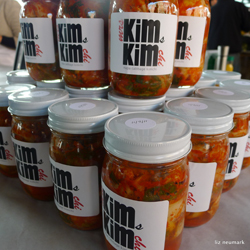 The Kimchi competition is fierce with MAMA O's vs Mrs Kim's Kimchi while traditional sauerkraut now touts its probiotic features and irresistible flavor. Pickled vegetables now include previously obscure and unappreciated okra, jalapenos, carrots, corn, apple, turnips, Brussels sprouts, fiddleheads, radishes, celery and more. In fact, my day began with a shot of pickle juice from Crock & Jar. It was surprisingly as enjoyable as a cup of coffee!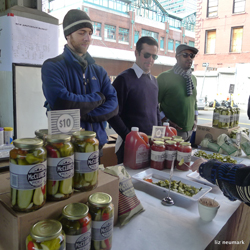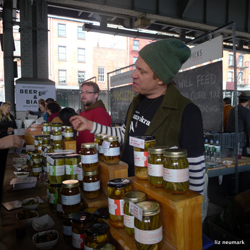 The pickle makers themselves ranged in diversity from the legendary Guss' pickle purveyors to the bandana clad Connecticut couple whose chic neckwear matched their jars, to the Brooklyn upstarts, the established pickle revolutionary Rick Fields of Rick's Picks, the farmer-preservers contingent and the foodies. There was dual city McClure (NYC and Detroit of course). I chuckled at the sign at Adamah -- "grown and pickled by young Jewish farmers" -- as though their becoming farmers and not young urban professionals needed to be explained.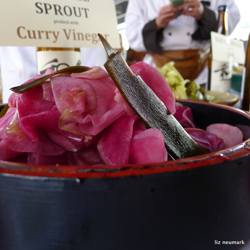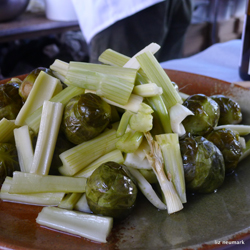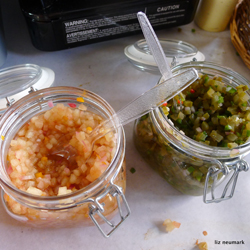 And what pickle assembly would be complete without our own Thunder Pickles -- chopped into tantalizing relishes -- one with Jalapeno, the other with watermelon rind and radish, ready to be put on a beautifully grilled hot dog. And if that didn't do it for you -- you could have discovered a peanut butter and pickle sandwich or fried pickles and melted cheese or a deviled egg with chopped pickle in the exquisite filling. Nirvana.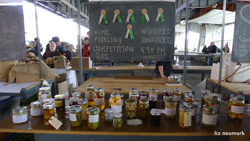 There was a competition for best homemade pickle and the entries were as diverse as the fabric of our city. It was quintessentially New York -- the old, young, traditional and unimaginable. It was a celebration of artisanal spirit and classic New York innovation -- where heirloom recipes for perfecting the most delicious brine are carefully guarded.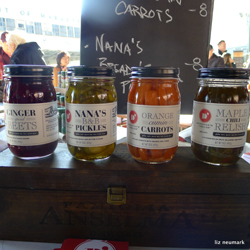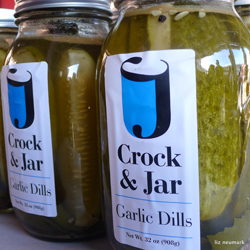 The closest I have come to creating the perfect pickle is having come up with the name for one. During our first season of farming, we had a bumper crop of cucumbers. It was the summertime and there wasn't much we could do with the hundreds of lbs. that grew abundantly. So, this being NY and me being a caterer, it seemed logical to pickle them and use them in the fall. But what to name them was the conversation we had on that overcast summer day. It started pouring - a typical summer thunderstorm. I was reminded of what Charlie Paulty (a country neighbor with a giant garden) had told me when I was a child. "Thunder makes the cucumber grow." And at that moment, Thunder Pickles were born.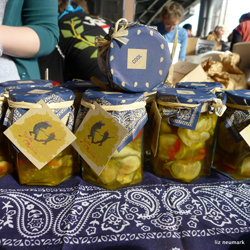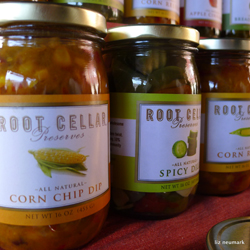 The Katchkie Farm product line now includes Tickled Beets, Jalapenos, Salsa, Katchkie Ketchup and more. Bottling the veggies we grow is addictive. It is a combination of loving the incredible quality of our produce, and wanting to both share it and save it. It is also an expression of the past and the future. The connection to the past is to the generations before us who routinely "put up" anything from fruits like peaches, apples and berries to sauces to pickles. I have never had a root cellar but am totally enamored with the idea of one. Some people dream of wine cellars, mine is filled with tomatoes, sauces, pickles and jams!
The future is the resurgence of interest in old ways, returning to the values of eating what is in season and saving something for the long winter. It is thinking about what you have to eat and where it came from and perhaps who made it and how. The festival was filled with young pickle makers and dreamers -- searching for that brilliant brine that will ensure them a place in the Pickle Hall of Fame.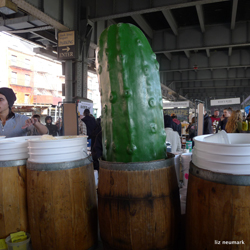 Calling all HuffPost superfans!
Sign up for membership to become a founding member and help shape HuffPost's next chapter