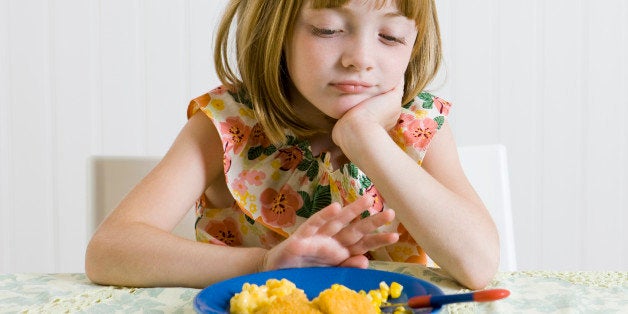 Have you ever carefully prepared a home-cooked meal (like roasted chicken with root vegetables and fresh herbs on top) only to have your kids refuse to take so much as a bite, insisting, instead, on eating those same nuked frozen chicken nuggets (again)? It's enough to make you want to throw the whole bird out the window and conclude that your kids will never ever eat a carrot, parsnip or anything actually resembling a real chicken. Don't despair -- it's happened to the best of us.
CentroNía, a Washington, DC community-based organization serving infants and toddlers through high school-aged students, as well as families and early childhood professionals, has been recognized by First Lady Michelle Obama as a model program for food and nutrition. Recently, they served couscous, prepared in-house, as part of a meal to their students. When the Director of their Food & Nutrition program walked around, one teacher enthusiastically reported that her students loved the couscous; in another class, the teacher said her students hated the food.
It might be easy to conclude that children hate roasted vegetables and couscous and are really better off sticking with what they know, like buttered noodles or cheese pizza. But this isn't about the actual food and how it tastes. It's about how we, as parents and teachers, are feeding -- and teaching -- our children.
It's not just that we adults are role models; we are influencers and what we do and how we talk about food matters to little ears. In the summer of 2013, CentroNía conducted a study which surveyed teachers, directors, parents and children from 15 Washington DC early child care centers. The findings were released on January 30th with discouraging results, but strong and doable recommendations for change. According to the survey, 60% of early child care center directors report that their centers "do not use a nutrition education curriculum." However, 79% of teachers reported that they "teach a nutrition curriculum." And, 62% of parents reported that their children "learn about nutrition and wellness at the center."
It's not quite clear what is being taught in early childhood programs in DC and where the information is coming from, but since half of obese children in the U.S. are already overweight by their second birthday, it's critical we start talking about nutrition and food at an early age and with those who spend much of the day with our children. And, since 30% of all 2- to 3-year old children don't eat a single vegetable, we have our work cut out for us.
That said, talking about and teaching nutrition isn't about how much protein or fiber is in the food we eat. In fact, especially for our youngest children, it really isn't about that at all. We need to teach our children how to eat a wide variety of food, preferably minimally processed, and increase their consumption of fruits and vegetables from every color of the rainbow (including the dreaded green veggies). We need to stop the nagging and make meal time fun. Stop the force-feeding and trust children to tell us when they are no longer hungry. Stop the constant snacking in the car, during story time and when shopping, and commit to regular meal times. We need to remember that meal times nourish the body and soul and, as parents and teachers, our job is to show our children how to do that by doing it ourselves and teaching them how to do it on their own.
As it turns out, one of the teachers at CentroNía is from Africa, where couscous is a staple. She was so excited to see couscous on the menu that she shared her enthusiasm with her class, who were therefore eager to give it a try. The other teacher had no idea what it was, thought it was strange and refused to try it herself. And her class followed her lead.
Families eager to learn more about making changes at their dinner table should check out It's Not About Broccoli, a fantastic new book by Dr. Dina Rose that offers easy-to-implement strategies and tips. Fearless Feeding, another great new book, offers tips for children at every age and stage.
The CentroNía survey confirmed that 73% of early child care directors were willing to make changes to both food quality and nutrition education at their centers. And 100% of directors without a nutrition curriculum were willing to make a change. Now is our time, as parents and teachers, to open the eyes, minds and tummies of our littlest children to the joy that is healthy eating.