Growing up, we used to fly from Los Angeles to New York once and sometimes twice a year so my mom could visit her mom who lived on the Upper West Side (110th and Amsterdam). In those days I looked forward to flying. How amazing, I thought, that this big heavy thing could roar down a runway and push itself into the air.
Sitting next to the window and looking down as we passed over desserts, mountains and cities, I was mesmerized.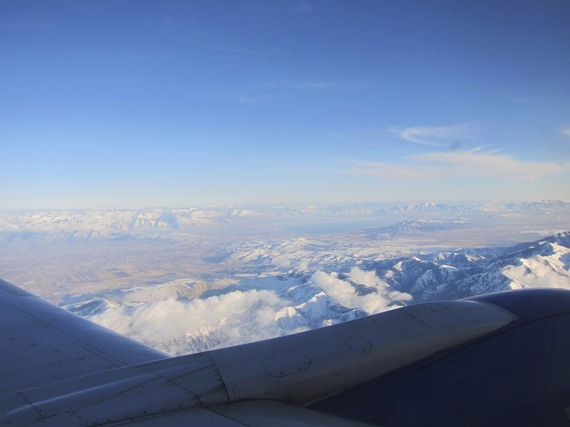 I still regard flight as something of a miracle even if the actual experience of being in an airplane isn't as much fun. Terrorism and economics have degraded the airport and flying experience. Having to pay for amenities we used to take for granted like paying to check luggage and being charged to phone an airline agent are high on my list of why travel is less fun than it used to be. And what about being charged for food on planes? When I was a kid, I looked forward to those meals. I know, I was easily satisfied when my favorite not-cooked-by-mom meal was a fried chicken Swanson TV dinner with mashed potatoes and corn in butter sauce.
Putting the fun back into flying
When we fly these days, I make a meal I think of as a picnic lunch. All the foods my family would eat when we went to the beach are great to have on the plane. Think about it. Nothing is better than a shared lunch of cold rosemary fried chicken, deli bar olives, Comte cheese and Breton crackers, chicken salad with mango chutney and toasted almonds, egg salad flavored with bacon, arugula salad with homemade croutons, potato salad with corn, chopped Italian parsley salad with cherry tomatoes, olives, Persian dukes, croutons and feta cheese with a reduced balsamic and olive oil dressing, roasted beet salad, carrot salad with lemon-pepper infused golden raisins and Fuji apples from a farmers market.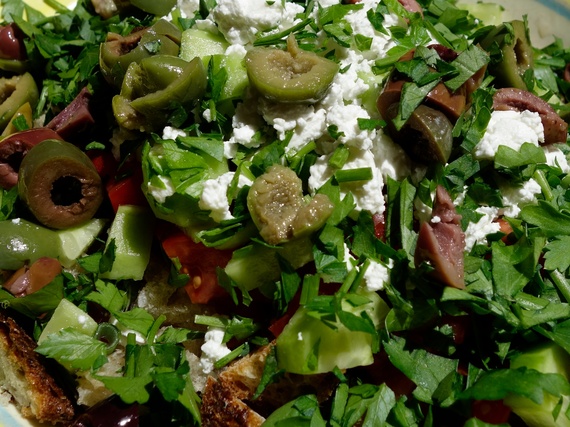 If I'm watching movies on my iPad and snacking on good food, flying is fun again.
Flights out of Tom Bradley International Terminal, LAX
Last fall I flew to Geneva, Switzerland out of LAX. Unfortunately, at the time, while the renovation of the terminal had been completed, the Level 4 food court vendors hadn't moved in.
Last week I was invited to a press reception at the terminal to try out the food and beverages served at the Petrossian Caviar and Champagne Bar.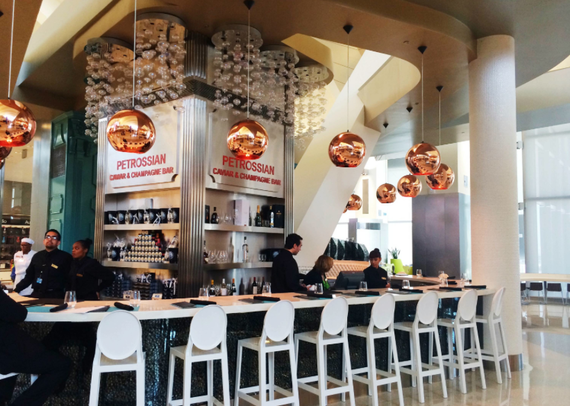 Not everyone enjoys caviar. It's expensive and, well, it is "eggs from a fish." Two strikes against caviar to many people. My dad loved caviar. He was Russian and loved all that kind of food: black bread, radishes, herring with onions in sour cream and chopped liver.
Going to the boarding area of an airport when you aren't actually flying is not easy. Special approvals need to be obtained. Passes are issued. Guards inspect you. PR people and airport personnel escort you every minute you are beyond security checkpoints without a boarding pass.
I mention this for a reason.
Level 4 at Bradley International could be a destination for Angelenos. Going to airports and watching planes take off and land used to be a fun thing to do. No more. But if you are traveling internationally out of LAX, arriving at the airport two hours early won't be an inconvenience because you'll have the opportunity to enjoy the open, airy Great Hall with dozens of restaurants and retail stores as good as any you'll find at The Grove.
Petrossian gave us a tasting of their appetizers (smoked salmon canapés with salmon roe, blinis and hardboiled eggs topped with caviar), champagne and a High Society cocktail. Everything was delicious. Besides serving caviar as God intended -- on a blini -- Petrossian has also created caviar powder and white chocolate with caviar. The powder is cool. Used instead of salt on the rim of a cocktail glass in the High Society adds a crunchy-salty-caviar flavor that worked great with the gin, St. Germaine and green Chartruse.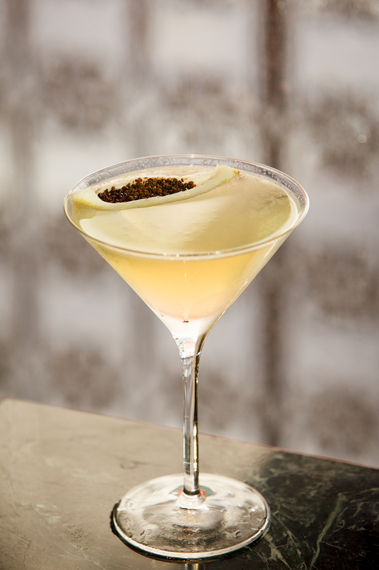 Besides a full menu at the Bar, Petrossian also has insulated packs to take on the plane. The snacks come with a big price tag, but if you are a caviar-eating kind of person, the high cost will be familiar.