If you haven't had the pleasure of eating at Tyler Kord's No.7 Sub in New York City, you've been missing out on some seriously good sandwiches. These are not the kind of sandwiches you normally make at home, because each ingredient used to make them is spectacular all on its own.
But here's the thing, these are the kinds of sandwiches you can (and should) make at home because Kord's cookbook, A Super Upsetting Cookbook About Sandwiches, will help you do it. The book is filled with all kinds of good recipes ― even their famous broccoli sub ― but the recipe that most excited us was the one for Pico de Lettuce.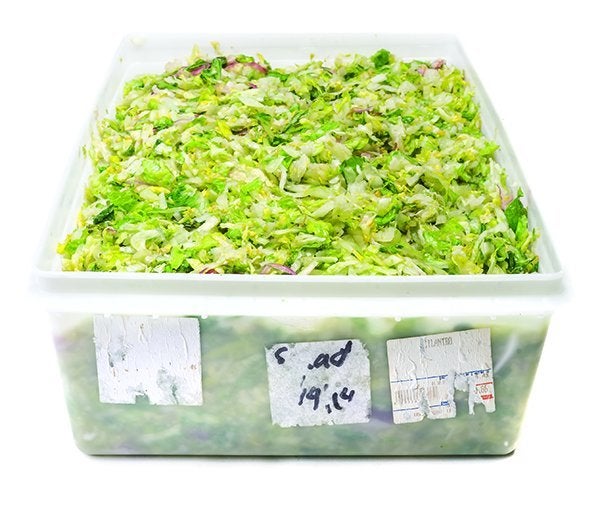 Pico de lettuce is a cross between an overdressed salad and marinated lettuce. And there are many beautiful things about it.
First, it adds a blast of flavor to a sandwich because it's made with garlic, onion, lemon and vinegar. Second, it allows you to sneak more lettuce on your sandwich because it's compact (see the picture below). And third, it'll keep in the fridge for a week ― talk about a clever food waste solution. Now, go make some with the recipe below.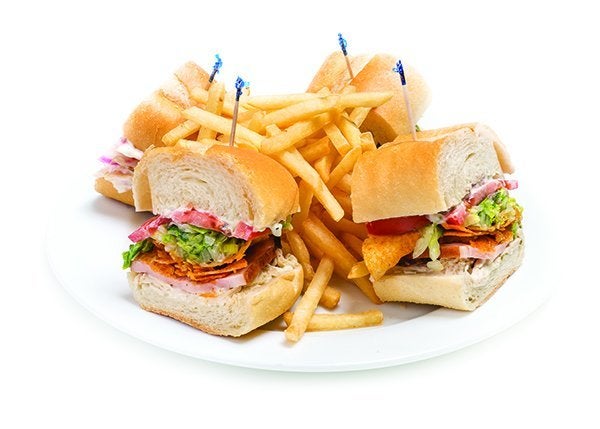 Reprinted from A Super Upsetting Cookbook About Sandwiches. Copyright © 2016 by Tyler Kord. Photos copyright © 2016 by Noah Fecks. Artwork copyright © 2016 by William Wegman. Published by Clarkson Potter, an imprint of Penguin Random House, LLC.
Pico de Lettuce
Most people are pretty sure that if you dress a salad too far in advance it will wilt and become disgusting and an embarrassment. But that is so arbitrary! We like wilted spinach. We like cucumber salad and coleslaw when they have been pre-dressed and allowed to release a good bit of their water. It concentrates their flavors and gives them a very different, but no less awesome, texture. Well, I'm here to tell you that the same thing happens with lettuce, and we should embrace it, not throw it away and make a new salad!
The thing is, a drained lettuce salad is one of the greatest sandwich condiments of all time. Instead of a big, unwieldy piece of lettuce, you can pack half a head of compressed lettuce on a sandwich, and think about what that means for the flavor of your sandwich! The only problem is marketing. Nobody wants to eat a sandwich with something called "old salad" on it, so in a fit of brilliance, I coined the term Pico de Lettuce. And I put it on the menu at the sub shops, and nobody seemed to notice. People talk about the sandwich and act like they already know what Pico de Lettuce is. And they like it! But if they knew that it was just old salad they would probably be bummed.
Makes enough for 4-6 sandwiches
1 head of romaine lettuce, cleaned, dried,

and cut into 1/2-inch ribbons

1 garlic clove, minced
1 small red onion, sliced thin
Juice of 1/2 lemon
1 teaspoon white vinegar
1 teaspoon olive oil
1/2 teaspoon kosher salt
Combine the lettuce, garlic, onion, lemon juice, vinegar, olive oil, and salt in a medium mixing bowl. Let sit, stirring occasionally, for 30 minutes. Drain off most of the liquid and make the most interesting martini you've ever had. Store the Pico de Lettuce in the fridge, where it will keep for a week but, like many green things, will become less beautiful as the week progresses.