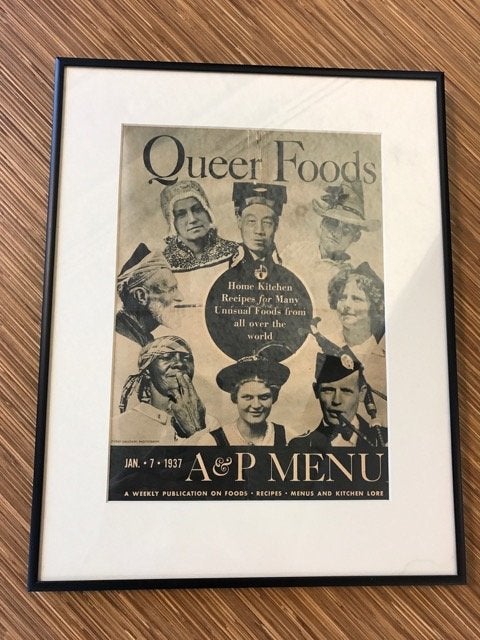 This picture has been in my mom's kitchen for as long as I can remember. Recently, she told me that she wanted me to have it.
I knew that it originally belonged to my Uncle Ward, her brother, who was gay and died of AIDS in 1990 and who was one of the most brilliant, wittiest, most sarcastically hilarious men to have ever walked this planet ― all of which I gleaned from only knowing him for just over a decade.
While I've always loved the image because of the inherently subversive, almost charming disconnect between its intended meaning and our modern understanding and reclaiming of the term "queer," I didn't know its back story until it arrived yesterday along with a note from my mom that read in part:
"There is no one Ward would want this picture to go to more than you. He picked out the framing with me the weekend I went to bring him home [from New York City, where he lived, to Wisconsin, to die]. I knew he was going to die ― but he did not. He never saw this picture framed. I picked it up when I returned to New York City [after his death] to close up his apartment. He found the image in a cookbook he purchased at a used book store."
I have spent most of this week feeling absolutely devastated about what is happening in and to this country and what's about to happen in just a few days as Trump and his cronies come to power. It feels like there's something rotting inside of my chest and as it rots, it's seeping into every part of my body and it's poisoning everything I think and feel and see — and I know a lot of you feel the same way.
As much as I want to give up sometimes, especially this week, right now I'm thinking of my Uncle Ward and what he went through and how indebted I am to him for paving the way for me. I'm thinking of who and what he loved, what he dreamt about, all of the things he never got to see ― from the queer rights triumphs of the last two and a half decades to this picture finally in its frame ― or experience, how he didn't know how much time he'd have here or what effect his life would have on me ― just 12 years old at the time of his death and terrified of the deep gay secret I already held and hated inside of me.
And as much as I want to just quit and be done with everything sometimes, especially since Nov. 8, I think of my mom and what she's been through — the men and women she has seen and helped die, the battles she has fought in the name of women's rights and queer rights and freedom and fairness for so many other groups — and how indebted I am to her for making me the man I am today.
This week is unlike anything we've experienced before and I'm afraid the next week and the next month and the month after that and the year after that might bring more of the same, but as much as we may want to throw up our hands and disappear, we can't. We have too many people who fought for us; some who made it and some who didn't, some who are still here and some who only exist in memories and the creases of a picture that carries a story time-traveled to me from 25 years ago.
As exhausting as it is and as much as it hurts, we owe it to those who came before us and to ourselves and to all of those who will follow after us to keep fighting. We will get through this because we have to get through this. There is simply no other acceptable option.
REAL LIFE. REAL NEWS. REAL VOICES.
Help us tell more of the stories that matter from voices that too often remain unheard.
BEFORE YOU GO