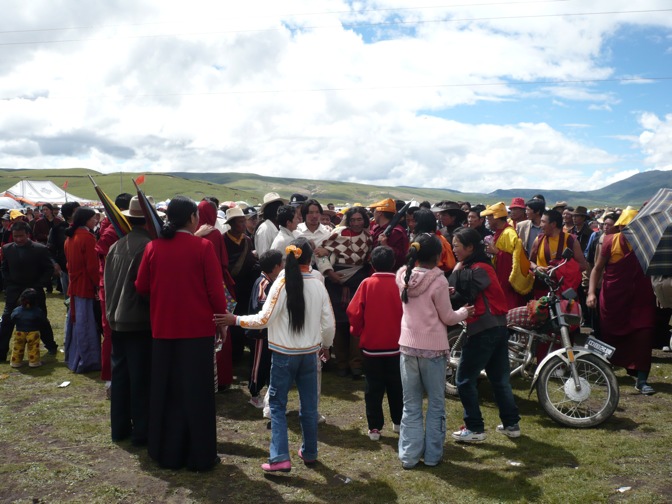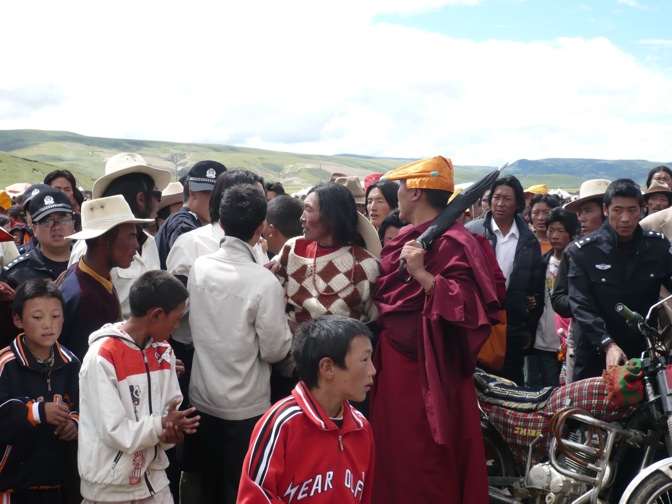 Sometimes an image stops you in your tracks. That's what happened to me the other day, as two pictures snapped in remote Tibet -- by a photographer who had no idea what he was observing -- arrived in my inbox.
The images depict a man in the still center of a crowd whose arm has been grabbed so hard by a tough-looking guy in white that his diamond-patterned jumper has been yanked off his shoulder. A monk with a black parasol over his shoulder stands by his side, as if to protect him.
It is an electric scene. Intense emotion, though restrained, is visible in the faces of everyone present. There's a young girl, with a long black ponytail gathered up in a yellow scrunch, reaching for the hand of her mother, who stands motionless, and little boys in hoodies whose faces betray their vulnerability. The shadows of clouds sweep across the landscape, dappling the grasslands, while directly behind the crowd, two red flags flutter above a Tibetan marquee.
The photographer has unwittingly captured the moment when a Tibetan nomad, Runggye Adak, was arrested for calling for the exiled Tibetan leader, the Dalai Lama, to be allowed to return home. It happened at a horse festival in Lithang, eastern Tibet, on August 1, 2007.
During the opening ceremony, 56-year old Runggye Adak, a respected senior of the nomadic community, strode onstage -- an unexpected presence among Chinese military guests and dignitaries in attendance. He took the microphone and gravely spoke about Tibetans' loyalty to the Dalai Lama and their inability given their circumstances to express what they really feel. These two compelling images capture the moments after he stepped down from the stage and was seized by plain-clothes security.
Runggye Adak was sentenced to eight years in prison, which he is serving in Mianyang in Sichuan.
Footage of Runggye Adak's statement -- recently made public here -- could not be a more vivid depiction of how a perfectly civil expression of a point of view can be judged by the Chinese authorities as a "crime" that can endanger the security of the state. Unknowingly, his actions that day at the Lithang horse festival were a precursor to a wave of protests against Chinese government policy and in support of the Dalai Lama that swept across Tibet, transforming the political landscape in Tibet. Today, there are untold numbers of Tibetans in prison for saying, as Runggye Adak did, that they cannot say what is in their hearts, and calling for the Dalai Lama to be allowed to come home.
In a clip of the footage obtained by the International Campaign for Tibet of Runggye Adak's statement, he is saying:
...These things have happened to us; did you hear what has happened to us? Although we can move our bodies, we cannot express what is in our hearts. You know? These days there are those who say we don't need the Dalai Lama. The Dalai Lama is the one that we six million Tibetans truly [need].
An eyewitness said: "He was very calm, very dignified and he spoke clearly. Tibetans around me were shaking their heads in sadness, because they were fearful for him, and others were openly agreeing with him."
In daring to publicly refute China's representations of the situation in Tibet, Runggye Adak and a new generation of young Tibetans represent a much more complex challenge to the ruling Chinese Communist Party than before. Their actions are grounded in a renewed sense of solidarity and pride in their Tibetan identity.
Like so many others who have voiced their views, Runggye Adak, a senior figure in his local community and father of 11 children, must have known what awaited him. For expressing their loyalty to the Dalai Lama or criticizing Chinese policies, Tibetans face torture and isolation in prison; some do not survive imprisonment.
Here in these images there is the hand on the shoulder, rather than the knock on the door in the middle of the night. In one of the pictures, Runggye Adak is looking directly at the tough-looking guy in the white shirt (his black armband on his upper right sleeve indicates that he could be a citizen monitor of some sort who helps to maintain public order), who is perhaps translating for a Chinese plain clothes security official. A Tibetan policeman, cap askew, has a hand on the shoulder of the tough guy in the white shirt as if to restrain him.
In the first image, Runggye Adak is pictured looking down at the ground, leaning towards a maroon-robed monk, his bearing still dignified, before he is taken away. With the backdrop of the red flags of the Chinese Communist Party, symbolic of state dominance in Tibet today, it is a scene of almost Biblical intensity -- reality as if captured in a painting by a Renaissance master.
Related
Popular in the Community