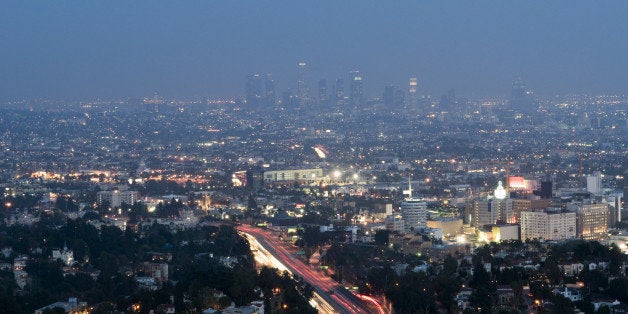 When "Both Sides of Sunset: Photographing Los Angeles" was published by Metropolis Books in May, its diverse vantage points, varied group of photographers, and multiplicity of subjects and approaches to Los Angeles inspired Paul Kopeikin of the Kopeikin Gallery on South La Cienega Boulevard to re-create the book as a group exhibition.
Kopeikin, an L.A. native, said that although he was familiar with many of the book's images of L.A., he was surprised to discover that in his 24 years as a gallerist, he had never mounted a group show about Los Angeles, so this book provided the impetus to do so. And, he felt, "It was a great time to do it."
Allison Crain, the gallery's manager, explained: "Paul and I reached out to many of the artists and their representatives. The response, the availability and the enthusiasm" were remarkable, she said. The resulting exhibition, "Both Sides of Sunset: A Group Exhibition of L.A. Images," which runs at Kopeikin Gallery through Dec. 19, gathers 40 works from 28 photographers.
Crain, herself a relatively recent arrival to Los Angeles, found that working on the show gave her a new perspective on the city. "There is so much more here," she said. Kopeikin, who admitted to being "somewhat jaded about L.A.," added that it was "nice to see L.A. through her new eyes."
The artists in the show range from the traditional, such as celebrated Magnum photographer Bruce Davidson, to Warren Neidich, who describes himself as a "post-conceptual artist and writer whose interdisciplinary research strives to understand the emancipatory capacity of art as it operates in the world of things as well as in the brain." From L.A. native Sam Comen to French photographer Lise Sarfati; from silver gelatin black-and-white images by Florian Maier-Aichen that border on the abstract to a David Drebin digital C-print suffused with color showing an epic, cinematic sweep of Los Angeles at night.



David Debrin, "Los Angeles" (2008) - Click to enlarge
Much like the book, the show is not organized geographically or chronologically or as a story with a beginning, middle and end. It presents L.A. as most of us experience it, in a series of quick moments. Some are ironic (such as one of a building called the "Crapi Apartments" by Mark Ruwedel, who is known for his "Pictures of Hell"), and others are more iconic, such as work by Sarfati, who is represented by an image of an uncertain teen beauty standing at Hollywood and Highland, or Tim Street-Porter's image of the Lloyd Wright-designed Samuel-Novarro House in Hollywood.
In this exhibition, Los Angeles is a place where we see the beauty in the ugly (David Maisel's aerial view of a freeway interchange reveals beauty in engineering and design) and the ugly in beauty, such as Gary Leonard's beautifully composed image of torched buildings taken during the 1992 Los Angeles riots. Sometimes the resulting feeling is a subjective one, such as our response to Lynn Saville's "Twilight in Santa Monica," in which a tree standing in front of a home seems both heroic and optimistic, or Graciela Iturbide's "Rosario y Su Bebe, White Fence, East Los Angeles," which is so intimate as to make us feel concern for both mother and child. The weirdness and anomie that can beset one in L.A. is expressed in Zoe Crosher's work, with views of the sky near Los Angeles International Airport shot from nearby motel rooms.
Among the works featured are several photos of palm trees by Ed Ruscha, who gained early notoriety with his 1966 self-published book, "Every Building on the Sunset Strip." Ruscha's work remains notable for seeing art of the everyday, which in these early images he offers up in a flat, affectless documentary style.
"Both Sides of Sunset" offers the visitor an expansive, not always well-defined journey that seeks from its diverse images to reveal to us Los Angeles whole.
"Both Sides of Sunset: A Group Exhibition of L.A. Images" can be seen through Dec. 19 at the Kopeikin Gallery, 2766 S. La Cienega Blvd., Los Angeles. For more information, visit kopeikingallery.com.
This article appeared originally in print in The Jewish Journal of Los Angeles
REAL LIFE. REAL NEWS. REAL VOICES.
Help us tell more of the stories that matter from voices that too often remain unheard.