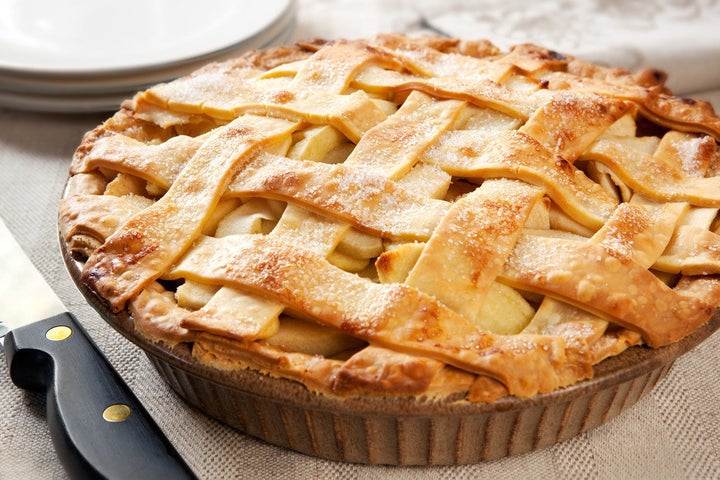 Feeling like the world could use some sweetening? Pastry chef and author Gesine Bullock-Prado has come up with Pie it Forward, the title of her upcoming book and also Pie it Forward Day on March 14 to encourage bakers to make pies for those who need their spirits lifted. She shared some baking secrets with me in the interview below, and expounded on the Pie It Forward concept.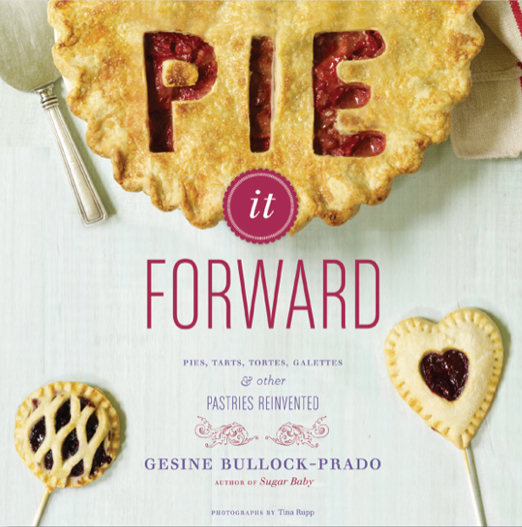 KDB: I love the specific instructions in not only in the book Pie it Forward, but also on your site. "Stretch the strudel dough until you can read through it..." How do you select your baker-friendly tips?
Bullock-Prado: There was a time, when I wasn't so fancy with butter, sugar and flour, that reading a professional pastry book would cause the onset of a baking seizure with its convoluted lingo and inattention to detail. Now I'm fluent in the language but those books still keep home bakers away from the good stuff. So I write as I would have wanted to have been taught, with detail and transparency. I also teach real live humans at King Arthur Flour and having that instant input into what students need explained in greater detail to really understand certain methods is phenomenal. And I'm a writer, so I care about readability. When you enjoy reading the recipes and the instructions, you retain the knowledge. Just because it's a cookbook doesn't mean you shouldn't be able to sit down and enjoy without getting messy.
KDB: I remember flour-covered tables in our kitchen. My most treasured inheritance from my mother is the pie recipe from her mother, and memories of all of us baking together. What part has multi-generational baking played in your family?
Bullock-Prado: My mother died 10 years ago and it took me that long to open her recipe boxes that I inherited. Her handwriting graced every scrap of paper. Once I got over my fear of breaking into sobs and ruining the yellowed notecards tucked inside, I found that she and I traveled parallel baking lives. I grew up baking with her but never went so far as to ask where her baking ambitions might lie. But there they were, recipes for puff pastry and Gateau St. Honoré. I knew she had refined tastes, she brought me to the grand pastry houses in her hometown in Germany and we'd travel through Austria with the sole purpose of cake and coffee. But seeing that she was as stubborn and ambitious as I, that she didn't want to simply eat the stuff but wanted the pastry knowledge for herself, confirmed that there was a spun sugar filament strung to the heavens that was still connecting us.
KDB: I love that. Your creations including the yin-yang pie are a work of art. Where do you find your Closet Master Baker inspiration?

Bullock-Prado: The things that surround me on our little farm, from the color of an Indian Runner duck egg to the fresh green of tomato seedlings. Discovering a kaleidoscope of colors underneath a peeling chip on a windowsill, confirming that the 18th century denizens of this house were as taken with vibrant hues as we are today (minus the lead). These colors and textures, tastes and smells all bring inspiration to my baking life. And then there are base cravings for something salty, sweet and crunchy that will propel me to my bakery to create something new.
KDB: Speaking of creating something new, describe the Pie it Forward concept, kicking off on March 14th. (Also National Pi Day, appropriately enough). How can bakers get involved?
Bullock-Prado: Pie It Forward, the book, is my homage to all that's both homey AND glamorous about pie (yes, glamorous). On the one hand, it's a rustic and approachable sweet that lends itself to sharing. On the other hand, it's made of components that handled correctly, can outshine a schmancy layer cake. On Pie It Forward Day, I'm encouraging bakers of all skill levels to stretch their floury wings and make a few pies, rustic to glamorous, that they will then gift to someone who needs a tasty surprise to lift their spirits. I also suggest making two so you can enjoy your own work. Of course the book holds your hand through making all sorts of pie dough, something even the most hardened bakers often fear. But I've also created video demos of the process so you can see a pie in action and a pie crust and filling recipe I love (visit www.abramsbooks.com/pieitforward for details). It's not a contest but a movement to make the world better with pie, if only for one day. It's also the perfect day to drag your kids into the kitchen and show them that math can have a sweet end, that by using fractions to measure out flour or sugar, you'll get a pie out of your mathletics.
KDB: Sweet! Bonus round: If you can pick a favorite -- what's your favorite pie of all time?
Bullock-Prado: I can't stick to a constant favorite, it changes with the season and my environment.
At the moment, I'm smitten by Wild Blueberry Pie (pictured below, download recipe on pieitforward), but with Florida's bumper crop of strawberries invading our markets, it's hard to ignore them. And they are cheap compared to blueberries out of season. You could convert the wild blueberry pie recipe for strawberries, just hulling them and cutting them into quarters. Instead of nutmeg, I might add a pinch of fresh lemon basil (incredibly refreshing and wonderful in desserts).
"Pie it Forward" is available for preorder at abramsbooks.com, and Bullock-Prado's baking memoir "Confections of a Closet Master Baker: My Life From Scratch" and her "Sugar Baby: Confections, Candies, Cakes & Other Delicious Recipes for Cooking with Sugar" cookbook are available online and at independent book shops. You can follow her on Twitter at @gesinebp.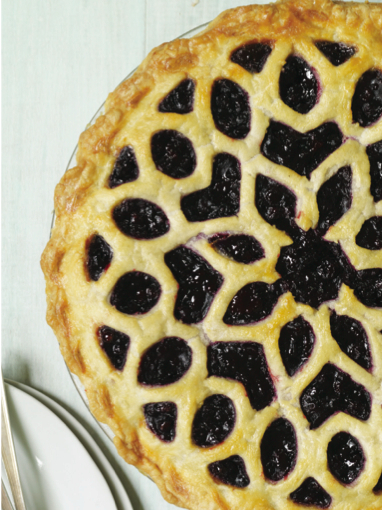 Popular in the Community