When Sarah Fertig heard Sen. Elizabeth Warren argue that no one becomes wealthy in isolation -- and urge wealthy Americans to give back so that others might succeed -- it struck a chord.
At first, the 28-year-old Michigan native took to her Facebook page, sharing her own metaphor in support of Warren's (D-Mass.) message. "I said, 'I made a pie, but I didn't plant the apple trees; I didn't milk the cow or churn the butter; I didn't harvest the wheat; I didn't build the grocery store. All these other people had to work really hard before I could even assemble the pie,'" Fertig told The Huffington Post. "I don't have the right to say this is my pie, and no one else can have any."
She hit "post" and then sat thinking about what she could do beyond "arguing with people on the Internet." Fertig bought three apple pies, brought them to Ann Arbor's Liberty Plaza, and gave them away, slice by slice. Roughly half went to homeless men and women who spend time in the park; the rest went to people passing by on their way to class, dinner or an event. Fertig returned the following week, and the week after. Before she knew it, she and her fiancé, Chris Kovac, were in the plaza every Wednesday for 18 straight weeks, giving away pie.
Eventually, the couple decided to take "Pie it Forward" on the road, quitting their jobs -- Fertig worked at a homeless shelter, and Kovac was a butcher at a Sam's Club -- and embarking on a cross-country, 30-city tour. The tour, which kicked off in March 2013 and ended in September, was supported primarily by small donations -- $10 here, $25 there, collected on PayPal and in-person. The couple used their tax refund checks to help pay for gas and materials; went to farmers markets to ask for cosmetically undesirable fruit; accepted donations of flour, sugar and butter; and stayed with hosts in various cities.
Fertig began with store-bought pies, but by the third tour stop, started making them from scratch. "Pie crust, I thought, was this arcane secret that had to be handed down from grandmother to granddaughter," she laughed. "But it turns out, you can just learn it in a book."
Apple pie is their standby because it's iconic, Fertig said, but they've also made cherry, blueberry, peach, peanut butter cream and banana cream. "Most bizarre of all, I think, was the cantaloupe pie we made in Birmingham, Alabama," she said. "You had to really like cantaloupe."
By tour's end, the couple had given out more than 250 pies. "No matter what somebody looked like, no matter what they were wearing, they could get a free slice," Fertig said.
Now, the pair is back in Ann Arbor, serving pie in Liberty Plaza every Wednesday. They are working toward securing 501(c)(3) status for Pie it Forward, and saving up for a donation-based food truck that will serve complete meals, whether shoppers are able to pay 10 cents or $10. They've also expanded their menu, and are now offering hearty shepherd's pies, which Fertig said are very popular. "If you live on the street, it's a lot easier to get refined carbohydrates and sugar than it is to get meat and vegetables and other forms of protein," she said.
But Fertig said she stands by her sweeter offerings. "Pie is iconic, pie brings up happy memories, and it's an indulgence," she said. "Especially for people who live on the street, it's important to have an occasional treat -- one that has dignity and meaning to it."
"We're just doing this for kindness and generosity, trying to inspire people to help one another out," Fertig continued, adding that while the concept was politically inspired, Pie it Forward is not affiliated with any one party. "There's no agenda other than people should be nicer to each other."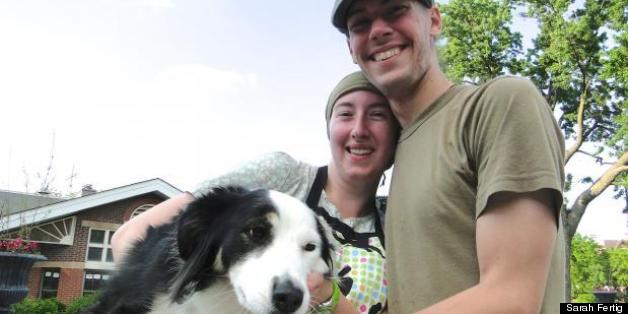 Fertig, Kovac and their border collie, Shalosh -- three-fourths of a team that also includes a baking assistant.
Calling all HuffPost superfans!
Sign up for membership to become a founding member and help shape HuffPost's next chapter