I've followed Leslie Kritzer's career for many years -- ever since I saw her in the 2001 Funny Girl staging at Paper Mill Playhouse. I've seen her do a lot of things, most of them comedic. In Piece of My Heart, a jukebox musical based on the life of songwriter Bert Berns, she shows her dramatic chops off. Of course, she also displays the powerhouse voice we've come to expect from her.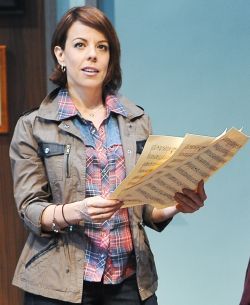 I'm much less familiar with Teal Wicks. I never saw her as Elphaba. I did see her in Jekyll & Hyde and, right afterwards, I said to Constantine Maroulis: "That girl is the best Emma I've ever seen, and I've seen a good amount." He thought she was pretty great too (though he had never seen any other Emma, so he couldn't second my opinion). In Piece of My Heart she plays a much different role, a young dancer who falls for, and eventually marries, Berns. (Hairspray's Linda Hart plays the same character in her later years.)
I got both leading ladies to participate in my recurring feature where I ask actors random, often silly, questions taken directly from the subject matter or text of the show. Below are the results.
What is your favorite Bert Berns song?
Kritzer: "Twist and Shout." C'mon.
Wicks: "Cry to Me." It was my ringtone for awhile.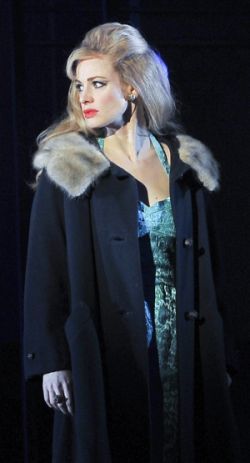 Can you do the mashed potato?
Kritzer: No, but I can eat them just fine.
Wicks: Absolutely!

What is your favorite type of candy?
Kritzer: Nestle Crunch and Kit Kats. I have a problem.
Wicks: Red Vines or Red Rope
Kritzer: My therapist. But I owe her money so not right now.
Wicks: My poor boyfriend gets the brunt of it. Sorry babe.
Have you ever been embarrassed about where you came from?
Kritzer: Never. Jersey strong.
Wicks: Sure, when I was a wise-ass teenager. But now I flaunt it!

Who has the biggest piece of your heart?
Kritzer: Duh, my toy poodle, Ellie. Then, my husband.
Wicks: Animals who do absurdly cute things and teach us how to love unconditionally. They get me every time.
Piece of My Heart is currently running at the Signature Center through August 31. It officially opens on July 21.
Photo credit Jenny Anderson. Top right: Kritzer. Bottom left: Wicks.
Related
Popular in the Community