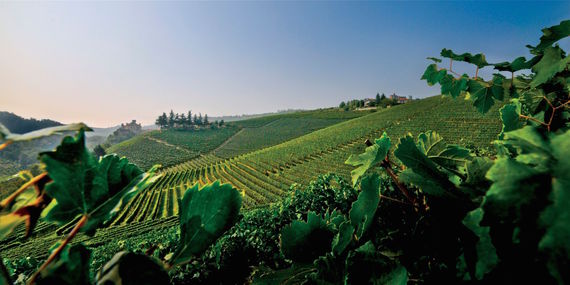 I wouldn't call it a raging debate, but in Italy's Piedmont region there are two schools of thought as to how to make one of its two most famous wines, Barolo, made from the Nebbiolo grape. (The other is Barbaresco, made from the same grape.)
On one side are the traditional Barolo makers, like Marchesi di Barolo, Giuseppe Rinaldi and Giacomo Conterno, whose long-aged wines have set a standard for big-hearted, mouth-filling, complex wines that are meant to be put away until they mature. On the other side are younger wineries like Scarzello, Paolo Conterno and Cascina Ebreo Torbido, whose wines tend to be a bit lighter and are more ready to drink soon after release.
Barolo takes its name from a Piedmontese village surrounded by vineyards, and the wine has been made as a dry, tannic red since the mid-19th century. As "The wine of kings and the king of wines" favored by the aristocratic families of Turin, Barolo always had a local cachet, and over the next century the Barolo production region was expanded to include five principal towns upholding the tradition of rich, highly concentrated, long-lived wines.
In the past, fermentation and maceration could last up to two months, so that in big vintages the alcohol level could rise above 15%. Those made since the mid-1980s in a more modern style emphasize softness over tannins and an earlier release time over high alcohol. Traditionalists argue that such wines are thin and tend to oxidize more quickly.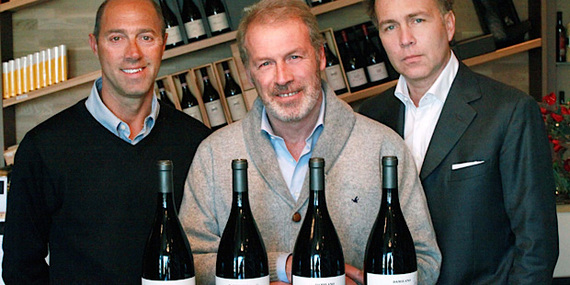 Somewhere in the middle of these contrasting but complementary philosophies is Damilano Barolo, whose reputation since 1890 has put it in the highest ranks in the region. The estate is now owned and run by Mario, Guido and Paolo Damilano (above), who have expanded it and brought in the most up-to-date technology to make their wines while always keeping a very careful eye on their family's traditions. Production is now 322,00 bottles annually, the most prestigious being the Barolo crus---Cannubi, Brunate, Cerequio and Liste; the first two are considered the most elegantly knit and complex.
Over dinner at New York's Lincoln Ristorante, Paolo Damilano focused on the Cannubi cru (about 50,000 bottles), considering the wine "a big responsibility" and noting that Cannubi is actually an older name than Barolo, dating back to 1752; it means "a mix of soil" in the local dialect. "They used to `fix' other Barolos by adding Cannubi," he said.
Damilano is not alone in producing single-vineyard labels. Most of the 948 growers in the region now do, and recognized estates have been expanded in recent years to maximize name recognition. But Damilano owns ten of the fifteen treasured Cannubi hectares (above), on a hill that stretches from the town of Bra to the family's estate. The land has been subdivided into 20 micro-areas whose vines produce distinctive qualities that go into their Barolo Cru and the "1752" Reserve. The soil on the hill ranges from sand to limestone, with magnesium oxide and manganese part of the terroir.
At their modern cellars in La Molla (left), the Damilanos use only natural yeasts, with fermentation between eight and fifteen days. Maceration is prolonged and the wines are racked, and the cap of grape must is pushed down to provide a robust body and tannins to the wines.
"From the crus we can have an extensive palette to make our wines with," Paolo said over a Piedmontese dinner of raw beef called carne cruda with a gratin blue cheese dressing and toasted walnuts, and a fritto misto of fried quail, sweetbreads, chicken livers and lemon mayonnaise. "This is what we would be eating in Piedmont right now," he said, and it was clear how much more enlightening it is when one drinks the wine of the region with the food of the region.
We drank the Cannubi Cru from the 2008 vintage ($100), a beautiful and intense wine that shows the rich essence of the Nebbiolo grape. "The harvests are getting later and later," he said, citing global warming. "It used to be in October and now it's in November. And we get hail, hail, hail every year!" The vintage was one of the latest harvests in a decade.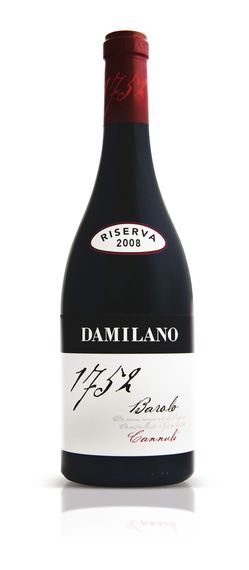 With the Cannubi "1752" (also from 2008) we enjoyed chestnut pasta with a wild boar ragù, porcini mushrooms and Parmigiano-Reggiano, along with braised shoulder of beef with sweet parsnips, chanterelle mushrooms, baby onions and a red wine sauce--woodsy, hearty flavors that were wholly enhanced by the power and structure of the "1752," which is only released as a Riserva after seven years, at 14.5 percent alcohol. Only the very finest grapes, from vines 40 to 50 years old that grow deep into the sub-soils, are picked, then fermented on the grape skins for 20 days and left with the skins for another 30. The wine will spend 60 months in an oak barrel, then 24 more in bottle before release this year. It is priced at $275.
Damilano's willingness to wait--and therefore sit on a major capital investment--is indicative of the estate's commitment to the long traditions of Barolo making, while its modern facilities are intended to keep the grapes and wines as healthy and bright as possible.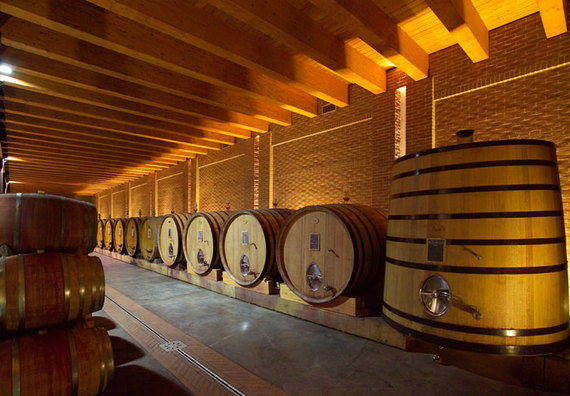 Paolo was very happy because his wines showed so well with food with which he was very familiar, declaring Lincoln the best Italian restaurant he had eaten in in New York. His family runs a fine restaurant named Massimo Camia on the Damilano estate that specializes in similar Piedmontese cuisine; it serves several dishes quite like what he enjoyed at Lincoln.
"When you have such high quality of wine made with such passion and care as my family has," he said, "you always want to marry it to food of the same quality, which is rare outside of Piedmont. When you are as proud as my family is of what we do, we have to be patient. We try to make the very best Barolo wines we know how to make, but also wines as fine as any in Italy or the world."