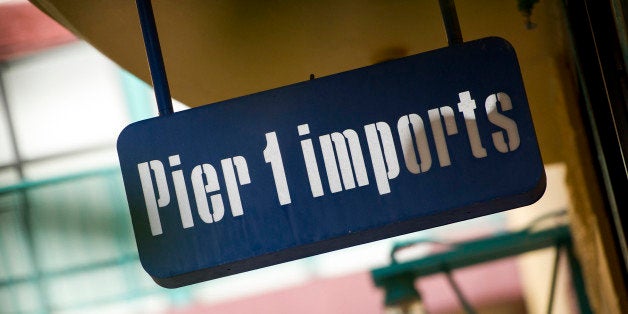 A pregnant worker has filed a lawsuit challenging Pier 1 Imports' policies toward expectant mothers, saying the home-goods retailer forced her to take unpaid leave due to her pregnancy.
In her suit filed in California state court on Wednesday, Kimberly Erin Caselman argues that the company's practice of providing pregnant workers with eight weeks of light duty and then placing them on leave runs afoul of state discrimination laws. Caselman told HuffPost that she could have kept performing her job with a few small accommodations.
"I really liked my job and I wanted to continue there," said Caselman, 31, of San Jose. "They stand for a lot of things that I stand for, up until it comes to accommodating for pregnancies."
A Pier 1 spokesperson said the company wouldn't comment on the lawsuit or its policies on pregnant workers.
According to her lawsuit, Caselman's doctor told her in November that she shouldn't lift more than 15 pounds or climb ladders at her store. Her supervisor then put her on light duty, until her eight weeks came to an end in January.
Caselman said she asked her manager and the company's human resource department to let her continue working under restrictions. She said she was told that eight weeks was the most light duty she was allowed under company policy.
California law mandates that employers offer pregnant workers what's deemed "reasonable accommodation" at work when it's recommended by a doctor. Caselman's lawyer, Sharon Terman, argues that Pier 1's policy violates that law by placing an 8-week ceiling on light duty.
"The law also forbids employers from placing pregnant women on leave when they haven't asked for leave," Terman said. "That's what happened here. [Caselman], like a lot of women, had minor restrictions that could have been easily accommodated by her employer."
Caselman worked at Pier 1 for two years on a part-time basis, usually carrying about 18 hours a week, she said. Her husband has continued to work during the pregnancy, but she said the loss of her supplemental income has been a hit on the family. Her baby is due in July.
Caselman's lawsuit is a proposed class-action, although she's the only named plaintiff at the time of filing. The Legal Aid Society-Employment Law Center, a non-profit focusing on employment law, filed her suit.
New York City recently passed a law protecting workers who are fired or pressured to go on unpaid leave due to their pregnancies. The law quickly helped a thrift store worker in the Bronx win her job back.
The Pregnant Workers Fairness Act, proposed by Democrats in Congress, would strengthen existing federal law by making it mandatory for employers to provide reasonable accommodations for pregnant workers. It would also forbid employers from forcing such workers to go on unpaid leave. The bill hasn't passed either the House or the Senate.
Correction: This article originally said New York State recently passed a law protecting pregnant workers. It was New York City.
Popular in the Community