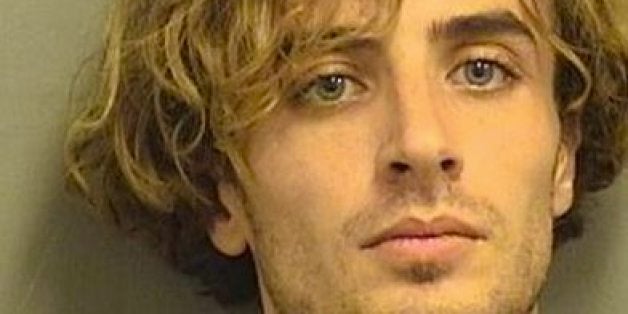 A woman who hosted a French exchange student ten years ago and recently let him move back in was allegedly attacked by the man.
Police said Pierre Franchi, 29, attacked 66-year-old Sue Ann Montfort in the early Friday morning because demons were after her, the Palm Beach Post reported.
In an attack that lasted for nearly 10 hours, Franchi allegedly shouted "demons are coming after you," as he repeatedly choked and assaulted Montfort.
Using cords from the blinds in her bedroom, Franchi allegedly choked her before grabbing a pillow , attempting to smother her. He then hit her over the head with a hand-held mirror, a police report obtained by the Sun Sentinel said.
"I have to protect you," Franchi told her, according to the report. "I have to kill the demons."
Montfort had a "motherly affection" for Franchi, the report said.
After his exchange program ended, the two stayed in touch. Earlier this year, Franchi moved in with Montfort after living in California. According to his Facebook page, Franchi was born in Marseille, France.
Franchi allegedly broke Montfort's cellphone at the time of the attack, afraid she would call for help. Fighting off the man, Montfort fell to the floor, where Franchi ordered her to bow to him, police said.
Montfort escaped to the bathroom where she stayed for hours. When she attempted to yell for help through a window, Franchi blared music to drown her out, the report said.
Franchi eventually left, allegedly stealing the woman's car and purse before being apprehended by police.
Montfort told Boynton Beach officers that his behavior may have been triggered by a fight earlier in the night. Montfort confronted Franchi over a wet towel over a chair which prompted an hour-long argument before she went to bed. Three hours later, he allegedly attacked her.
The woman told police Franchi is often prone to rants, spurts of unprompted laughter and excessive chatter.
Franchi is currently being held at the Palm Beach County Jail. He faces charges including aggravated battery on a person over 65, false imprisonment, grand theft and depriving use of 911. Late Monday, he remained behind bars in lieu of $30,000 bail, jail records show.
Related
Popular in the Community