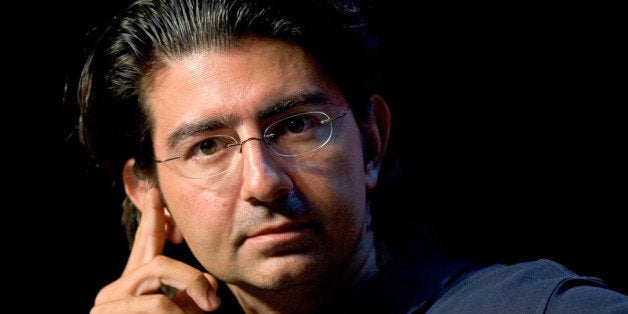 In light of mass resignations at The New Republic, eBay co-founder Pierre Omidyar may be setting an example for tech billionaires trying a hand in the journalism with his newest project within First Look Media: Reported.ly.
Reported.ly serves as First Look Media's real-time newsroom, but there's an interesting spin: It will publish its content primarily on social media platforms.
The concept of Reported.ly comes after Andy Carvin, editor-in-chief of First Look Media's newest outlet, grew tired of the way news organizations use social media, saying other news outlets view it as "simply a tool to redirect people to their own websites." Carvin explained how that frustration inspired Reported.ly in a Medium blog post:
We want to tell stories from around the world, serving these online communities as our primary platforms for reporting -- not secondary to some website or app. Forget native advertising -- we want to produce native journalism for social media communities, in conjunction with members of those communities.
Reported.ly is a step forward for the media company after months of internal conflict and concerns regarding editorial control.
After eight months working with the company, former Rolling Stone columnist Matt Taibbi raised several questions with regard to the future of First Look by stepping down from his role as creator Racket, the company's digital magazine, in late October.
Omidyar, the primary backer of First Look, released a statement Oct. 28 stating the disputes with Taibbi were "never about editorial independence." The Intercept wrote a piece disagreeing with Omidyar, citing the lack of autonomous budgets and Omidyar's reluctance to give Taibbi managerial duties over Racket as the source of friction.
Following Taibbi's exit, a few more departures from First Look Media were announced. HuffPost reported in late November:
Two weeks later, John Cook, who co-wrote that piece with co-founders Glenn Greenwald, Laura Poitras and Jeremy Scahill, announced plans to step down as The Intercept's editor-in-chief and return to Gawker.

Now comes several more departures. An unsigned First Look "update" posted Tuesday announced that the Racket was being shuttered and its staff, which includes Alex Pareene, Edith Zimmerman and Elle Reeve, would be let go.
Since the series of events following Taibbi's departure, First Look Media has come under scrutiny regarding editorial independence of journalists from corporate executives. However, Reported.ly's core values seem to alleviate those concerns by stating that journalists will have full autonomy for the news coverage they produce.
"We take orders from no one -- period. Our team alone will determine what we cover and what we don't," Carvin said in Reported.ly's Medium blog post, citing their core values. "Funders, sponsors, corporate management and other institutional influencers will have no say in our editorial decision-making."
Omidyar, co-founder of First Look Media, originally envisioned a flagship news organization that serves as a platform for adversarial journalism in an array of digital magazines. Omidyar launched First Look in February 2013 in conjunction with The Intercept, a digital magazine focusing on national security and privacy issues, with a staff that includes Glenn Greenwald, Jeremy Scahill and Laura Poitras. It is unknown as to what extent Reported.ly will work with The Intercept in producing global news coverage, but it is evident that they are already reaching out to social media communities, like Reddit, to help frame up their reporting.
CORRECTION: An earlier version of this story misstated that Reported.ly will be publishing their news coverage exclusively on social media. Reported.ly will be publishing news coverage primarily, as opposed to exclusively, on social media.
Calling all HuffPost superfans!
Sign up for membership to become a founding member and help shape HuffPost's next chapter
BEFORE YOU GO
PHOTO GALLERY
Remembering Aaron Swartz