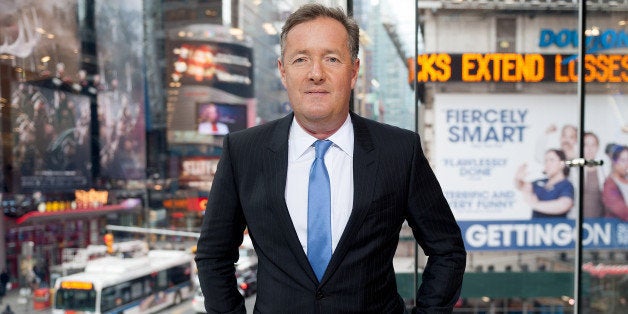 Elton John, Ricky Martin and other celebrities called for a boycott of Dolce & Gabbana apparel after designers Domenico Dolce and Stefano Gabbana made offensive comments about same-sex families adopting and having children through in vitro fertilization, calling them "children of chemistry, synthetic children. Uteruses for rent, semen chosen from a catalog."
In an op-ed for the Daily Mail, Morgan said that, although he agrees with the condemnation of the designers' comments, he is not in support of the boycott. He cited how people in Hollywood boycotted the Beverly Hills Hotel because it is owned by the sultan of Brunei, whose country implemented anti-gay Shariah law. That boycott and the boycott against Dolce & Gabbana, Morgan wrote, hurts innocent employees of those businesses more than the main culprits.
Morgan also said he supports freedom of speech, regardless of how "unpalatable." He did, however, advocate for ongoing discussion.
The best way to alleviate that discomfort is not by strangling [Dolce's and Gabbana's] rights to freedom of thought or speech, or demonizing them. But by making them see that their fears are unfounded. If I were Elton John, I'd stop this silly call for a boycott, and invite Dolce and Gabbana round to one of his houses for to let them see with their own eyes what a great dad he is and how happy and well adjusted his kids are. Elton's best weapon in this debate is practicing what he preaches, with demonstrable success - not trying to stop others from having an opinion.
Dolce and Gabbana have responded to the controversy surrounding their remarks by saying their views stem from their traditional upbringings and that they do not judge others for their choices.
REAL LIFE. REAL NEWS. REAL VOICES.
Help us tell more of the stories that matter from voices that too often remain unheard.
BEFORE YOU GO
PHOTO GALLERY
Anti-Gay Celebrity Statements