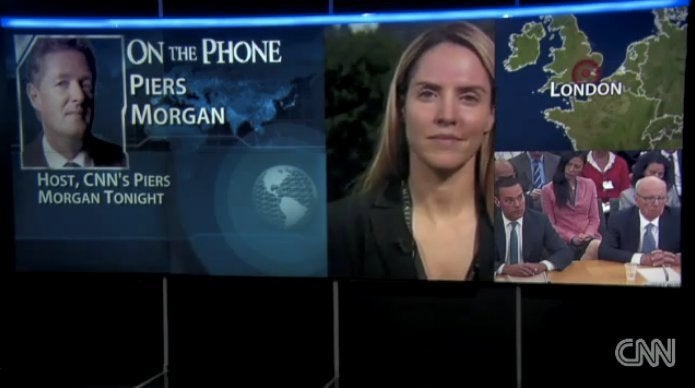 NEW YORK — After remaining on the sidelines of Britain's phone hacking scandal, Piers Morgan was finally drawn into it, defending himself and his former boss Rupert Murdoch.
While Murdoch testified in London before Parliament on Tuesday, Morgan took to Twitter and, later, to CNN to defend his stewardship of the News of the World. Morgan, editor of the now-defunct tabloid from 1994 to 1995, and veteran of the rough-and-tumble business of Fleet Street, has largely declined to address the scandal on his CNN nightly prime-time show.
But when MP Louise Mensch, while questioning Murdoch, said Morgan's 2005 autobiography, "The Insider: The Private Diaries of a Scandalous Decade," bragged of his using phone-hacking for scoops, Morgan launched into protest.
"Ms. Mensch is completely and utterly wrong," Morgan tweeted. "She clearly hasn't read my book. Can someone please give her a copy?"
Mensch appeared to confuse her source. In "The Insider," Morgan does not boast of hacking phones, but writes of being suspicious that he, himself, was hacked. After being warned by a friend, he changed his phone's security code.
Morgan was also editor of the British tabloid the Daily Mirror (which wasn't owned by Murdoch) from 1995-2004. The News Corp.-owned News of the World ended publication July 10 over allegations that reporters hacked into phone records of crime victims and others.
Mensch's office didn't respond to a request for a comment.
WATCH:
But she did appear on "The Situation Room" on Tuesday, along with Morgan. When he pressed her to admit she had been wrong, she refused to comment, claiming she couldn't repeat what she had said during the hearing because she was no longer protected by the legal immunity afforded to Parliament.
Morgan called Mensch's response "cowardice" and demanded she correct what he called "an absolute blatant lie" and "an outrageous attempt to smear my name."
Morgan has backed News Corp. CEO Murdoch during the scandal. Last week, Morgan said he was a "big admirer of his" and that he would not "join in the kind of witch hunt that's been going on."
On Monday's "Piers Morgan Tonight," Morgan stated: "I do not believe that any story we published ... was ever gained in an unlawful manner, nor have I ever seen anything to suggest that."
While following Tuesday's hearing, he wrote: "Strong finish by Rupert. Love him or hate him, does anyone genuinely think he's a crook or condoned crime? Because I don't."
Much of the questioning directed at Murdoch centered on the chain of command at News Corp. and how involved he was in the day-to-day business of his publications' newsrooms. Morgan said that while he was editor of News of the World, he and Murdoch spoke every week for 18 minutes and that Murdoch "rarely asked about anything but what stories we had that week."
"He never asked me about methodology of stories," Morgan said on "The Situation Room." "He didn't have time."
Related
Popular in the Community