The Philadelphia International Festival of the Arts (PIFA), curated by the Kimmel Center, with 60 events over 16 days this month. The festival features a wide ranging line-up of performances and visual art installations by local and international artists at venues and galleries all over the city. There is always a festival theme to inspire the artists and this year it is "You Are What You Make" and with a focus on the artistic spirit that speaks to the global community.
PIFA was launched in 2011 as a semi-annual event and the two previous festivals were artistically and financially successful. Jay Wahl, the Kimmel director of special programming said that this year's festival has fewer events than the previous ones, but with bolder concepts in programming.
Anne Ewers, CEO of the Kimmel Center noted that this year's PIFA is a "love letter to the Philadelphia region, with 75 percent of the festival free and accessible to everyone within reach of our broad and wonderfully diverse community."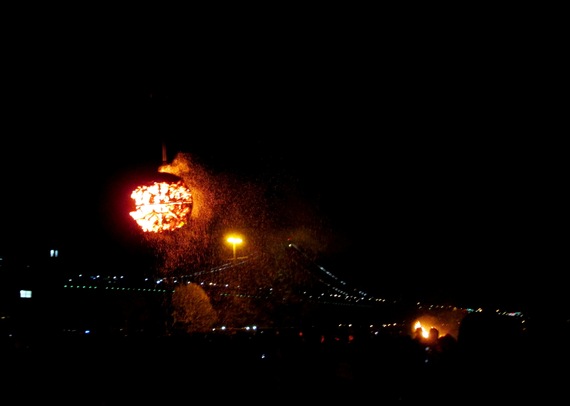 scene at Article 13 (ph:LW)
Ewers spoke at the unveiling of "The Kinetic Tree" an interactive sculpture created by MacArthur Genius Award winning artist Mimi Lien. It looms over Commonwealth Plaza in the Kimmel Center lobby. The installation was activated the night before the festival opened just as a Philadelphia Orchestra concert was concluding in Verizon Hall as the music lovers were streaming out everybody stopped in their tracks at the spectacle of the sculpture's moveable branches and laser light show..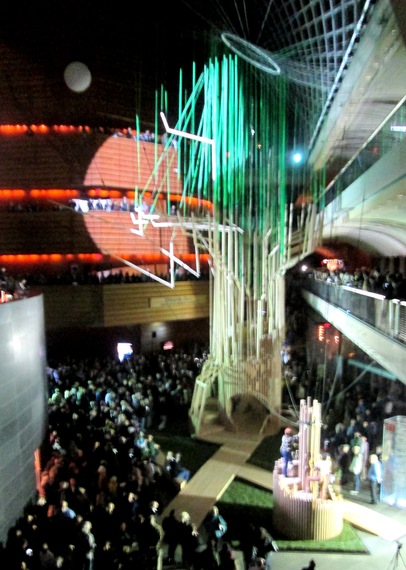 More spectacular lighting occurred the following night on the Delaware River for the opening of "Article 13" in its US premiere. A sobering and inspiring performance and visual art installation about the plight of immigrants and refugees by renowned performance artists troupes Teatro Linea de Sombra (Mexico) and Compagnie Carabosse (France) 2000 people waited in line stood out in 40 degree weather for the opening night performance and was built over the main plaza at Penn's Landing with a labyrinth of sculpture, projected film, dancers and actors, engulfing soundscapes and a symbolic use of fire encampments symbolizing struggle, survival and freedom.
Wahl went to great lengths to have the work mounted at Penn's Landing, one of Philly's most historic and populous locales. He said it was hard to describe the uniqueness of the fire installation to the Philadelphia Fire Department to get the required clearances, but once everything was in place with one or two minor required adjustments, it was a go..
In Verizon Hall in the Kimmel Center, the plight of refugee was also the theme for New York based Gillam Dance troupe in collaboration with the prestigious Curtis Institute of Music and the Choral Arts Philadelphia in a riveting dance work called "Boat."Director-choreographer Andrea Miller devised a profound and harrowing movement template for her troupe of ten dancers. An earthy three part oratorio propelled the troupe of dancers with pulsing waves of voices and the sonic power of a 7000 pipe organ with music by composer Arvo Part.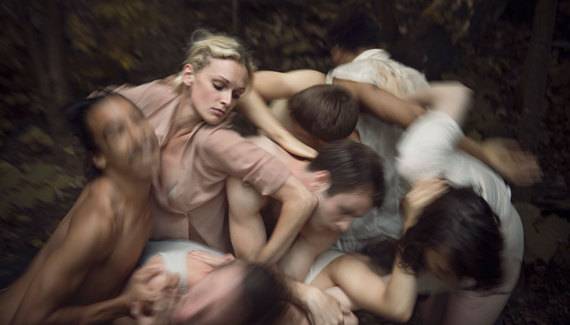 (courtesy Gallim Dance)
The Kimmel's resident dance company Philadanco, weighs in with their electrifying program "Global Artistry" featuring new ballets by choreographers Thang Dao (Vietnam), Francisco Gella (Philippines) and Ray Mercer (USA). Other dance highlights include "Knitting Peace" by Swedish troupe Cirkus Cirkor, staged at the Merriam Theater, with the aerialists on trapeze and tightrope apparatus hidden in layers of flying recycled yarn that creates fantastical and otherworldly visuals.
In the Kimmel's Sei Innovation Studio in addition to several jazz and poetry concerts there is the theatrical presentation "Holding It Down- The Veteran Dreams Project" a multi-media collaboration by pianist-composer Vijay Iyer and poet-performer-librettist-emcee Mike Ladd and American veterans of color who fought in Iraq and Afghanistan, expressing their dreams, fears, experiences and reflections as soldiers.
HoldingItDowntheVeteransDreamsProjectHarlemStageTue9812_September1820120258EditEdit1Copy.jpg" src="https://images.huffingtonpost.com/2016-04-19-1461030023-1898049-HoldingItDowntheVeteransDreamsProjectHarlemStageTue9812_September1820120258EditEdit1Copy-thumb.jpg" width="570" height="379" /> (photo courtesy Kimmel Center)
PIFA's finale is a huge Street Fair on South Broad Street April 23 with roving cirque arts, troubadours, dance, music, craftwork, and performances that include the extreme trampoline acrobats and stilt walkers camouflaged as botanical creatures and wheelmen careening over the crowd on vintage cycles. And there is even an Aerosculpture - Invented by French artist Jean-Pierre David, piloted by an individual performer that will "fly" around the Kimmel Center.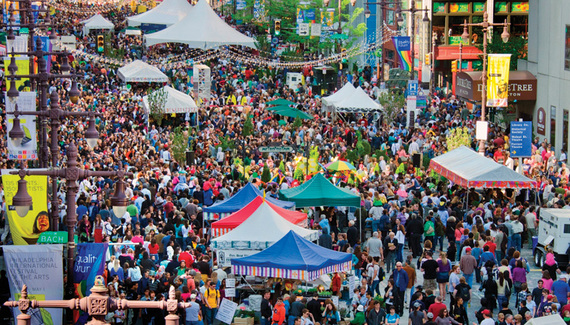 PIFA runs at various venues and locations in Philadelphia through April 23. Visit www.kimmelcenter.org and www.pifa.org for a complete listing of events, locales and performance times.
REAL LIFE. REAL NEWS. REAL VOICES.
Help us tell more of the stories that matter from voices that too often remain unheard.