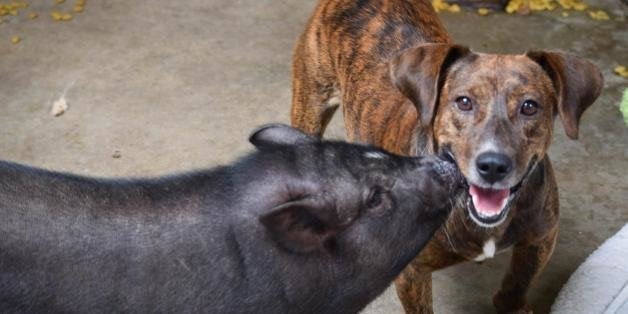 Tuna the pig smooches Jack the dog all the time.
"Tuna loves to groom Jack and give him piggy kisses," says Whitney Hanson, spokesperson for the Humane Society of North Texas. "We frequently receive cats and dogs that are bonded, but this is by far the most unusual pair we have come across."
And, hey, now that you've come across them -- want to give these lovebugs a wonderful new home?
Tuna is just 5 months old. She's a purebred potbellied pig. Jack is thought to be a 3-year-old boy, who's a mix of beagle and dachshund. Both are friendly and easy-going (as well as spayed and neutered, respectively, and vaccinated).
The two were given up by their previous owner in late June, leaving the shelter with "an unusual predicament," says Hanson.
Tuna and Jack wouldn't be separated, of course. But because not all dogs are pig-friendly, it might be stressful for many different parties of several different species for the pair to be housed in the usual dog quarters.
"At that time we decided the best option was to house them in our exotics area, which was empty at the time and features very large kennels designed to house tigers and bears," says Hanson.
"There are actually more tigers in captivity in Texas than there are free in the world. It's been the subject of a lot of debate in our state over the past four years," says Hanson.
Unlike the big cats, who require very specialized environments to move on to, this smoochy little pig and doggie duo are just looking for a regular old wonderful family home -- with people who either have experience with pigs and dogs, or are willing to learn. (Potential adopters must also come visit the shelter, located in Fort Worth, in person.)
In return, with your bird's eye view of this sweet interspecies friendship, your heart will grow to the size of Texas.
"Our staff adore them and have been truly touched by their affection for one another," Hanson says.
"Tuna has been with Jack since she was very young, so as you can imagine, she is very attached to him," she says. "Jack is a bit more independent than Tuna, but it is obvious that she's his best friend."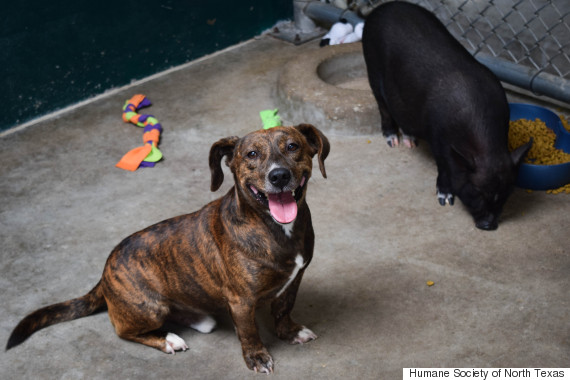 OK, sometimes they stop kissing. Photo: Humane Society of North Texas
UPDATE: July 15, 2015, 8:15 a.m.: Check out this great news!
Get in touch at arin.greenwood@huffingtonpost.com if you have an animal story to share!
Calling all HuffPost superfans!
Sign up for membership to become a founding member and help shape HuffPost's next chapter
BEFORE YOU GO
PHOTO GALLERY
Emma The Pig