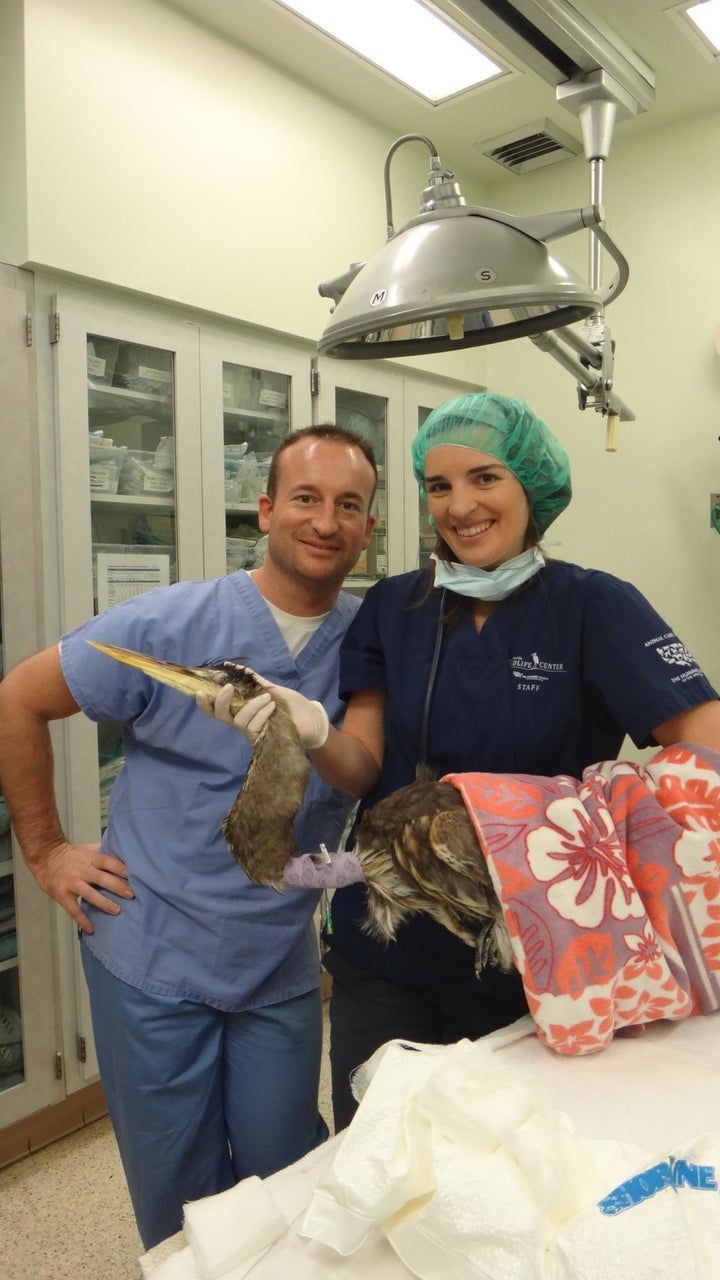 HOLLYWOOD -- The patient arrived in a cage, feathers ruffled, blind in both eyes.
Medically, the challenge was unprecedented. But the surgeon did not blink.
In a delicate, microscopic procedure that may have been the first of its kind, veterinary ophthalmologist Robert Swinger stitched tiny pieces of pig bladder onto the ruptured corneas of a great blue heron on Thursday in an effort to restore the bird's sight.
"It was stressful, and there was not a lot of room for error," said Swinger, 35, after a tedious two-hour operation on the leggy, anesthetized wading bird at the Hollywood Animal Hospital. "But the patient was excellent. I think it went well."
The bird -- North America's largest heron, common throughout the Florida along shores and in wetlands -- became the guinea pig for groundbreaking eye surgery after it was found in Lake Worth two weeks ago, too weak to stand and with ulcers in both eyes.
The bird was brought to the South Florida Wildlife Center in Fort Lauderdale, where the blue-gray adult, age and gender unknown, might have been euthanized or condemned to live out its life in a pen, said Renata Schneider, director of wildlife rehabilitation. Great blue herons normally live about 15 years in the wild, according to ornithologists.
But in hopes that the heron will once again fly and issue its distinctive, harsh croak, Swinger volunteered to operate, employing a technique he routinely uses on dogs and cats.
Schneider, also a veterinarian, and several technicians monitored the heron's heart rate as Swinger put in 50 sutures to attach each pig bladder cover to holes in the pea-sized eyes. The bladder will help the cornea regenerate, said Swinger.
Cataract surgery on pet birds is not rare. But corneal repairs on wild birds is, said Carmen Colitz, a veterinary ophthalmologist in Jupiter who has done eye surgery on seals and penguins. "What's important to know is we can do this," she said.
The cost of such a surgery could add up to $3,500 or more, Swinger said. But he and the hospital are footing the bill.
The success of the procedure won't be known for weeks, when Schneider turns the heron loose in a pen with a pond full of fish. To live, the heron has to be able to catch its favorite food.
Schneider knows some might question the money and effort spent on rehabbing a bird that is not endangered and may not make it. "To me the answer is so obvious," said Schneider, 35. "Our goal is always to return animals to the wild. The fact that this heron is not endangered is not the point at all.
"The next bird we get might be endangered."
Schneider said she hopes to be there when the heron is released. "We get so many animals that are hopeless and don't make it," she said. "So it is always a joy to watch a bird fly away."
mclary@tribune.com, 954-356-4465 ___
(c)2013 the Sun Sentinel (Fort Lauderdale, Fla.)
Distributed by MCT Information Services
Related
Popular in the Community