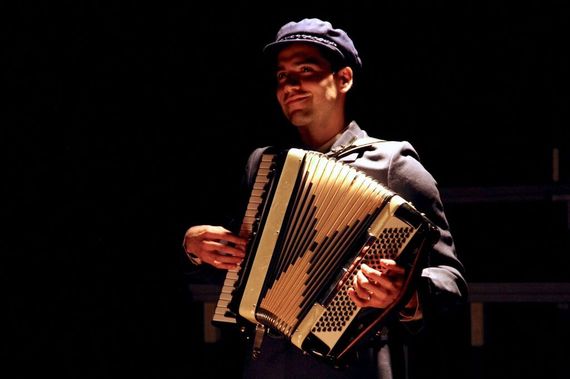 Michael Castillejos in Gentlemen Volunteers (photo Lindsay Browning)

Pig Iron Theater Company is renowned as one of Philly's most innovative theatrical troupes. They are celebrating their 20th anniversary by restaging their production of Gentlemen Volunteers by Suli Holum who was also one of PITC 's founders. First staged by the company in 1998, its powerful antiwar message resonates more that ever. Set in 1916-17 as America was about to enter the WWI, it follows the lives of Red Cross nurses and soon to be US recruits on the front lines in France.
The play is deftly staged at in the rustic brick and iron foundry space at Christ Church Neighborhood House and co-directed by PITC founders Dan Rothenberg, Quinn Bauriedel and Dito van Reigersberg.
The audience is instructed to move around en la 'promenade' around these scenes, which leads to some audience scrambling, but this element, playing to the scene, jars the senses.
There is a captivating musical prologue as the audience files in the theater as Francoise de la Tour (Melissa Krodman) sings a rousing French cabaret song and if followed by Jean (Michael Castillejos) her accordionist who then sings the saucy Ragtime tune "Everybody's doing it!"
The story starts on the Yale athletics field where a recruiter is looking for volunteers to assist in France in anticipation of the US entry into the war. Yalies Rich Conwell (Bryant Martin) dreams of learning how to drive a Model T, while Vincent Barrington (Scott Sheppard) a budding poet looking to chronicle his experiences in the service of a good cause.
They head 'over there' as drivers and assistants in a Red Cross field hospital near the front where Francoise is head nurse, who runs her unit with steely command. Her English cousin Mary Pinknell (Lauren Ashley Carter) has also just arrived to start as a nurse volunteer. She starts off on the wrong foot, but Francoise gets her up to speed without pause. Mary is attending her first patient, with Rich suddenly at her side, who then faints she attends to a wounded soldier's wound. The chance meeting turns into something more, but not before Francoise walks in admonishes them "this is not a cabaret." she barks. Later she tells her nurse corps (aka, the audience) "You are here working between life and death....and don't you forget it."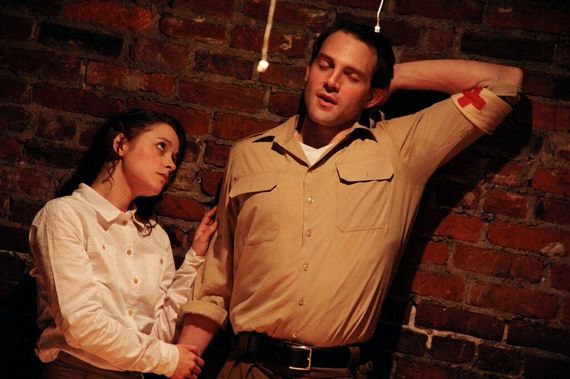 Lauren Ashley Carter & Bryant Martin (photo Lindsay Browning)
But Francoise forgets it and falls into a torrid affair with Vincent, after they get drunk in a bar. Now she doesn't have time to keep an eye on Mary, who spends every off duty hour in bed with Rich.
The directors devise elements of physical theater, mime and ensemble acting to orchestrate Holum's gritty, economic, sometimes whimsical dialogue, elegiac meditations about war.
Some of pantomime scenes -- in the operating room or operating an ambulance crank-shaft on period vehicles are easy to decipher, but there is also more cryptic mime relating to the senses and emotional motives between the characters, who remain tentative under the stress and trauma of war.

The lover scenes are particularly well handled with tension and tenderness of the circumstances. Francoise and Vincent fall in love and their after hours affairs unravels la Tour's guarded secrets. When they are separated Vincent writes her passionate letters, but she can't bring herself to read them. Meanwhile Mary has surprising news for Rich, but he has joined up as a commissioned Doughboy off to fight in Italy. Everybody looses. Vincent articulates the pyrhic victories and vows to write about the realities of war.
In brief flashbacks, Castillejos is a dynamic Jean, revealed as Francoise's husband, a casualty of war. He also is L'Homme d' Orchestre, playing a Ravel nocturne on clarinet timpani for various precision battlefield effects. He also performs the original (award winning) sound designs by James Sugg. As in the days of radio they are performed manually with such items as paper, fabric, typewriter, eggbeater, enamel basin, surgical instruments, etc.
As Vincent, Scott Sheppard conveys warmth and humor and a sober drive of a writer witnessing fateful events. As Rich, Bryant Martin has the spunk of an All-American and deftly communicates his growing disillusionment observing the real cost of war. Lauren Ashley Carter is all heart and courage as Mary and has a hilarious mis-en-scene doubling as an snarky cockney war photographer. Melissa Krodman gives nothing less than a tour de force performance as the heroic and tragic Francoise de la Tour.
During the run, there are two scheduled benefit performances performed by the original 1998 cast which included Dito van Reigersberg and Quinn Bauriedel as Rich and Vincent, Cassie Friend as Mary, Emmanuelle Delpech as Francoise and James Sugg as Jean.
Gentlemen Volunteers runs through Dec. 27, 2015 with performances at Christ Church Neighborhood House, 20 N. American Street, Philadelphia.
http://www.pigiron.org
Support HuffPost
The Stakes Have Never Been Higher
Related
Popular in the Community