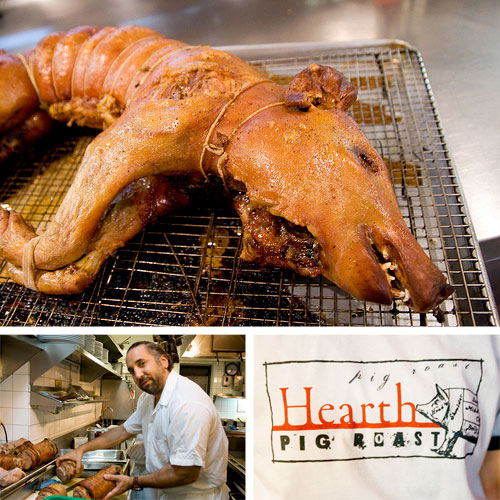 Though it might be a case of wishful (or should I say pig-full) thinking, I don't think it is: Pig roasts are everywhere. In fact, pig roasts may be the new bacon (or maybe they were the old bacon—it's hard to keep all the porcine references straight). Any day now I know that Starbucks is going to announce that some pig is going to come with every cup of coffee, and that means that McDonald's will follow in short order.
In the last two weeks the serious eaters have heard about recurring summer pig roasts at Resto, Klee Brasserie, and Hearth. We got wind of Hearth's kick-off roast last week, which prompted us to descend on Marco Canora and Paul Grieco's Italian-drenched contemporary American restaurant last Tuesday. Erin and I took a seat at the counter facing the kitchen, so we got a bird's (or pig's) eye view of the whole affair.
The Tuesday night menu includes:
Frisee salad with gorgonzola, fried shallots and warm bacon vinaigrette
Pork terrine with pickled vegetables, pistachios, and house-made mustard
Roasted suckling pig with pork sausage, creamed swiss chard, canellini beans, and tomato
Peach crumb pie with vanilla ice cream
But even more important than the individual menu items at the pig roast are the pigs that Canora starts with: Bev Eggleston's humanely raised suckling pigs. Canora says, "You have no idea how perfect Bev's pigs cook up. The layer of fat underneath that thick skin makes for a perfect self-basting roast. Cooking Eggleston's pigs are really almost foolproof. They are indeed a beautiful thing."
Hearth's pig roast starts off with a frisee salad with gorgonzola and fried shallots in, what else, a warm bacon vinaigrette. Canora's no pork-y come lately with this salad. "I've been doing this salad for 15 years. The bacon fat and gorgonzola are balanced with a strong sherry vinegar and the crunchy frisee and fried shallots complete a pretty magnificent salad."
The moist pork terrine (made from the pig's shoulders) with pickled Greenmarket vegetables and pistachios was enlivened by the house-made mustard, but it could have used more salt and been more assertively seasoned.
Each of the pigs (and he had seven last week) are raised humanely by Eggleston in Moneta, Virginia, and weigh in between 18 and 24 pounds.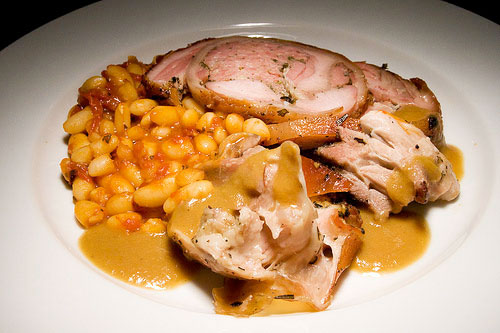 The pig meat is magnificent. The skin was ultra-crisp, all of the fat under the skin was fully rendered, and the pork was remarkably tender and piggy-tasting. It's a good thing the pig roast at Hearth isn't an all-you-can-eat affair, because I might still be eating pig a week later. So how does Canora cook Eggleston's pigs?
"We bone out the ribs and the backbone and stuff the carcass with pork sausage. First we rub the interior with chopped rosemary, garlic, sage, olive oil, salt, and pepper. We then roast them whole on a bed of fennel and onion at 250 degrees for about four hours. Than we cool it in the walk with a fan blowing to dry the skin out [Ed. Note: sort of like Peking duck]. The pig is then brought to room temp and cooked in a 450 degrees oven for 40 minutes. We turn those roasted veggies into a "passatta" sauce."
The beans, called fagioli al' ucceletto, or beans cooked like little birds, are made with tomatoes, garlic, sage, rosemary, lots of extra virgin olive oil, and cracked black pepper. They are creamy and firm, an excellent accompaniment to the pig. The swiss chard is cooked in cream, like creamed spinach, then topped with garlicky bread crumbs. If your Italian grandmother was a really good cook she might have prepared swiss chard this way. My grandmother was too busy making latkes and blintzes to cook swiss chard.
The definitely-not-Italian peach crumb pie was deftly executed, as was the house-made vanilla ice cream, but the only way it made sense with the rest of the meal was to think about it like peach cobbler.
According to Canora, he and Grieco are planning to do something like this once a week in the future. "This" being a special menu focused around a large animal, like 20-pound Wild King salmon baked under salt or large standing rib roasts of aged beef. Hmm, do not try these things at home. Thanks to Canora, New Yorkers don't have to.
Hearth Pig Roast
Two Tuesday nights left: August 4, August 18
403 East 12th Street, New York NY 10009 (map); 646-602-1300; restauranthearth.com
Service: Attentive and professional
Setting: The two dining rooms at Hearth
Compare It To: Resto, Klee Brasserie
Must-Haves: The pig itself, salad with bacon vinaigrette, and swiss chard
Cost: $43
Grade: A-
Related
Popular in the Community