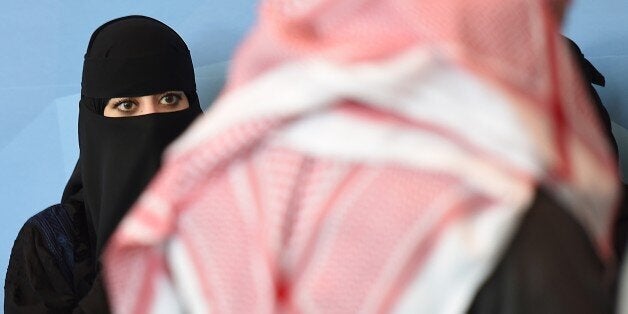 Bilateral relations between the Islamic Republic of Iran and the Kingdom of Saudi Arabia have been fraught with hostility, tension and confrontation. This is while both nations are Muslim majority nations. I recently had a firsthand experience of this situation throughout my pilgrimage trip to Saudi Arabia.
Last summer, while still in the U.S., I planned an "Umrah" trip (a trip to the holy cities of Makkaah and Medinah outside of the Hajj season) from Iran. All foreign pilgrimage trips are government regulated in Iran and I had to inform the responsible agencies that my husband holds an American passport. They were open and agreed to the plan with the condition that we acquire a visa for him from the Saudi embassy in Tehran. After multiple trips to the Saudi embassy in an upscale neighborhood of Tehran in order to provide them with multiple documents and waiting behind their huge iron door anticipating the small hole in the door to open and hear an answer, a few hours before our flight they said that the consulate was unable to grant him a visa.
Angry and disappointed I decided to embark on this journey by myself. From the moment we set foot in the Jeddah airport, the tension and hysteria toward the Iranian groups were obviously perceivable. The tension was also palpable at the holy shrines, historical landmarks visited by the pilgrims as well as the shopping malls. We were advised not to congregate in groups, not to enter any argument with anybody and not to perform any act of worship that are considered "shirk" and therefore forbidden by the Wahhabi-Salafis, such as prostrating on a piece of clay. The most striking feature of the society at the first glance was the uniformity in dress code. Men wear the long, white flowing robes with red-and-white checkered or white scarves covering their heads. In public, women are required to wear a black abaya or other black clothing that covers every part of their body other than hands and eyes. In fact, this uniformity in dress code that is rooted in Wahhabism's teachings, is an example of this religious sect's outward influence on the Saudi society. This also makes foreigners easily discernible from Arabs or at least the Arabs who comply with this dress code. The clergy who preach at the shrine as well as the caretakers of the shrines openly differentiated between Iranians and other nationalities in a blunt racist way. Unlike the past, the main part of the prophet's mosque is open to women only few hours a day, and therefore female guardians line up women in respect to their nationality. They usually let the Iranian groups in, after everybody else and only for a short amount of time. They keep a close eye on them to prevent performance of any act of shirk by them.
Most of the shopkeepers, although not wanting to lose the business from the Iranian pilgrims, at the same time are not very welcoming to them. One day in an Abaya shop, I heard someone yelling at me: "Rouhani is a villain (he used the word "khabith" in Arabic). I was surprised and without even thinking automatically replied back in Arabic: "No! ISIS is a villain!" I looked up and it was the shop owner whom I was having this conversation with. He stood closer to me and said in a rather loud voice: "ISIS men are all heroes! We are proud of them!" I left the shop and thought how frightening that I just saw a human being sentimental to the ISIS cause and defending it. During the next days, I saw many men looking like him dressed as a pious Wahhabi, congregated in groups listening to sermons delivered by their Sheikh. Every time I passed them, the thought that these men were most possibly being taught how to hate innocent human beings made me shiver.
During the last night of our stay in the city of Mecca, I decided to venture to the mega-mall recently built right in front of the Masjid al-Haram. I was tired of the Persian food we were served at the hotel and wanted to try a local food. As I was ordering and eating my Shawarma at the crowded food court, I received looks mostly from men, as if I was committing a crime. Females do not go around without a male accompanying them and especially they don't eat food while being by themselves.
After my dinner, I got an ice cream and was looking for an empty table in the packed food court. Finally, I sat down with two women. One covered her face and a young girl who didn't. She could speak English and said she, her mother and brother were on an Umrah trip from a town in the south of the country. When brother joined the table she also covered her face after finishing her food. But they insisted that I do not leave the table. When I told her that I just finished my PhD in the U.S., she said that she wished she could continue her studies but that she is engaged to be married after this coming Ramadan and that doesn't seem possible for her. The brother who seemed to be interested in history, knowing that I was an archaeologist, asked me questions about Iran and Saudi Arabia's ancient past. While making comments about how the animosity between our two countries are being exaggerated pointlessly, solely for the sake of political gains, he was constantly being hushed by his mother, fearing that we were being monitored by an invisible authority. The conversation I had with this Saudi family was an interesting experience of meeting real people of Saudi Arabia not brainwashed by Wahhabism.
Wahhabism (Salafism) is the official religious ideology of Saudi Arabia. There is a close connection and great cohesiveness between the Wahhabis and the Saudi royal family. After all, Muhammad bin Abd al-Wahhab is the one who paved the road for Abdul Aziz ibn Saud, the patriarch of the family, to conquer the Arabian Peninsula and to start ruling it. This dogmatic interpretation of Islam lacks any tolerance and like any other absolutist ideology provides a seedbed for violence and extremism. Some political analysts believe that even the Saudis fear this ideology as a potential domestic threat, since Salafism has been turned into a global political ideology rather than the pro-regime bulwark it has usually been in Saudi Arabia.
Political analysts propose recipes in order to end the supposed "cold war" between Iran and Saudi Arabia, but as long as the political establishment in Saudi Arabia promotes this narrow vision, these propositions are naïve at the best and futile at worst. The current propagated ideology in Saudi Arabia, like any other absolutist ideology with no tolerance is the real threat to stability and security of the region, and indeed globally. Unfortunately, these tensions seem unlikely to be resolved anytime soon.
Popular in the Community