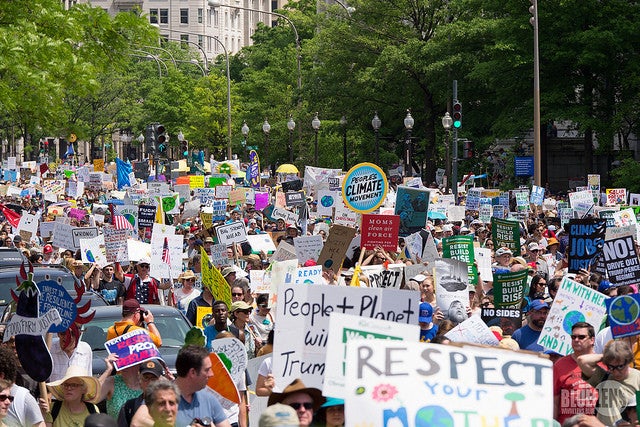 Resplendent in its psychedelic-Navajo-patterned upholstery, our quasi-comfortable charter bus rolled out of the Target parking lot and headed east to Washington D.C. We were going to participate in the People's Climate March, and I decided to embrace the 17-hour drive as an opportunity to go dumb and just ignore my smart phone, opting instead to stare out the window as our ancestors did a decade or more ago.
In a few hours, we crossed the Wisconsin River several miles downstream from where the brilliant naturalist Aldo Leopold conceived his land ethic. It was the 1930s, but it was already becoming clear that modern humans could quickly push a piece of land to exhaustion, to a point where it could no longer care for itself, or for us either. Leopold saw that in human terms, land conservation was self-preservation.
All ethics so far evolved rest upon a single premise: that the individual is a member of a community of interdependent parts. The land ethic simply enlarges the boundaries of the community to include soils, waters, plants and animals, or collectively the land. (The Land Ethic, A Sand County Almanac)
A few hours later and we were passing through the teeming, seemingly endless empire of Chicagoland, and then through the industrial moonscape of south Chicago and northern Indiana, where steel mills in various states of function and disrepair dominate the landscape. We needed steel and we still do, but the Industrial Revolution saw outputs and profits as moral objectives, and people and the land as expendable, a way to a means.
Passing on through the tabletop-flat soybean fields of northern Indiana and Ohio, my thoughts turned south to where the Ohio River wraps around north central Kentucky, near the farm of writer/poet and all-around genius Wendell Berry. He has spent his life raising the toughest questions about human existence in an extractive Western economy, as indicated by the title of one of his books, "What Are People For?" And he has posed difficult questions to everyone—the left and the right, fundamentalists and environmentalists, etc..
The first thing we must begin to teach our children (and learn ourselves) is that we cannot spend and consume endlessly. We have got to learn to save and conserve. We do need a 'new economy,' but one that is founded on thrift and care, on saving and conserving, not on excess and waste. An economy based on waste is inherently and hopelessly violent, and war is its inevitable by-product. We need a peaceable economy. (Thoughts in the Presence of Fear)
After an evening spent in a Sandusky, Ohio campground, we drove into the aged and beautiful mountains of Pennsylvania, where the topography necessitates that cities nestle and not sprawl. Then into Maryland, where a procession of Civil War battlefield signs escort travelers into Washington D.C.. To think that there was a time when slavery made sense, when its cruelty could be justified as simply as butchering a chicken: as if it were the natural order of things.
As the bus began winding down into the serpentine highways of suburban D.C., now hot and humid and in full spring bloom, I wondered how many Americans and how many members of Congress felt that climate change was just the natural order of things.
By early evening the bus was plying its way through D.C.'s Cleveland Park neighborhood, looking for the small United Church of Christ where we would sleep the night. Excited but bus-weary too, we thought through our evening options. A number of march-related events had been scheduled, including a talk by Bill McKibben, the Jesus of the climate change movement (which would make James Hansen, former Director of the NASA Goddard Institute for Space Studies, "Jim the Baptist."). A former writer for The New Yorker, McKibben has written expertly and profusely about the science, sociology, and politics (i.e. economics) of climate change.
As if by request, a friend seated next to me pulled up a fresh Washington Post interview with McKibben. The reporter pointed out that climate change is not a front-burner issue for most Americans, in the way that the economy or immigration or health care might be. So how can a sense of urgency be fostered on a scale that the problem requires?
I actually think an enormous number of people are quietly panicked about the world we're leaving our kids. But global warming seems so big, and we seem so small. Things like this march help people understand that many others share their feeling, and that supplies us all with the plausible hope something can be done. It's a virtuous cycle.
Ahhh, a virtuous cycle. I had no illusions that the likes of EPA head Scott Pruitt, or Senator James Inhofe, would peek out their office window at the People's Climate March and have something akin to Ebenezer Scrooge's redemptive moment. But I would march to be a part of a virtuous cycle. I would march for an updated version of Leopold's land ethic—an Earth ethic. I would march for Berry's peaceable economy, and I would march for all the science showing that climate change at this clip and at this scale is hardly the natural order of things.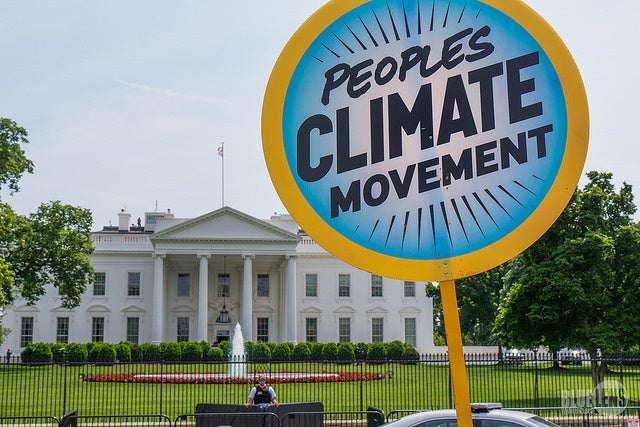 Calling all HuffPost superfans!
Sign up for membership to become a founding member and help shape HuffPost's next chapter