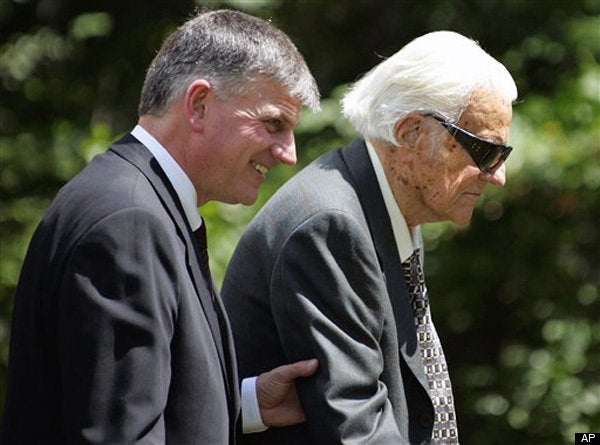 It took a long time to get the following interview for AARP with Dr. Billy Graham, a most rare American icon.
His illnesses kept getting in the way and they have been difficult. As Dr. Graham says, " I have my good days, and I have my bad days."
Now 91, with Parkinson's and bound to his North Carolina home, in the following excerpt from AARP, the evangelizer talks about faith, death, illness, dying and missing Ruth, his wife of 64 years.
________________________________________
It's been nearly 60 years since Billy Graham led his first major evangelistic crusade. Slowed by Parkinson's disease, Graham spends most of his time at his North Carolina mountaintop home. We asked him about facing his own last days, and those of his wife, Ruth, who died in June.

Losing a longtime, beloved spouse is one of life's most difficult and stressful events, and no one really knows what it means emotionally until it happens. Given your strong faith, have you been surprised by the strength of normal grief emotions?
Ruth's health had been declining for years, and in fact she almost died the first of this year. So her death on June 14 -- just four days after her 87th birthday -- wasn't a surprise. But what has surprised me is that no matter how prepared I thought I was, my grief has been very real -- at times almost overwhelming. I feel as if part of me has been ripped out, and in a sense that's what has happened, because Ruth was such an important part of my life.
Over the years I've had many relatives and friends lose a loved one, and I realize more than ever before what they've had to go through. My faith gives me great comfort, and I can't imagine going through something like this without a strong faith. But grief is a part of life, and it's one of the hardest things most of us will ever experience, even if our faith is strong. Jesus wept at the tomb of his friend Lazarus, even though he knew Lazarus would live again.
How are you coping with Ruth's death? Do you talk about your loss with others -- friends and family -- or do you choose to experience things more inwardly?
I suppose the answer is both -- I do talk with others, but at times I also want to be alone. I think both are important. Our five children have been wonderful (as have a number of friends), and just this past week several of our grandchildren and great-grandchildren were visiting. We need other people, and they can encourage us and help us realize that our life isn't over.

But grief is a very private thing, and sometimes we need to be alone with our memories and our hurts. We just need to guard against making this our only response, because it's not healthy to bottle up our emotions or pretend they don't exist. And sometimes the best thing we can do is reach out to someone who is going through the same experience we are, so we can encourage each other. Many churches today have special programs for people who are grieving, and these can be very helpful.
Prayer is also important to me, as is the Bible -- especially now. God knows what we are going through when we grieve, and He wants to assure us of His love and concern. He also wants us to turn to Him and bring our heartaches and burdens to Him. The Bible says, "Cast your cares on the Lord and he will sustain you; he will never let the righteous fall" [Psalm 55:22].
Had you and Ruth discussed how each of you would get along without the other? Do you believe she would have been as strong or stronger than you, if you had gone first?
Yes, we did talk about this, and also about other things related to our deaths -- like our wills, and where we would be buried, and practical matters like that. Some people refuse to think about these things because they don't like to think about their death -- but that's not wise, because some day it will be too late. Incidentally, I believe this is why some people avoid thinking about their relationship with God also -- and that's not wise either.
Ruth was a strong woman, and she had learned how to cope with being alone over the years because I had traveled and been away from home so much. She also was a strong Christian -- the finest Christian I ever knew -- and I was confident that her faith in Christ would uphold her if I were to go first. But we both knew that no matter who died first, our separation would be only temporary, and that soon we would be reunited in Heaven.
As a minister, you've likely had much experience praying with and counseling people who have lost loved ones. How has this helped with your own grief response to losing your wife?
As a Christian minister, I believe the most important thing I can do is urge people to put their faith and hope in Christ, and commit their lives to Him. This is what I've always tried to do whenever I've prayed or counseled with someone who has lost a loved one.
The Bible tells us that Jesus Christ came into the world to give us hope -- hope for a better life right now, and hope for life beyond the grave. Death wasn't part of God's original plan for humanity, and the Bible calls death an enemy -- the last enemy to be destroyed. But it will be destroyed -- and the resurrection of Jesus Christ (which we celebrate at Easter) is the proof of this fact. We were meant for Heaven, and when we open our hearts and lives to Christ in repentance and faith, we can have confidence that some day we will be with God forever.
This was Ruth's hope, and it is mine as well. Although I miss Ruth terribly, this hope sustains me every day. Jesus' words -- which are quoted at almost every Christian funeral -- are a great comfort to me: "I am the resurrection and the life. He who believes in me will live, even though he dies; and whoever lives and believes in me will never die. Do you believe this?" [John 11:25-26]
When you open your eyes in Heaven, what do you believe you'll see? Has this vision changed through your lifetime?
I don't know exactly what I'll see when I enter Heaven, because Heaven is far more glorious than anything we can possibly imagine. As the Bible says, "No eye has seen, no ear has heard, no mind has conceived what God has prepared for those who love him" [1 Corinthians 2:9).
But I do know this: Heaven is the dwelling place of God, and some day I will see Him face to face. Think of it: The Creator of the whole Universe wants us to spend all eternity with Himself! When I was younger I tried to imagine exactly what Heaven looked like, but I don't try to do that anymore. Its splendor far surpasses anything we can ever imagine.
I know also that in Heaven all the things that burden us now -- the pains, the heartaches, the sorrows, the fears and anxieties -- all of them will be gone. One of the most encouraging passages in all the Bible is this description of Heaven in its next to last chapter: "He will wipe every tear from their eyes. There will be no more death or mourning or crying or pain, for the old order of things has passed away" [Revelation 21:4]. This is my hope, and I pray it will become yours as well.
Is there one temptation you've struggled with throughout your lifetime -- one you find yourself confessing to God over and over?
Ruth and our children used to kid me about being a pessimist, and worrying too much about some situation we might be facing. Sometimes they even called me "Puddleglum", after one of C. S. Lewis' imaginary characters in The Chronicles of Narnia who tended to be a pessimist. But their comments had a serious side to them, because they were reminding me that I wasn't trusting God the way I should. Once we understand that God loves us, we can commit the future into His hands and quit worrying about it all the time.
What do you plan to have written for your epitaph? Did you pen it yourself?
No, I haven't written my own epitaph, and I'm not sure I should. Whatever it is, I hope it will be simple, and that it will point people not to me, but to the One I served.
Some years ago Sir David Frost was interviewing me and asked a similar question: How I would like to be remembered? My reply, as I recall, was that I hoped I would be remembered as someone who was faithful -- faithful to God's call, faithful to the Gospel, faithful to the responsibilities and opportunities God gave me. I'm sure I've failed many times, but that's been my goal ever since I committed my life to Christ, and it always will be my goal: to be faithful to Him.
Janet Kinosian is a 25-year print journalist who has written for the Los Angeles Times, Los Angeles Times Syndicate, The New York Times Syndicate , Reader's Digest and People Magazine. She provides Media Consulting at www.janetkinosian.com. This interview originally ran in AARP, The Magazine.