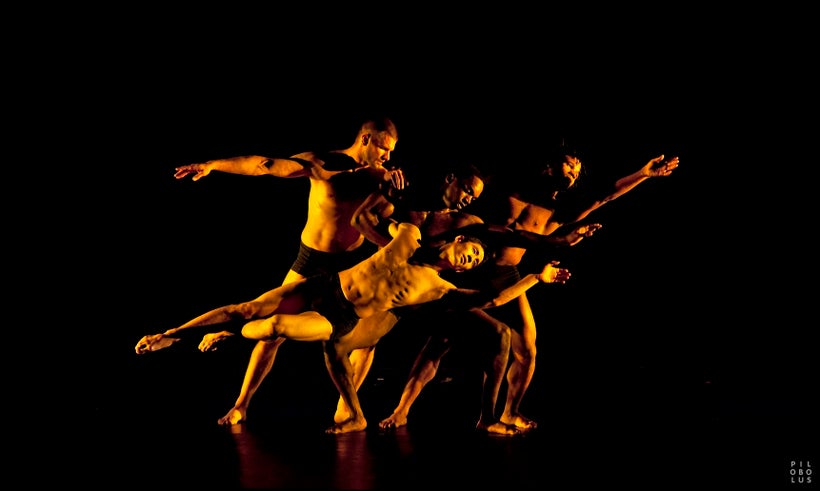 With apologies to Lin-Manuel Miranda for stealing his bits, "Dance is Joy, is Joy, is Joy, is JOY!" with Pilobolus. Featuring a company of dancers who are as ridiculously gorgeous as they are prodigiously strong, Pilobolus Dance Theater presented an array of dances that amused, titillated, and provoked deep thought. Though well known for its physically challenging work, the last time I saw Pilobolus perform I left the theatre lamenting how pretentious the repertoire had become. No longer. Thursday, November 17th, 2016's performance of Program A at NYU's Skirball Center converted me to a true believer. This wasn't a mixed bag of acrobatic tricks for the sake of astounding – though there were plenty of mind-blowing feats on display – nor was it an evening of theoretical thought experiments; this was a beautifully arranged meal of fun, beauty, danger, and audience engagement that left me punch-drunk though ravenous for more. I recently interviewed Pilobolus' Antoine Banks-Sullivan who commented "Pilobolus does dance for the husbands and boyfriends. We make work for everybody." And how.
Imagine three constantly moving bodies suspended above ground in a tiny wall-less elevator; now imagine those bodies clad in nothing but dance-belts while engaging in sensual movement that never once felt perverse. "On the Nature of Things" kicked the concert into high gear with a trio of dancers lifting, lowering, and flipping over one another all the while standing upon a very small raised platform. What does one call this? The definition of trust and intimacy made flesh: Beauty in motion. On the whole, what kept the evening's proceedings from devolving into mere circus trickery was the artful arrangement of virtuosic accomplishments as well as the commitment to artistic beauty. Though there were plenty of "Ta-da!" moments, the performers never lost sight of the fact that they were artists with a story to tell. While I'm not entirely sure that each piece actually had a narrative story, the dancers certainly gave the impression that they were involved in some deeply engrossing tale.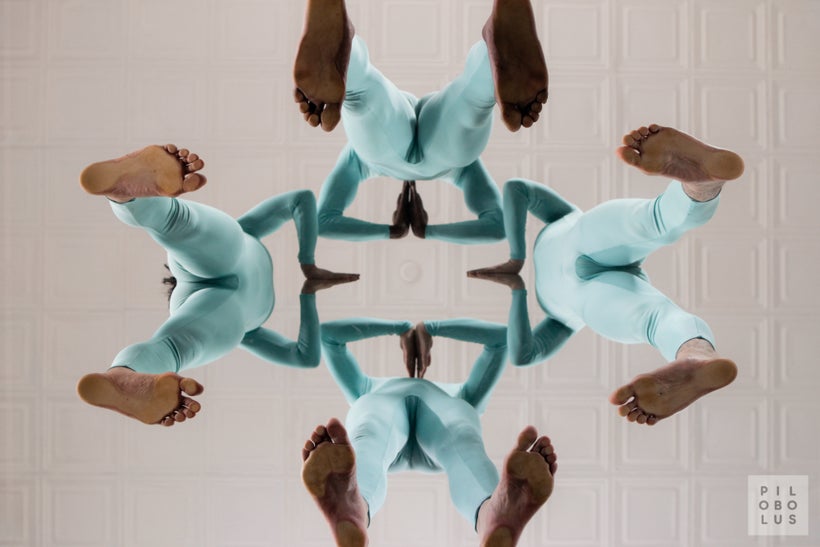 Most of Pilobolus' work requires heavy-duty set-up (bravo to the super efficient technical crew for moving with blinding speed). Rather than forcing the audience to awkwardly sit through said set-up, the company wisely kept the momentum going by playing videos of their collaborations with other artists. "All is Not Lost" was one such collaboration. Created with the band OK Go, this was a music video performed live by the dancers that made use of a video camera, projections, and a glass platform over which the dancers created fantastic kaleidoscopic designs. It put me in mind of the great British choreographer Darshan Singh Bhuller's "Mapping", except as an amuse-bouche.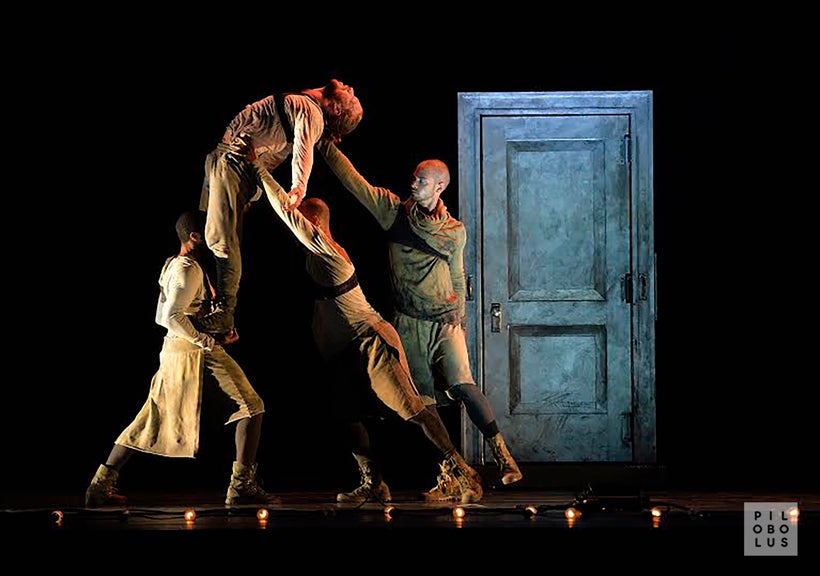 The NYC premiere of Javier De Frutos' "Thresh | Hold" served as the evening's triumph. Six dancers ran, jumped, flipped, and soared through a wandering door, all the while fighting over a seemingly drugged – or demonically possessed – Shawn Fitzgerald Ahern. If you can imagine the movie "Poltergeist" and its conflict between malicious forces as interpreted by a company of parkour savvy ninjas, then you've got the basic idea. Though I must be clear that there was nothing "basic" about this. The piece is told through a series of flashbacks and flipping of perspective as the aforementioned door moves around the stage to illustrate both sides of the struggle. The dancers are ever on the brink of losing themselves to various vices or pushing through to another world. Even now it gives me chills.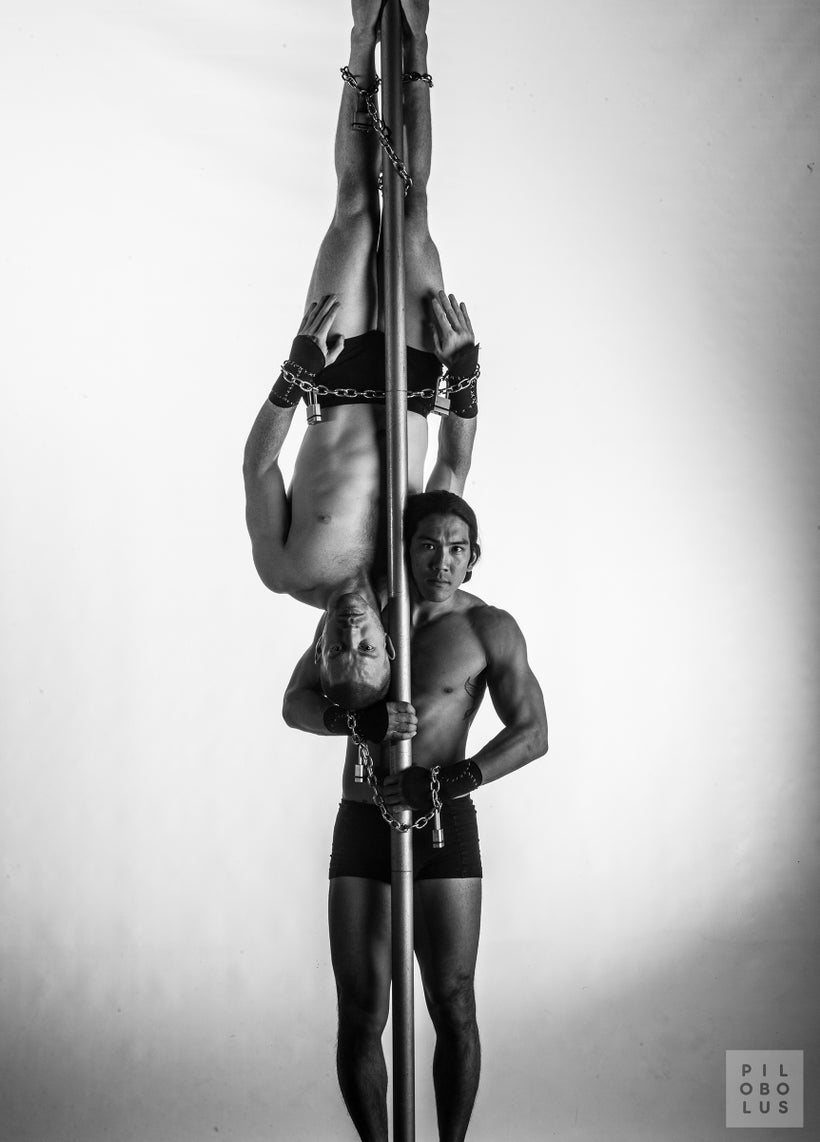 Seeing Pilobolus is like watching an action movie, only the dancers are the special effects. This statement was never truer than during their death defying collaboration with the magicians Penn & Teller. Every single person in the audience sat perched at the apex of ecstasy enthralled by the bounty of magic, which ran the gamut from box tricks to deadly escapes to a sexy pole dance- er, I mean pole escape. I won't say anything more for fear of spoiling the mystery. Suffice it to say, I will NOT be attempting any of what I saw at home.
The evening ended with Inbal Pinto's "Rushes", a surrealist dream in the style of Gabriel García Márquez; magic realism as dance. I will admit that there was an extended pause during the dance that felt gratuitous by exactly 30 seconds, but then sometimes a slow burn of reflection is exactly what one needs to fully appreciate what is going on. Chairs slide across the stage to create a never ending bridge as well as a cage; a projected dream grows out of man's head; skittering bodies dance alone as if they are skeletons brought to life; and daredevil feats continue to unfold before gently turning the light out with the promise that, at least on this night, the audience will sleep blissfully.
This is one of the best concerts that I have ever seen. The variety of works, unparalleled physical magnificence, and commitment to connecting with the audience that Pilobolus champions is what one wants but rarely finds in a concert experience. To date I have stood to applaud twelve concerts; on November 17th, I leapt to my feet. Pilobolus performs Program A in rotation with Program B at NYU's Skirball Center through December 4th, 2016. Do yourself a favour and buy a ticket or three before it's too late.
Pilobolus Dance Theater Co-Artistic Directors: Renee Jaworski, Matt Ken
Dance Captain: Shawn Fitzgerald Ahern
Dancers: Shawn Fitzgerald Ahern, Antoine Banks-Sullivan, Krystal Butler, Benjamin Coalter, Jordan Kriston, Derion Loman, Sayer Mansfield, & Teo Spencer.
Creative Director: Mark Fucik
NYU Skirball Center || 566 LaGuardia Place at Washington Square
Pilobolus performs November 16th through December 4, 2016. For Tickets, visit nyuskirball.org
For more information about Pilobolus Dance Theater, visit pilobolus.org
Calling all HuffPost superfans!
Sign up for membership to become a founding member and help shape HuffPost's next chapter
This post was published on the now-closed HuffPost Contributor platform. Contributors control their own work and posted freely to our site. If you need to flag this entry as abusive,
send us an email
.