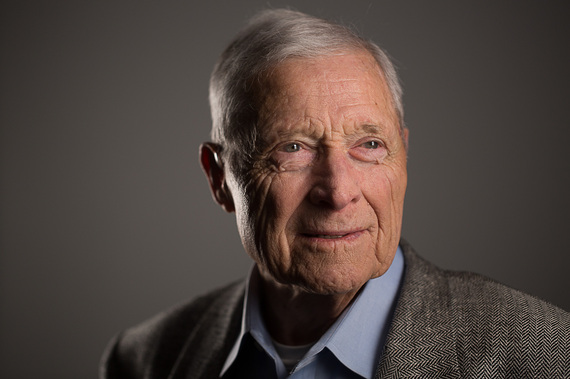 I waited for Mr. Taylor at our favorite coffee shop this morning, as I always do. I imagined his navy blue Seattle Mariners jacket, his straw fedora tilted upward as he stops at the corner to count the airplanes flying overhead. I imagined the wink in his right eye, his hands cutting the air like a maestro's, his shirt pocket heavy with note cards that display his name: Richard W. Taylor. I imagined him ordering "super-duper oatmeal" and flirting with the pink-haired barista. I imagined his smile, his skin bright under the scribbles of old age. I imagined him telling another story. "Are you up for it?" he once asked me. "Because I want to draw you into my world. I need to tell you about how we put an airplane together, how we made it human."
I'm looking at our usual table. It's on the opposite side of the coffee shop, next to the floor to ceiling windows, topped with a glass vase filled with artificial, purple tulips. They look so authentic we once tried to add water. That's where he brought me into his world. I watched him reach back through time at that table, turning pages and pulling moments from rescued flight logs, his raw connection to the past.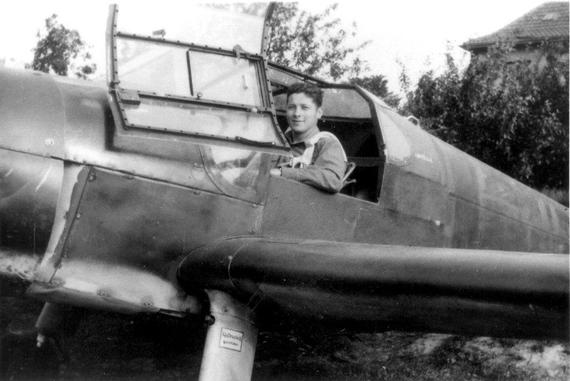 He was a WWII observation pilot with waves of dark Hollywood hair at that table, flying over a vulnerable loop in the Rhine River, dodging German anti-aircraft after the Battle of the Bulge. And when he delivered a message to two sisters in France, he discovered a war mystery that he would solve 50 years later.
He stood with Charles Lindbergh on a ramp in Wichita looking at the contraption that would redefine strategic warfare and dominate the Cold War. It was called the Flying Boom, and he was the first to operate it. At our table, he perched in the B-29's gutted gunner station, his face sealed to an oxygen mask, his knees in his ears, his left hand gripping the extension lever, and his right hand ready to guide the nozzle, connecting the boom to the airplane positioned behind him at 30,000 feet. The rugged experiment transformed aerial refueling.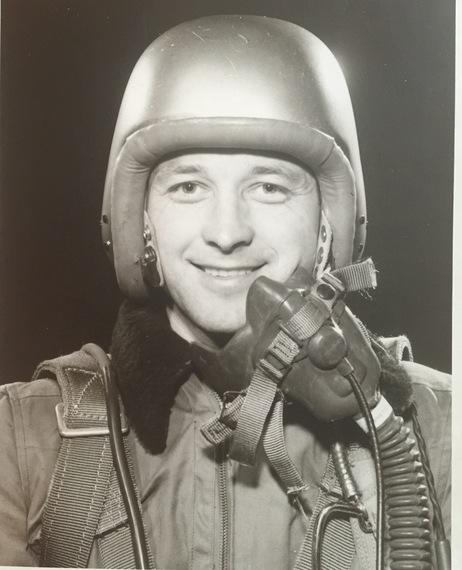 He believed the B-47 Stratojet was the most elegant machine he'd ever seen and insisted it was the crown jewel of the jet age. His fearless acrobatics trained the large jet to toss a nuclear bomb, and he logged more hours flying that swept-wing wonder than any other Boeing test pilot. On a winter day in 1952, he felt the grip of adrenaline and a six-strap ejection harness as the tandem cockpit nosed toward Earth, he pulled furiously at the controls as the jet plummeted to within a thousand feet of setting ablaze a swath of January-brown Wichita farmland. Dick Taylor, and the yellow checklist attached to his left thigh, survived to tell the story.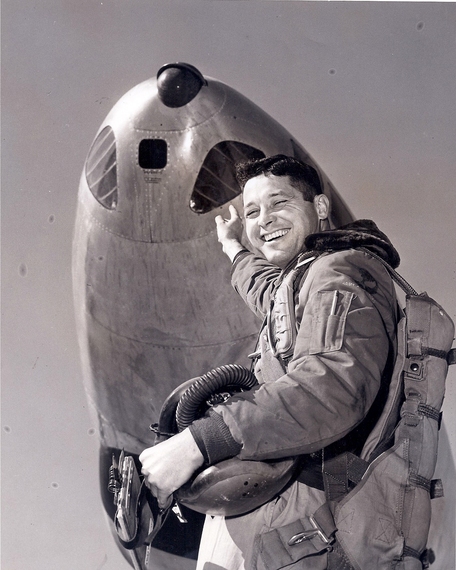 He told me about the day he knocked on the Pentagon's door in 1964 with the B-52's destiny tucked under his arm. The roll of paper sketches proved that the bomber's belly could be rigged with steel racks for explosives, securing the B-52's place in history.
He played golf with President Gerald Ford, sold airplanes to African dictator Robert Mugabe, and gave Mickey Mantle a lift. Flying with Mr. Taylor was one hell of a ride, even in those squeaky chairs at the coffee shop.
Mr. Taylor died suddenly last week, and now everyone is talking because we knew a man who touched the sky and changed it for all of us.
In whispers and disbelief, the news of his death flew to points around the world, from his home in Seattle's Capitol Hill neighborhood to Boeing's Paine Field to the Museum of Flight. It reached New Zealand, Incheon, Shanghai, Saudi Arabia, Nairobi, Southern France, Costa Rica, Boston, New York, Colorado and his hometown of Sheridan, Indiana. The news landed in a moment of silence at Safeco Field where his beloved sport of baseball paused to honor the name: Richard W. Taylor. Boeing President and CEO of Commercial Airplanes, Ray Conner, alerted the press because a visionary is dead. His heartbroken children composed an obituary, and news of his death summoned hundreds of condolences that celebrate his monumental past. "This is truly the passing of an era of statesman-like leadership by one of aviation's most significant leaders. Ever." Former Boeing Vice President Peter Morton wrote.
From his alma mater, Purdue University's Head of Aeronautics and Astronautics, Tom Shih, said, "Though Richard Taylor was a giant in aerospace engineering and in aviation, he was also one of the humblest and finest men that I know."
He was the aviator who unleashed twin-engine jets and sent them safely across continents and over oceans. They called this accomplishment Extended-Range Twin-Engine Operations, and history dubbed Dick Taylor "the father of ETOPS." The explosion of new commercial airline routes and the global implementation of modern design and safety standards "began as a gleam in somebody's eye --- I think it was Dick Taylor's," the Federal Aviation Administration's Tony Broderick announced in 1989. "We were quite skeptical... but Dick was persistent... he kept coming back... and helped us see that it just might be possible." He flew to the edges of an untouched future and defined them.
Mr. Taylor fought years-long battles with perception and politics to achieve another innovation of modern flight: reducing the number of pilots in the cockpit to two. "He was the vital person in the dramatic decision to go from 3 crew to 2 crew that has changed commercial aviation," wrote former Boeing Chairman and CEO Phil Condit. "I saw first hand the impact he had, and it cannot be overstated."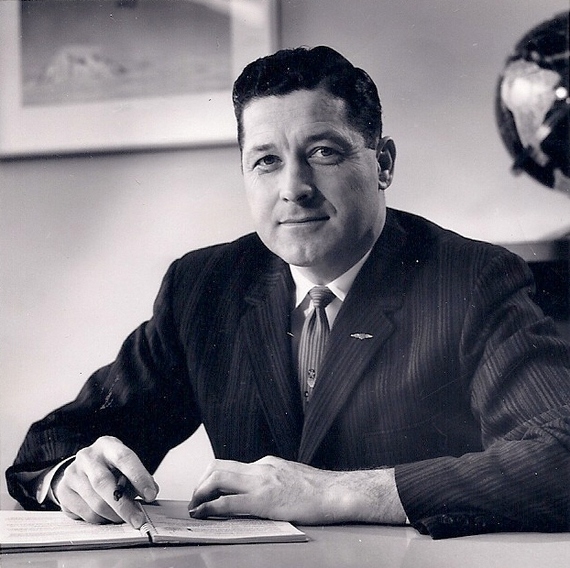 And when wind shear made devastating headlines, he worked with other masterminds to stop the phenomenon that claimed lives and jetliners. "Dick believed in technology and people working together to continuously improve the safety and efficiency of commercial airplane operations," said Alan Mulally, former Boeing Executive Vice President renowned for his wind shear research. "We will always treasure Dick's leadership, partnership and friendship."
Mr. Taylor was a member of what Peter Morton calls the elite club that served as "the conscience of The Boeing Company." He says "people are alive today because of Dick Taylor." As a tough and respected Boeing Executive, Mr. Taylor's intense focus demanded answers to critical safety questions. The results protect every airline passenger. Every passenger.
He was a 93-year old pathfinder who changed the world. He spent so much of his life storming into the unknown, he rarely worried about anything. His resolve often unnerved me.
"I think I'll die in an accident or because of natural causes," he announced last year, an epiphany. "But not today!"
He spoke of mortality the same way he had his shirts laundered: weekly, with starch. "You should be thankful I'm upright!" He said. "Hurry back. I'm O.L.D. Don't ya know?" His text-message popped up on my phone.
More recently, sipping lemonade and relaxed, as though he were delivering the weather forecast on a clear-blue day, "I think the end is a lot closer than you think it is." He didn't seem to care if time wouldn't negotiate. He said he was at peace with his body, his soul, his God, and his legacy: 4 children, 9 grandchildren, and 7 great grandchildren. He said he was at peace with close friends. And not-so-close friends.
My mind flips through our conversations, as if recalling them will reset Roy Street Coffee and Tea to a better day when his unusually long fingers were wrapped around a white mug and he sang "happy days are here again." He talked about the heroes on his wall: Charles Lindbergh, Ed Wells, T Wilson, Bill Allen, and his pilot son, Steve. He asserted that teamwork achieves great things and one man can't claim the credit. He confessed that the one word he should have used more was "love," and he wouldn't accept the word "hate" in any context. He recited the creed he lived by: "Have an opinion, but make sure you have the data to support it."
Mr. Taylor, I waited for you at our favorite coffee shop this morning. I didn't know much about airplanes when I met you. But now I look up and see you there. You were right, airplanes are human. I am your enlightened passenger, humbled to be awakened to the thrill of the ride, and privileged to have known you, the Pilot in Command.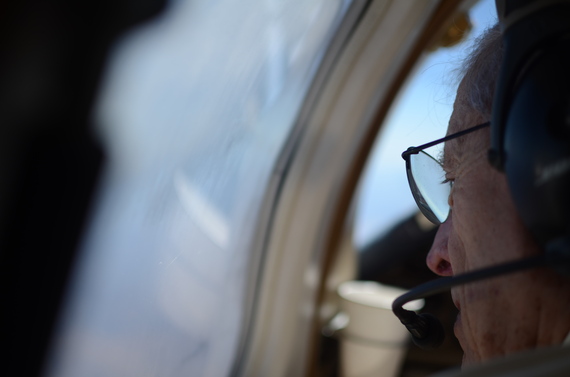 Sabra Gertsch is writing a book about Dick Taylor.
REAL LIFE. REAL NEWS. REAL VOICES.
Help us tell more of the stories that matter from voices that too often remain unheard.