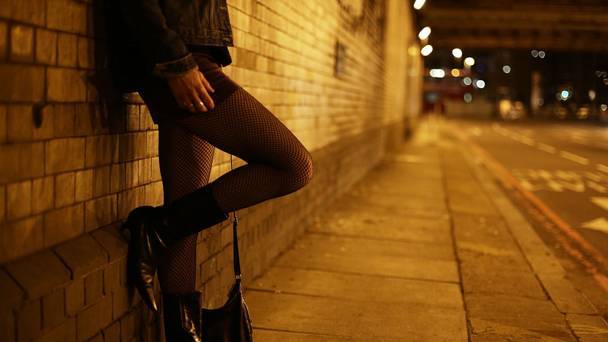 Last week, vice and anti-trafficking advocates rejoiced when Backpage.com, whose ads they have been targeting for years, was raided and its CEO arrested for pimping. Pimps have long been deemed as the root cause of the sex trafficking scourge, but a recent study in the sexual haven of Las Vegas uncovers what anti-trafficking organizations might not like to hear. The majority of youth selling sex on the streets have no pimps, or even third party managers, countering one of the key narratives of the sex trafficking movement that all youth involved are victims doing this work against their will.
Citing results from a 2016 study conducted through the University of Nevada, Las Vegas (UNLV), three fourths of the youth interviewed about the sex trade said they were not working with any pimp or other kind of third party manager. Researchers note that gaining access to "hidden, underclass populations" is challenging and, although their choice of sampling methods were unique towards the target population, they may not have found all the tracks in Las Vegas. Their results, however, echo those found nationally. Principally independent workers, 24 percent of the study's participants reported use of a third party to find clients at some point in their lives, but only 4 percent of that 24 percent reported use of one at the time of the study. While 24 percent is still too many, this finding runs contrary to the perception that all youth in prostitution are forced, and points out that increasing social services for street youth might help more than solely targeting pimps.
Anti-trafficking groups, through use of the 'pimp narrative,' often claim that by targeting third parties with strong laws they can eliminate the industry altogether, and human-trafficking along with it. However, studies done at UNLV show that youth sex workers who do use pimps do so inconsistently and intermittently. This same research further shows that many youth sex workers are finding their clients independently and negotiating their own prices, providing further evidence that getting rid of third parties does not definitively mean that people will stop doing sex work.
In light of these paradoxical attempts to combat trafficking, the consequences of these interventions hurt those involved in the sex trade more than they do help. One way this can be seen is through the displacement and relocation, rather than elimination, of crime. Vice shuts down platforms, such as Backpage.com, under the guise of safety. Yet, many are stripped of their means for working independently and, as a result, are forced onto the streets and into less visible spaces where they are more likely to be victimized and experience violence.
Not only does this ultimately make their lives more unsafe, but it does nothing to help fight trafficking. These raids claim to be a key step in the abolition of sex trafficking, but in reality they rarely ever result in any actual trafficking charges and there is no substantial evidence that they help curtail trafficking. Some activists even say these efforts themselves undermine what anti-trafficking groups are doing because they leave out any possibility of law enforcement working with platforms, including Backpage.com, to identify and prosecute those who are indeed traffickers.
With perceptions largely based off of this 'coerced by a pimp' narrative, not enough resources are devoted to those who are in street based sex work. Police interactions with this population are highly problematic and most, if not all, participants in the study employed certain tactics in order to avoid these instances: "Most of the respondents had strategies to keep away from the police, often noting that they hid or ran away when they saw an officer." The majority of anti-trafficking groups attempt to reach youth on the streets through task forces associated with police departments. Illustrating how these youth actively worked to distance themselves from vice, the data indicates a needed shift in this approach. Furthermore, it shows that an overwhelming number of youth did not have adequate access to services, stating an increase in social services, specifically, as their top need, as opposed to avenues for exiting sex work.
This information suggests that creating pragmatic tools for sex workers to manage their independence is key to creating real change in reflection of lived experiences. Narratives cannot simply be categorized, especially in regards to selling sex. As a call to action for organizations committed to ending human sex trafficking, begin asking more candidly what youth involved in the sex trade, particularly those engaged in street work, really need. Focus on identifying the 'root causes' of exploitation within the sex trade, and combat them with policies backed by empirical research rather than moralistic arguments. This way, we can begin to focus anti-trafficking efforts on those actually being exploited by pimps. In resistance to the overzealous efforts of anti-trafficking groups, those in the sex trade foremost need decriminalization, in sequence with support for finding employment, job training, housing, and consistent access to healthcare, not tougher laws on pimps.
Emily is a current PhD student at the University of Nevada, Las Vegas, and holds a Bachelor of Science in sociology from Northeastern University. Her areas of research include sex work, sexual commerce, sex-trafficking, political sociology, human rights, social movements, and social change. She is an aspiring public sociologist and human rights activist, as well as a fierce ally to the sex workers' rights movement.
Calling all HuffPost superfans!
Sign up for membership to become a founding member and help shape HuffPost's next chapter
BEFORE YOU GO