When Dominique Mercy first met Pina Bausch, at the 1971 Saratoga Summer Dance Festival, they could scarcely communicate. But although neither knew the other's language at the time, they would go on to develop a vocabulary of movement so expressive and groundbreaking that Bausch's Wuppertaler Tanztheater would one day win accolades around the globe and become the subject of a 3D documentary by Wim Wenders (Pina, released wide this week in the US).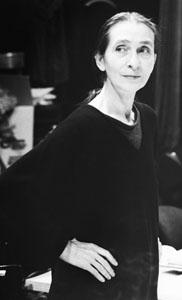 .......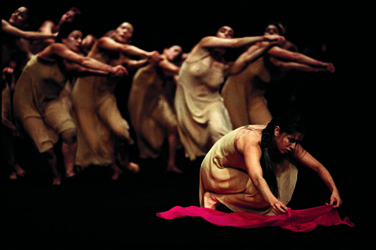 Pina Bausch ...Como el musguito en la piedra, ay si, si, si... Photo © Guy Delahaye
Mercy was 22 when Bausch asked him to join her newly formed troupe back in Germany. Already a dancer of considerable suppleness and individuality (he began dancing as a young boy in the Dordogne region of France), he became the point man for Pina's explorations of love and sex, striving, mortality and just about every other element of being human. Style and conventional virtuosity were not crucial to her so much as discovering each dancer's unique lexicon of balance, locomotion and soul. She wanted, through probing questions and exercises, to squeeze their emotional lives out of them and onto the stage. Eventually, scripted lead roles were abandoned in favor of a leveled field of equal personae in seemingly infinite combinations. Pina's performers were famously unlike most dancers, closer to character actors in shape and idiosyncrasy. In signature performances such as Café Müller (1978) and The Rite of Spring (1975), they conjured riveting vignettes of heartbreaking intimacy and clownish frustration, in brilliant multimedia stagescapes, that shifted moods like a bipolar disc jockey. Now frenetic, now languid, now robotic ... women and men fell upon one another in relentless and often futile pursuit of connection and transcendence. Imagine Samuel Beckett writing about the battle of the sexes, for ballet.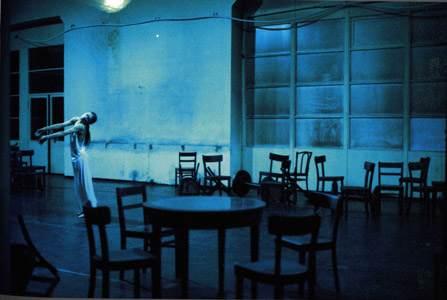 Café Müller Photo: Anja Beutler
Bausch died unexpectedly in 2009, just a week after she saw the fruition of her last piece, ...Como el musguito en la piedra, ay si, si, si... (Like the Moss on the Stone, based on the troupe's experiences in Chile). Mercy more or less took over the reins, but everyone understood that the guiding light had passed and that the future mission of the troupe was in question. "For the moment," says Mercy, "we're only working on the repertory that already exists. We're in the process of finding a way, an approach or ideas for how to return to a creative process ... but we still haven't found a solution. We're working on it." Bausch had regarded Dominique Mercy as her most valuable ally. "He has incredible insight, strength, truth. He holds the whole performance together, even when he's not on the stage very much. He has so many talents, although he's still shy about them, and hides them. His time hasn't come yet." Perhaps now it has.
In the video below, Mercy talks about working with Pina Bausch. It was shot during the run of ...Como el musguito... at the Théâtre de la Ville in Paris, in June 2011.
Michael Kurcfeld is a documentary producer and journalist based in Los Angeles and Paris (http://www.stonehengemedia.com).

Popular in the Community