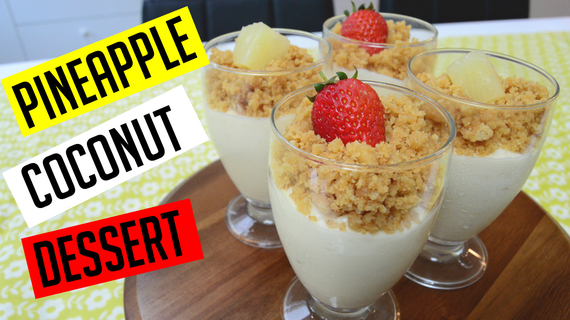 Pineapple and Coconut Dessert is a very popular Ramadan Recipe.
Sometimes also called Pina Colada Dessert or Pudding.
Its so tasty and refreshing flavours, you will love these!
This recipe makes 4 servings...
This is so easy to make, you just need a few ingredients which are:
150g Crushed Pineapple, drained
180ml Double Cream (add to pot first)
170g extra thick cream
Condensed milk to taste depending how sweet you like it!
160ml Coconut Milk
1 heaped teaspoon of Falooda Powder
40g Butter
1tspn Coconut Essence
10 Coconut Biscuits
And some strawberries & pineapple pieces for topping!
I upload weekly recipes so you might as well subscribe!
This channel is for anyone who loves food and and how to cook from student's to someone preparing for marriage or even if you are just in need of some inspiration!

I live in Leicester, England and have learnt from the the best Chefs, who have taught me everything from savouries , delicious, tasty mouth watering home made good food, snacks to sweet dishes, desserts and more!
If you have any questions, quickest way to contact me, TWEET me @cookwithanisa
I will try my best to help you.

Popular in the Community