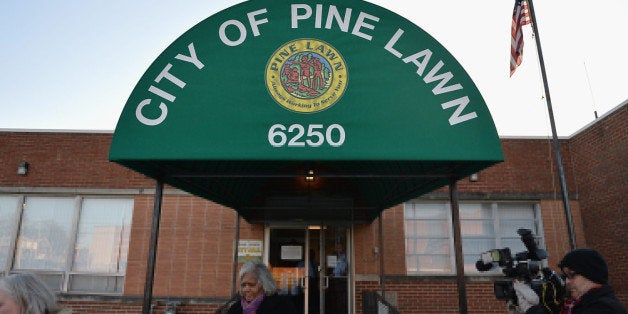 ST. LOUIS -- Pine Lawn, a tiny St. Louis County town notorious for corruption and predatory ticketing practices, is being sued by its 80-year-old former mayor, who alleges a successor used the police department to falsely arrest him and portray him as a criminal.
Adrian Wright, Pine Lawn mayor from 1993 until 2005, says in a federal lawsuit that ex-Mayor Sylvester Caldwell was the town's de facto police chief and used the force as a political weapon. Caldwell resigned last week when he pleaded guilty to federal extortion charges.
Pine Lawn, just over one-half square mile, has about 3,000 residents and shares a reputation with nearby Ferguson for relying on fines and fees to fund local government. The mostly African-American city puts out thousands of arrest warrants for minor code violations, including a ban on saggy pants, that can lead residents into insurmountable debt.
"This is a gentleman who served his community, who never had any criminal record, who had never done anything wrong, and found himself the target of the police," said Jeffrey Mitten, executive director of the ACLU in Missouri, which filed the lawsuit on Wright's behalf. He said Caldwell used police officers as his personal "bullies." As for viewing residents more as sources of revenue than citizens to be protected, he added, "Ferguson and Pine Lawn are not alone."
Wright this month won the town's Ward 3 alderperson election. He said he ran because he was concerned about city finances. The city enacted numerous ordinances after he left office that were intended to "raise money," he said.
During the campaign, Wright said, police wrongly accused him of running a stop sign near his home, then arrested him on false assault charges. When he was freed two hours later, he was greeted by a television news crew from station KMOV.
Caldwell was with the journalists, Wright said. Later, when Wright endorsed Caldwell's mayoral opponent in 2013, Caldwell allegedly published Wright's mugshot in a newspaper he created called The Pine Lawn Evening World, which mimics the region's weekly crime newspaper, The Evening Whirl.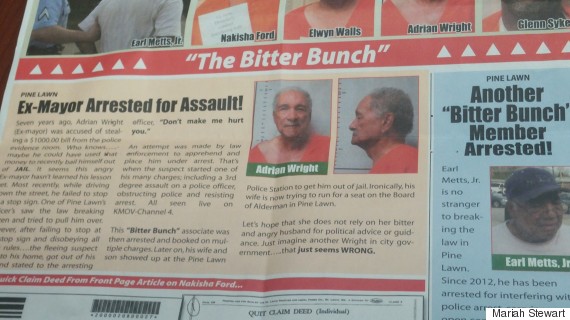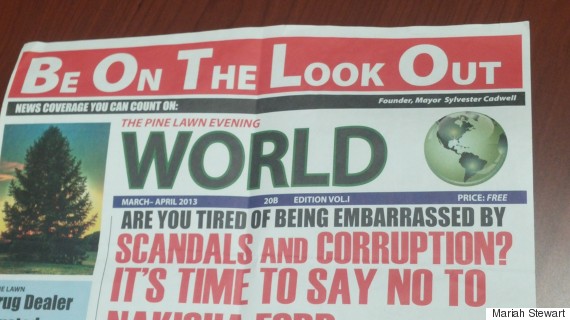 "The campaign literature falsified me and portrayed me as a criminal," Wright said Tuesday. "They discredited me for running for office because I wouldn't endorse Caldwell. I hope the police department would rather serve and protect than serve and oppress."
The charges against Wright were dropped because the city failed to prosecute. He was later arrested twice more on the same charges, which were dismissed in August 2013.
A Pine Lawn spokesperson didn't respond to a request for comment. Caldwell couldn't immediately be reached.
Calling all HuffPost superfans!
Sign up for membership to become a founding member and help shape HuffPost's next chapter
BEFORE YOU GO
PHOTO GALLERY
Politicians React To Ferguson