Known mainly for its equestrian facilities and happenings, the city of Pinellas Park sits at the heart of Pinellas County, Florida, the state's most densely populated county. A short five miles south is the now internationally known city of St. Petersburg. In recent years St. Pete has experienced a renaissance, shedding its reputation as "God's waiting room" and blossoming into an urban paradise for residents and vacationers alike. Much of its transformation has been accredited to the arts. Visual arts, in particular have played a key role in making St. Pete a hot new destination. Rated one of the top cities in the world for public art (specifically murals), the Sunshine City is also home to a variety of renowned museums (including the Salvador Dali Museum) and galleries (Chihuly Collection). Also abound are independent art-supportive businesses such as eateries and boutiques.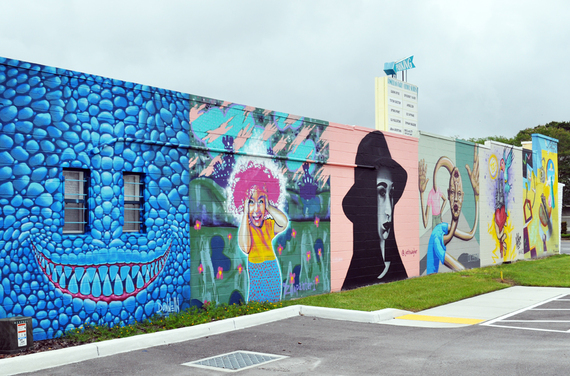 The mural at Studios at 5663 by Public Art Project artists.
Pinellas Park has been watching and taking notes. Earlier in 2016 it launched a fast-growing creative district that stretches along the 5600 and 5700 blocks of Park Boulevard and includes the historic Park Station which houses Pinellas Park Art Society. Just two blocks? You may ask. But all art destinations have to start somewhere and what a mighty two blocks they are.
Something a smaller-scale arts district can offer that larger ones can't is a truly walkable monthly Art Walk (on the 4th Saturday of each month). While we can never get enough art, some larger districts present the challenges of parking (the creative district offers plenty) and having to drive from one place to another along wide-spread city layouts. One art experience isn't better than the other, but it does allow Pinellas Park to offer something unique and intimate.
I asked Debra Rose, Pinellas Park's Administrator of Cultural Affairs what the biggest challenge in launching a creative district has been so far.
"It is truly astonishing how quickly the idea has developed, and I think our biggest challenge for the future will be to preserve the unique spirit of this place. My goal is that the district will always be an expression of the City's individual history and personality as well as its future, and that it will always be an expression of and source of support for the creative people who have done so much to bring it to life."
And the biggest reward?
"The biggest reward by far has been the excitement of the community and the artists from the moment that we first invited them to join us in building a completely new, walkable creative district. It has been delightful to watch everyone working side by side to support this idea, and at each event there are new excited faces as more and more people discover the area."
The 5600 and 5700 blocks are quickly becoming known as the Pinellas Arts Village (within the Creative District). At the southern end of the village is Swartz Art Gallery which features metal sculptures and wall pieces by artist Clayton Swartz. The work is colorful and playful with an industrial edge. Swartz Art often exhibits guest artists as well. A few doors north you'll find the Studios at 5663 which houses 10 individual artist studios offering a variety of styles and media ranging from photography (Linda Costa and Luna Dulcinea) and pop-sprinkled Western and wild life works (Bob Canning), as well as Asian Zen (Loy Khambay) and Wellness art (Kim Alderman), Latin Pop Folk art (John Gascot) and even fashion design (Raul Castillo). The studios are leased from the city at below market rents in order to prevent the artists who bring visitors and cash flow to the city from becoming outpriced, an issue affecting a number of art-centric cities at the moment.
Across the quad on which different events and markets are organized by the artists in residence, is Vince Pompei and his menagerie of found metal creations. His critters and characters delight passersby and visitors. Wander a bit farther north and you will find yourself in the midst of three buildings. To your left is the visually stunning "container house", built from shipping containers to serve as a live/work domicile. The two-story building features a working studio and an exhibition gallery. Its current resident, acclaimed muralist Derek Donnelly has big plans for the space. Born and raised in Pinellas Park, he is clear on what a creative district will do for his hometown.
"Growing up here, there was never much to do aside from hanging with friends and loitering at the mall." He shared. "Although the beaches are just a few miles to the West, it was still too far of a trip to walk or bike ride in the sweltering summer sun. This boredom inevitably resulted in excessive partying and mischief among the abundance of teens in the area with little to no money and working class families that could not afford most Summer or after-school programs. The new creative district will help fill this void and give the community of Pinellas Park something to grow and harvest together. Workshops, mentor-ships and educational programs will give the youth a healthy, creative alternative to express themselves. Creative community engagement projects will help bring all the unique walks of life together towards a common collaborative goal for their adored city. I am honored for the opportunity to help change my hometown for the better, giving the loving citizens and passerby's a much deserved creative destination to enjoy and be part of."
The other two buildings are live/work units as well. The Complete Sweet Shoppe is a small and charming sweet and pastry bakery offering a cupcake menu that is already gaining a loyal sweet-toothed following. Curated mini solo exhibits are also held at the shop. Next door Wordier than Thou has taken up residence. Local author and event organizer Tiffany Razzano has set up an indie bookstore with an emphasis on local and regional talent. She also produces a bevy of out-of-the-box literary happenings, such as the Banned Book Burlesque.
If all of this were not enough, the sip-and-paint franchise Painting with a Twist is in the process of moving into the village. Next to them you will be hard pressed to skip Bottles Pub, a rustic watering hole with cheap drinks and craft beers (and a pretty great Karaoke from Twisted Talent on Saturday nights) to suit all tastes. Easy on the pockets and full of character, it is Dive Bar Chic at its very best. If you're wondering where to eat, don't despair because each month food trucks join the arts village's art walk to offer their mouthwatering local delights.
All of this is just the beginning. Behind the Sweet Shoppe and bookstore lies a large span of city-owned land open to possibilities for growing the creative district. Pinellas Park has been watching and listening and it has taken a cue from its sister city, St. Pete as well as others across the country, in bringing the arts up front and center as a way to revitalize and boost city business, value and pride while offering culture and entertainment to locals and visitors. It has also kept a keen eye on other cities' bumps and bruises and hopes to use this insight to avoid pitfalls along the way. The city is well on its way to becoming one of Tampa Bay's most unique art destinations.
Pinellas Park's next 4th Saturday Art Walk will take place on Saturday, August 27th, 6-9 pm. It is a free event and suitable for all ages.
Calling all HuffPost superfans!
Sign up for membership to become a founding member and help shape HuffPost's next chapter