For a small period of time I lived in the South. I spent many nights sitting on porches talking with other artists and locals. Sometimes we'd take the chairs down into the yard and gaze at the stars or just make more room for others to join the party. It seemed like a perfect coincidence that looking up from the yard, chairs facing the house the porch resembled a stage.
Communing like this, gathering and sharing stories like this, can be a rarity in a big city. Luckily, beginning Oct. 18 at La Mama, there's the Undesirable Elements Festival: Real People. Real Lives. Real Theater.
The festival made up of three works ("Cry for Peace: Voices from the Congo," "Secret Survivors," "Inside/Out... voices from the disability community," and a new documentary Secret Survivors: Using Theater to Break the Silence) conceived by Ping Chong, who, since 1972 has amassed international acclaim for theater and art installations exploring intersections of race, culture, history, art, media and technology.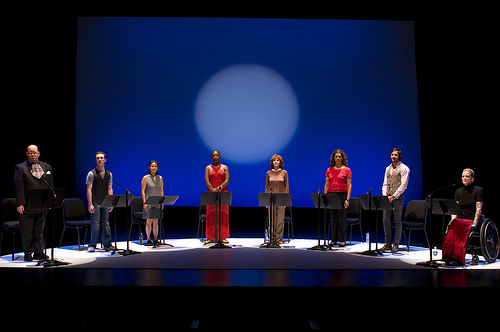 The Cast of "Inside/Out." Photo by Margot Schulman
Chong's Undesirable Elements is an open framework that can be "brought to any community and tailored to suit the needs and issues facing that community". Each production is made with a local community, with local participants testifying to their real lives and experiences.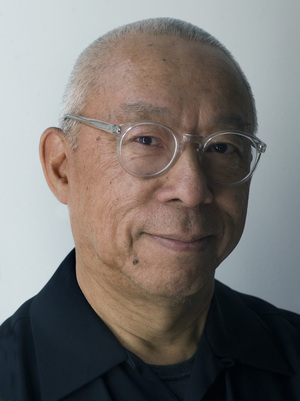 Ping Chong, photo by Adam Nadel
Jody: Tell us about the process of deciding upon a community to work with in order to share their stories and inviting them to participate?
Ping Chong: The process varies with each project. After doing this work for 20 years, Ping Chong + Company is well known in the field. Often we will be approached by organizations such as Syracuse University about undertaking a project in their community. That is how "Cry for Peace: Voices from the Congo" originated. Some years ago, I made an interdisciplinary performance piece about King Leopold and the Belgian exploitation of the Congo. When Syracuse University asked me to work with Congolese refugees who have relocated to Syracuse, N.Y. and who are trying to heal the ethnic conflicts that have riven the Congo since the Belgians left, I immediately said yes.
Other times my company initiates projects. I made an Undesirable Elements show in Albuquerque, N.M. in 2006. The piece had a couple of participants who had disabilities. It wasn't the focus of the piece but it made me realize that the subject needed to be addressed more deeply. So we went to VSA Arts, which specialized in arts and disability, and proposed a project. That is how "Inside/Out... voices from the disability community" was born.
Secret Survivors came into being because Amita Swadhin approached us about developing a UE about survivors of child sex abuse. I interviewed Amita five years earlier for another UE project and during that interview, she disclosed her experiences to us. But then for scheduling reasons she wasn't in the show. She and Sara Zatz, the associate director of my company, met and we decided to undertake the project. Although we didn't have any producing partners in place at the time, we felt strongly that the subject needed to be addressed, so we jumped in and started work on developing this new piece. Later, the Ms. Foundation for Women and others stepped up to help us expand the program by creating a video toolkit and sponsoring a training institute for child abuse prevention organizations who are now developing Secret Survivors projects in communities across the nation.
Jody: Can you talk about the process of working with a director, designer and ensemble of story tellers to decide how to theatrically present their experiences?
Ping Chong: Undesirable Elements is a highly structured oral history documentary theater work. I think of it like a sonnet -- it has a set form and the variations come from within the form. The form is the same in each production, but the results and impact are always vastly different because of the nature of the stories told and people telling them.
Originally I created, wrote and directed all of the Undesirable Elements productions alone. But over the past few years that has changed. Today I always work with an assistant, who is often affiliated with the local community. My company has also developed a core group of collaborating artists who work with me on projects or take them on themselves. I always have a hand in the design.
Undesirable Elements productions are relatively spare in terms of design, but sometimes we add projections to provide context. Kate Freer has designed beautiful projections for "Cry for Peace." For this project, I thought it was important for audiences to get a sense of the physical environment the cast comes from and the historical context that has informed their experiences. The cast members tell their stories from a script, which is placed in front of them on a music stand. The show is highly rhythmic and theatrical and the script interweaves individual stories so that performers share each others' as well as their own.
Jody: Why put real people on stage?
Ping Chong We called our upcoming festival the Undesirable Elements Festival: Real People. Real Lives. Real Theater and that says it all. The Undesirable Elements series was founded to explore the theme of "otherness" and to give voice to the voiceless, to those marginalized by our society. It is amazing how the "simple" act of naming oneself in public is so powerful -- both to the person telling their story and to the audience bearing witness to it.
There is a huge difference between an actor saying " if I had been in the bedroom that day when the bomb went off and killed my family, I wouldn't be here today" and knowing that the person telling you this actually experienced the event. This is why I work so closely so with the performers so that I get the story right and that they are comfortable with the stories they share. At times, the people telling the stories do so at great personal risk. The stories they share are powerful but, as any filmmaker will tell you, often the best material ends up on the cutting room floor.
Jody: What about the medium of theater lends itself to this type of storytelling?
Ping Chong: Theater is a place of communion. Undesirable Elements creates a communion between the community at large and marginalized members of that community. In this sense it returns theater to its ancient roots in spiritual practice and community engagement. Each piece in the Undesirable Elements series is a prayer for human understanding and a call for social justice.
Oct. 18 through Nov. 4 at La MaMa E.T.C. The programming will also include panel discussions, live streams of performances, and the screening of a new documentary entitled Secret Survivors: Using Theater to Break the Silence.
All shows will take place at La MaMa's Ellen Stewart Theatre (66 East 4th Street). Tickets are $20 and can be purchased by calling 212.475.7710 or visiting www.lamama.org.
Calling all HuffPost superfans!
Sign up for membership to become a founding member and help shape HuffPost's next chapter