Aerial gymnastics is the mother-daughter bonding activity of choice in Pink's household, so it was only natural that the singer's mini-me offspring Willow Sage Hart joined her on the ropes at the 2021 Billboard Music Awards.
The two soared to new heights while performing their song "Cover Me In Sunshine" together at the ceremony on Sunday night. Pulling off the coordinated number with ease, the duo locked arm-in-arm and leg-in-leg suspended above the awards show stage to twirl into oblivion.
Nine-year-old Willow has clearly picked up a few tricks from her pop star mom, who's made corde lisse a signature skill in her performances over the past decade, perhaps most memorably at the 2010 Grammy Awards, where she gave new meaning to her song "Glitter In The Air."
When mother and daughter touched back down at the BBMAs, they shared a sweet hug before Pink was off to dive deeper into her musical catalogue.
After performing the title track to her new documentary "All I Know So Far," the Grammy winner gave us bites from some of her greatest hits, including "Get the Party Started," "So What," "Blow Me (One Last Kiss)," "Who Knew," "Just Like A Pill," and "Give Me A Reason."
Later in the evening, the singer accepted the Icon Award ― she stands as the youngest recipient to date ― from Jon Bon Jovi, whom she candidly admitted was her longtime childhood crush.
From the stage, she gave a sweet shoutout to Willow and her 4-year-old son Jameson, telling the crowd that her daughter "nailed" the aerial performance.
"I love what I do, and I love the people that I get to do it with," Pink said. "And we're pretty good at what we do. But it wouldn't matter if no one came to see us and play with us. So all you guys out there and around the world, thank you for coming out. Thank you for letting us all feel together. I cannot wait until we can do it again, and until we can just sweat all over each other."
"This is an absolute honor," she added. "Dream big, because what if it comes true?"
Before the show, Pink walked the red carpet in a plunging fuchsia gown that more than lived up to her namesake color with her two children, whom she shares with husband Carey Hart.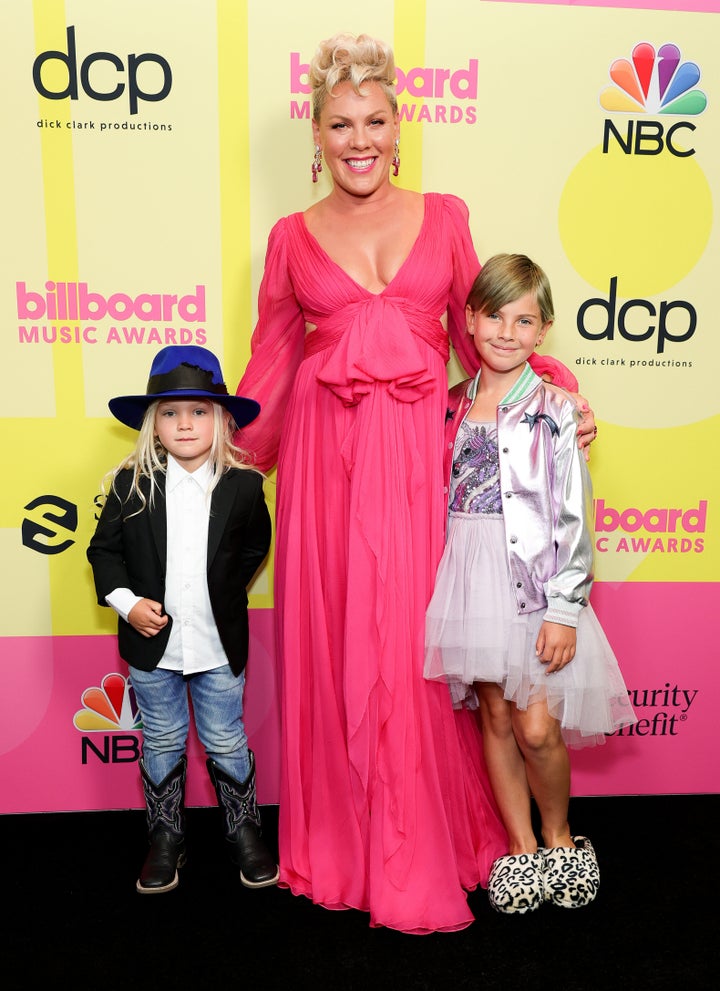 Popular in the Community