Since becoming a mother, rocker Pink has had plenty of awesome parenting moments.
September 8 marks the singer's 38th birthday. For the occasion, we rounded up some of her parenting highlights, from the time she got real about body image to the time she talked about teaching her kids the important of activism.
Here are 13 times Pink was a rad mom.
1. When she proudly supported breastfeeding in public:
Pink has been vocal about her support for breastfeeding in public many times. This month while appearing on Ellen DeGeneres' talk show, she said, "I'm feeding my kid. Would you rather him scream? Because he's very capable of that, too."
2. And when she showed the true meaning of multitasking while breastfeeding her son, Jameson:
3. When she used her Video Music Awards acceptance speech to teach her daughter, Willow, the power of loving herself: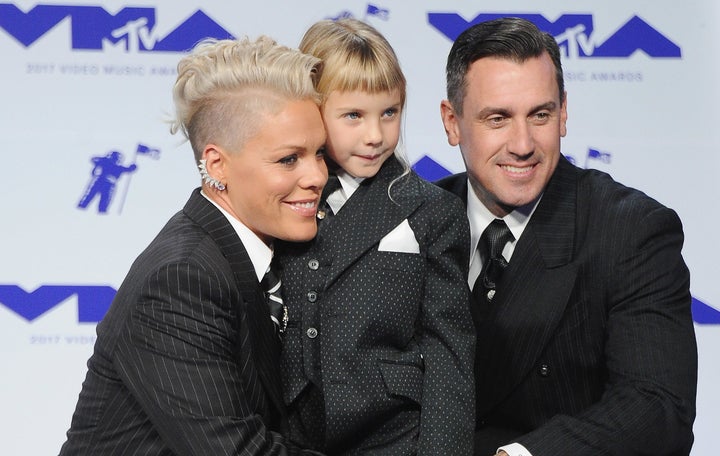 During her acceptance speech for the Michael Jackson Video Vanguard Award at the 2017 MTV Video Music Awards, Pink told the crowd her daughter once told her she felt like the "ugliest girl in the world" because she looks like a boy. Pink reminded her daughter that she sells out shows across the world without changing her appearance and told her, "We don't change. We take the gravel and the shell and we make a pearl. We help other people to change so that they can see more kinds of beauty."
4. When she celebrated Pride month with the cutest pic of Jameson:
"I'm a day late but I'm cute so it doesn't matter," she captioned the photo. She also added the hashtag #happypride.
5. When she talked about teaching her kids the importance of activism: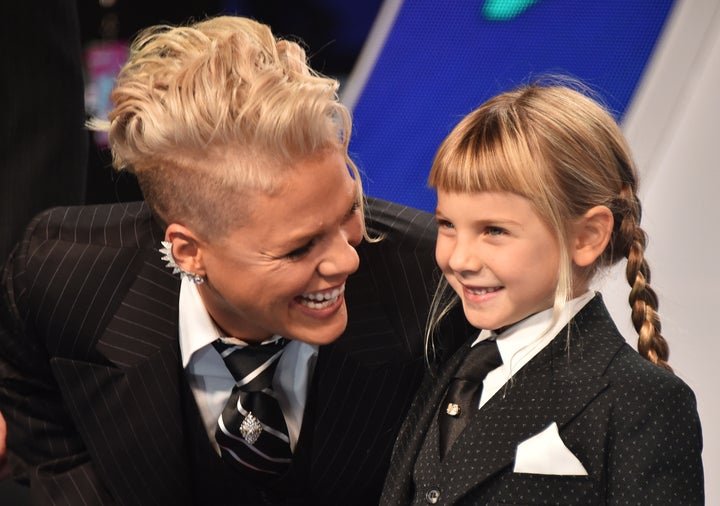 The singer, who raised money for nonprofit No Kid Hungry with a 300-mile bike ride, spoke to Refinery29 about raising her kids to know they can change the world.
"I think it's important to help them find their identity and find what they believe in, and to know they can make a difference," she said.
6. When she summed up a mother's love with a sweet poem and a pic of her kids:
In February, the singer posted a photo that shows her breastfeeding Jameson and hanging out with Willow. For the caption, she included part of a beautiful poem by Rumi.
"I was dead ― I came alive. I was tears ― I became laughter, Love's wealth arrived, And I became Everlasting fortune," she wrote.
7. When she got real about body image:
After giving birth to Jameson, Pink shared a photo in the middle of her workout, encouraging women to embrace their bodies.
"Would you believe I'm 160 pounds and 5′3″?" she wrote. "By 'regular standards' that makes me obese. I know I'm not at my goal or anywhere near it after Baby 2 but dammit I don't feel obese. The only thing I'm feeling is myself. Stay off that scale ladies!"
She also included the hashtags #feelingmyself and #strongismygoal.
8. When she got the coolest push present ever:
Pink thanked her husband, Carey Hart, for the gift in an Instagram post.
"I give you babies and you build me motorcycles," she wrote in the caption. "Some girls like diamonds, I like heavy metal and carbon-fiber and chrome."
9. When she spoke the truth about a parent's need for coffee:
In June, she shared a photo of her perfect "Mama Needs Some Coffee" mug with her fans.
10. And when she kept it real about having to warm said coffee in the microwave:
Pink understands the busy life of a parent. In December, she shared a photo that shows her sitting down and captioned it, "When microwaving your decaf coffee becomes an excuse to sit on the floor and rest for a while."
11. When she threw Willow a big sister party:
After Jameson was born, Willow celebrated officially becoming a big sister with a cake and balloons.
12. When she helped her daughter start a lemonade stand to raise money for a no-kill animal shelter:
This summer, Willow ran a lemonade stand to help animals in shelters.
"She made the lemonade with hand squeezed fresh lemons (39 of them) and homemade chocolate chip marshmallow surprise cookies," Pink wrote about Willow's venture, adding later, "I love this little bean."
13. When she praised strong women, including her mom and daughter, for International Women's Day:
On March 8, also known as International Women's Day, Pink posted a photo of her mom and Willow and praised them along with other "strong women."
"May we know them. May we raise them. May we be them," she wrote. "Here's to all of you ladies, women, girls, mamas, sisters, daughters, grandmamas, aunties, nieces ... I bow my head in respect and solidarity with all of you women out there all over the world."