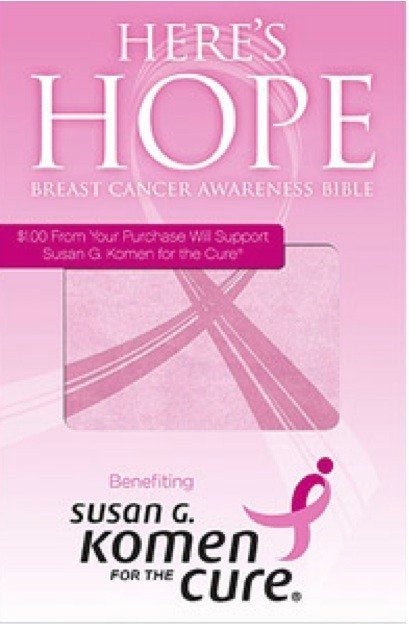 From contraceptives to breastfeeding to eating disorders, many women's health issues are controversial. And it seems even breast cancer isn't above all the bickering. On Wednesday a Christian group recalled the pink bible it manufactured and sold for those with breast cancer over concerns that some of the proceeds would go to Planned Parenthood.
The "Here's Hope Breast Cancer Bible," which included favorite passages from scripture, plus testimonies from breast cancer survivors, was sold at Walmart stores and other major retailers. $1 of the $24.99 spent on each bible went to Susan G. Komen for the Cure Foundation, the largest breast cancer organization in the country and inventor of the now ubiquitous pink ribbon worn to indicate support for breast cancer patients, survivors, and research.
Last week, pro-life websites began expressing outrage over the Bible, reports The Tennessean, since some Komen for the Cure affiliates give grants to Planned Parenthood to provide breast cancer services. Planned Parenthood, as everyone in American has been told, a lot, also performs abortions.
"While it may be a tempting purchase as an inspiration gift for breast cancer sufferers, especially at the Christmas season, wrote Susan Tyrrel, the editor of LifeNews, "it's a donation to death."
LifeWay Resources, the Southern Baptist group that published the Bible, relented after receiving three dozen complaints. LifeWay president, Thomas Rainer, now says the whole thing was a blunder.
"Though we have assurances that Komen's funds are used only for breast cancer screening and awareness, it is not in keeping with LifeWay's core values to have even an indirect relationship with Planned Parenthood," he said in a statement.
Komen for the Cure allows its 120 affiliates across the country to provide funding to organizations in their area that provide breast cancer education, screenings, treatment and support, according to a statement. This includes 2,000 centers that serve low-income or uninsured women, 19 of which are Planned Parenthood clinics.
"Under no circumstances are Komen funds used to fund abortions or other non-breast services," the organization states. If during one of their biannual reviews, any clinic is seen to violate this policy, they would be disqualified from any more Komen for the Cure money.
LifeWay had pledged $25,000 to Komen, according to a spokesman. "I don't think it is very Christian to take money from poor women who were... receiving mammograms with that money," Darlene Jacobs, a Komen supporter, told The Tennessean.
Pro-life opposition to Komen for the Cure is nothing new. Back in 2006, the Roman Catholic Archdiocese of St. Louis stated that it couldn't support participation in anything that would benefit the foundation, since it endorsed embryonic stem cell research, denied studies that linked abortion to breast cancer, and of course, provided funding to Planned Parenthood.
"Donors cannot control how an organization designates its funds. Therefore, money donated for a specific service, i.e. breast health care, directly frees up funds to support other areas of an organization's agenda, i.e. contraception services, "safe" sex education and abortion services."
It's a tragedy that a good cause, which almost everyone can agree on, still has the power to divide. On the one side, passionate pro-lifers are alienated by Komen's connection to an organization that also performs abortions. On the other side, Planned Parenthood provides vital services to the women who most desperately need it.
"I don't think it is very Christian to take money from poor women who were... receiving mammograms with that money," Darlene Jacobs, a Komen supporter, told The Tennessean.
This certainly isn't the biggest controversy the Bible's ever faced. But the Good Book's evidently still got it; with just a splash of Pepto-Bismol pink, it managed to become a fault line of one of today's most bloody culture wars.
Popular in the Community