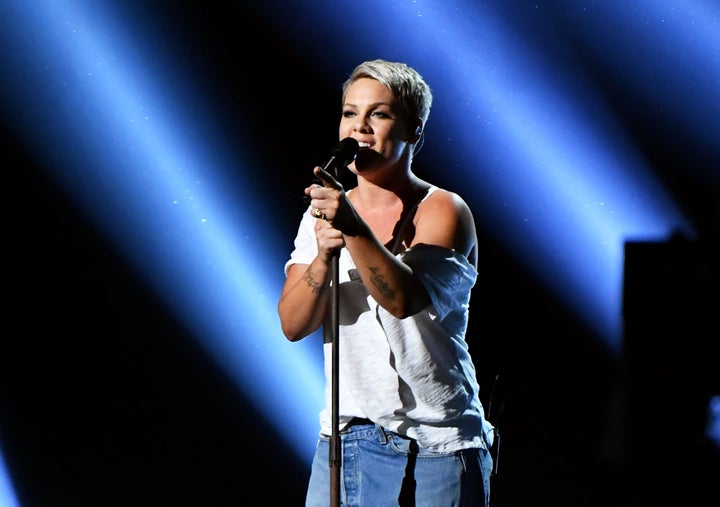 On Sunday night, we watched with excitement as four veteran female vocalists competed to take home the Grammy for Best Pop Solo Performance. But fans of Kelly Clarkson ("Love So Soft") and Kesha ("Praying"") and Lady Gaga ("Million Reasons") and Pink ("What About Us") were ultimately disappointed. None of them took home the prize. They lost out to the lone man in their category: Ed Sheeran ("Shape Of You").
And he wasn't even there to accept the honor.
Pink, for one, seemed unfazed by her loss. A few beats later, she took the Grammys stage to perform a stripped-down version of her song "Wild Hearts Can't Be Broken." As her husband Carey Hart and their 6-year-old daughter Willow watched from the crowd, Pink ― dressed in a white, off-the-shoulder T-shirt, loose jeans and minimal makeup ― stood alongside a sign-language interpreter and sang her heart out. Unlike her past performances, this involved no aerial stunts, no elaborate stage design or costumery. It was just Pink and her commanding lyrics. And little else.
Alecia Moore, aka Pink, has been a part of the competitive music industry since the late 1990s. This year, almost two decades since the rebellious girl with a hot pink pixie cut opted to become a solo artist with her biting debut album "Can't Take Me Home" ― the one everyone described as angry or sassy ― she's not only continuing to line up Grammy nominations, she's managing to do so on her own terms.
"I'm just trying to be exciting," she told Ryan Seacrest on the E! Red Carpet ahead of the show in New York. "[A woman in a grocery store told me] she enjoys me because I like to F up in public a lot. She finds strength in knowing someone is out there screwing up like [her], too."
"I've always had to put pen to paper and scratch out my rage since I was little."
Born and raised in a small suburb of Philadelphia, Pink was heavily influenced by her parents' tumultuous relationship and eventual divorce. The emotional fallout she experienced as a teen led her to pick up a guitar and write her own music, influenced by idols like Janis Joplin and Madonna. She broke into the industry as a member of the all-girl band Choice, but label executive L.A. Reid quickly told Pink she'd be better off going solo, so she signed with LaFace Records to do so. It'd be one of the last times she'd act on Reid's advice.
During the creation of her first album, Reid reportedly recommended, among other things, that Pink attend an etiquette class to reshape her image. She ignored him and exposed his misguidance on her second album, which sold more than 10 million copies.
"L.A. told me you'll be a pop star," she sang in "Don't Let Me Get Me," "all you have to change is everything you are."
"I've always had to put pen to paper and scratch out my rage since I was little," she said in the documentary "Pink: The Truth. "[T]o be able to put that in motion to melody and have other kids scream it out the same way, and go to the same place I was at when I wrote it, it's just like group therapy. Writing is everything to me."
It's true. Beyond writing lyrics, Pink has been masterfully writing her own narrative for years, withstanding pressures to adhere to some ideal version of a female pop star and projecting her own, earnest version of it to the world instead.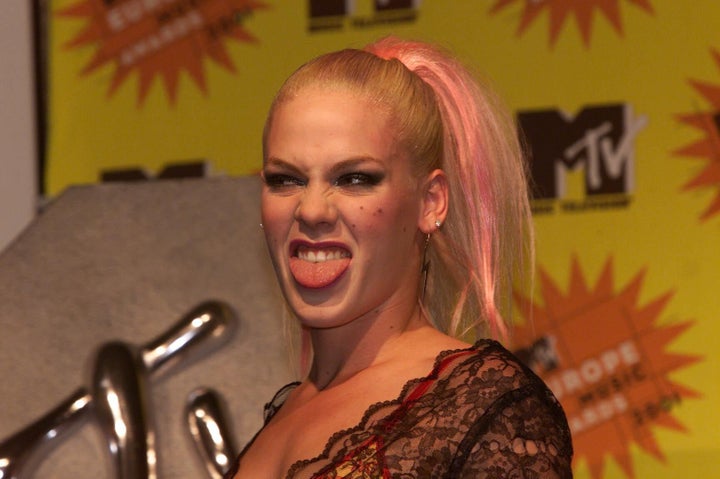 "Can't Take Me Home" was a giant success, but Pink decided to do then what she'd go on to do many more times: reinvent herself. Gone were the days of her R&B-pop hits like "Most Girls" ― she craved more rock. Following her Grammy win for a full-pop collaboration on "Lady Marmalade" with Aguilera, Lil' Kim, Missy Elliott and Mya, Pink recruited 4 Non Blondes singer Linda Perry to co-produce her new sound on "Missundaztood," with songs like "Get the Party Started," which peaked at No. 4 on the Hot 100 in 2001.
"Missundaztood" Pink still sported an edgy, cropped haircut. She preferred pants over skirts; crop tops over blouses; heavy metal horns over peace signs. She didn't want to be Britney Spears or Jessica Simpson, so she broke the mold originally cast for her ― and fans followed.
She eventually won another Grammy for Best Female Rock Vocal Performance with "Trouble" off her third studio album, "Try This." Her 2006, 2008 and 2012 albums "I'm Not Dead," "Funhouse" and "The Truth About Love" each sold more than 6 million copies worldwide. And she wrote her successes into her music: "I'm still a rock star / I got my rock moves / And I don't need you," she sang ― partly to her estranged husband at the time, but also, we assume, to the people still doubting her triumphs. Her latest effort, "Beautiful Trauma," topped the Billboard 200 in November.
"I was never as big as Britney or Christina," she said in a recent New York Times profile. "If you look at any paragraph about pop music, I don't get mentioned — my name doesn't come up. And yet, here I go again, right under the wave, duck-diving."
Speaking of maneuvers, it's difficult to talk about Pink's 2018 Grammy appearance without comparing it with her 2010 Grammy performance of "Glitter In The Air." It's hard to think of this year's plain white T-shirt without thinking of the time she calmly walked onstage and sang some verses before breaking out in aerial acrobatics, spinning above the crowd in a soaking wet bodysuit. Some critics deemed it the most beautiful and memorable Grammy performance ever; her ability to continue belting out her lyrics ― no lip-syncing from Pink ― incited a standing ovation.
"I've always seen dancers do [acrobatics] behind the singer, but the singer's never done it," she told Oprah. "Everyone's pretty much done everything else that there is to do, so I said, 'Why can't I do it and sing?' ... And I wanted to get all the famous people wet!"
From then on, every time Pink took the stage, people paid attention.
Sunday night, however, she decided to strip it all down. Her performance of "Wild Hearts Can't Be Broken" was minimalistic compared with her trapeze acts, but that's likely exactly how she hoped it'd be perceived. She knew that, no matter what, Grammy audiences would be watching her moves with baited breath, waiting for some imagined harness.
"There's not enough rope to tie me down / There's not enough tape to shut this mouth," she sang, with no spectacle in sight. "The stones you throw can make me bleed / But I won't stop until we're free / Wild hearts can't be broken."
Men won all but one of the major categories at the Grammy Awards on Sunday; Alessia Cara was the only woman able to nab a major trophy, for Best New Artist. In other categories, Rihanna earned a prize alongside Kendrick Lamar for Best Rap/Sung Performance, and Shakira deservedly secured Best Latin Pop Album. But talent like Pink, Kesha, Cardi B, Gaga, Clarkson, SZA, Lorde and Miranda Lambert ― some of whom performed that night ― went unrecognized.
Ahead of the ceremony, the president of The Recording Academy, Neil Portnow, insisted women have to "step up" if they want to be celebrated in the industry. "It has to begin with ... women who have the creativity in their hearts and souls, who want to be musicians, who want to be engineers, producers, and want to be part of the industry on the executive level … [They need] to step up because I think they would be welcome," he told Variety, with Ken Ehrlich adding, "Hopefully we'll see [Taylor Swift] next year."
Yet Pink has consistently "stepped up," batting 1,000 in an industry that over-recognizes men and slots the female talent that does manage to get seen into narrow caricatures. She's been crafting her sound and performances for two decades in an attempt to stay relevant, shirking expectations so as never to be pigeonholed. She's winning even when she's not by choosing her own next step, rather than stepping up to some preconceived platform.
Sure, Ed Sheeran took home a Grammy (well, figuratively), but it was Pink and her category colleagues who earned praise throughout the evening for representing what it means to be a determined, singular artist.
Hopefully, we'll see Alecia Moore next year, and all the years to come.
UPDATE (Jan. 30) ― Pink took to Twitter to share her thoughts on the president of The Recording Academy's controversial comments. She said, in part, "When we celebrate and honor the talent and accomplishments of women, and how much women STEP UP every year, against all odds, we show the next generation of women and girls and boys and men what it means to be equal, and what it looks like to be fair."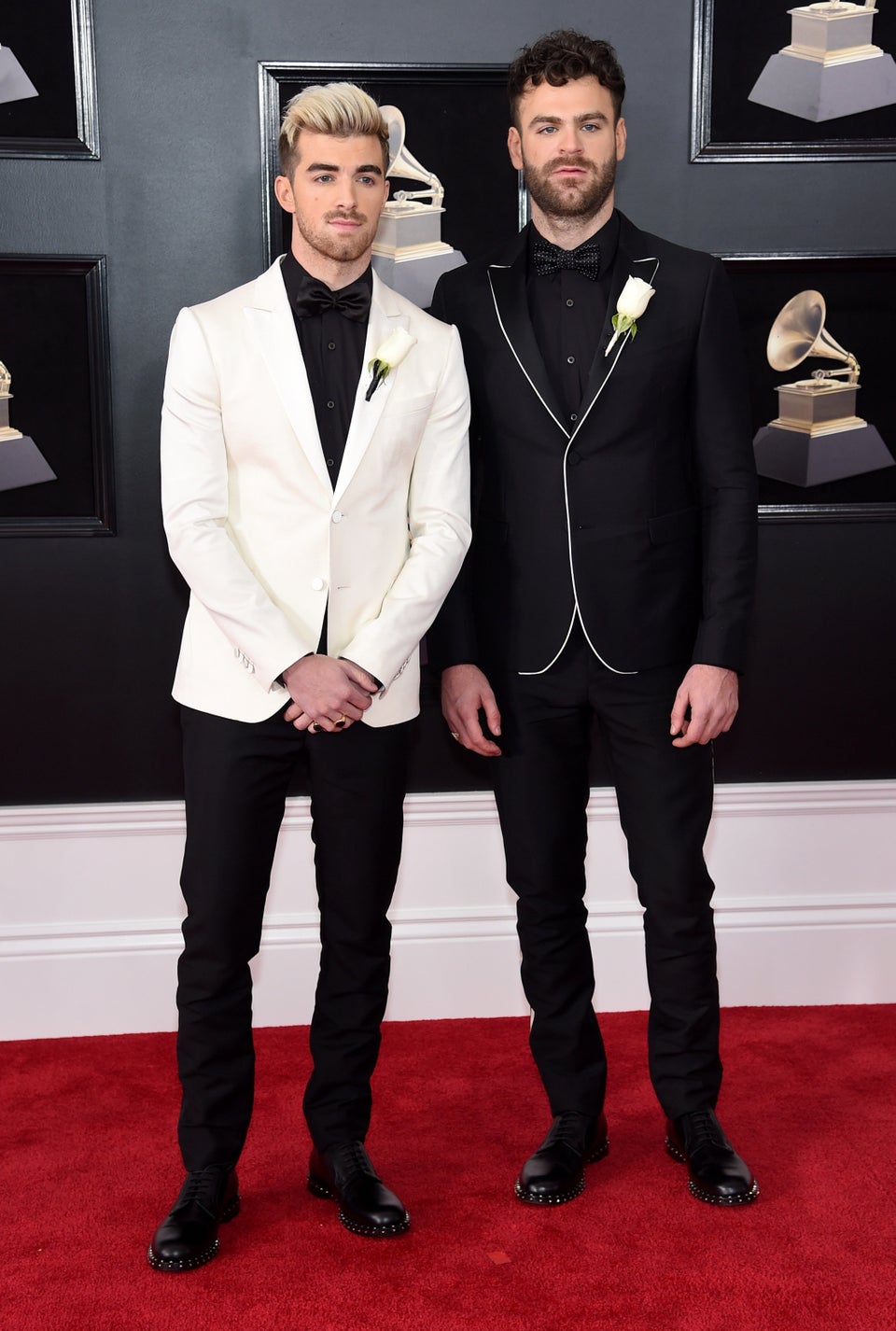 Stars Wearing White Roses And Time's Up Pins, 2018 Grammys
Popular in the Community