Submitted by Elisa (E.J.) Sobo. (post updated on January 26, 2017)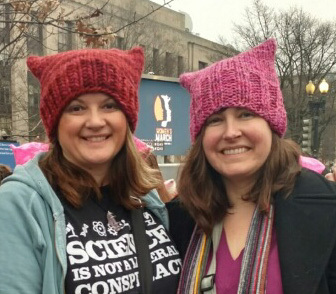 I love my Pussyhat, a knitted square affair whose top corners poke out like cat ears. I wore it to my local Women's March, which was one of many global expressions of the 'Women's March on Washington,' celebrated January 21st. I marched because I wanted to remind my new President that the government's role is to protect the vulnerable--not to further enrich and empower the elite, whose status and wealth are, too often, built on the backs of the marginalized and disadvantaged. Also, a friend asked me to.
Having heard about Pussyhats (and the March itself) through social media and word-of-mouth, myriad Marchers showed up with the bright pink toppers, often knit (or crocheted) by strangers who dropped them at or mailed them to designated locations for Marchers' use. This grassroots donation-based phenomenon was the brainchild of Los Angeles organizers Krista Suh and Jayna Zweiman, who aimed to blanket DC's Marchers in a unifying color, and to provide those who could not be there a way to participate. Word spread through social media, yarn shops, and knitting clubs. Crafters embraced the idea so enthusiastically that photographs from around the world show people proudly wearing their Pussyhats (lots of people learned how to knit, too).
In selecting pink as the ideal hue, Pussyhat Project originators meant to reclaim a culturally feminine (ostensibly weak) color, repurposing it to symbolize women's strength and power as well as caring, compassion, and love. The hat's very name also serves as a reclamation in referencing Donald Trump's infamous confession to sexual molestation. Pussyhats turn derogation into self-celebration.
After knitting a litter of Pussyhats with friends, and sending them off to a location near the capital for distribution, I realized I wanted one too. With the pink yarn gone, I remembered an unfinished pair of socks as near-to-pink as I was going to get. They were my son's work but, with his permission ("go for it, Mom"), I unraveled the weave to recycle the wool. Just after midnight on the eve of the March, my hat was complete. Its color was more peachy-rose than hot pink, but that didn't matter: Pussyhats, like the individuals who wear them, are each unique.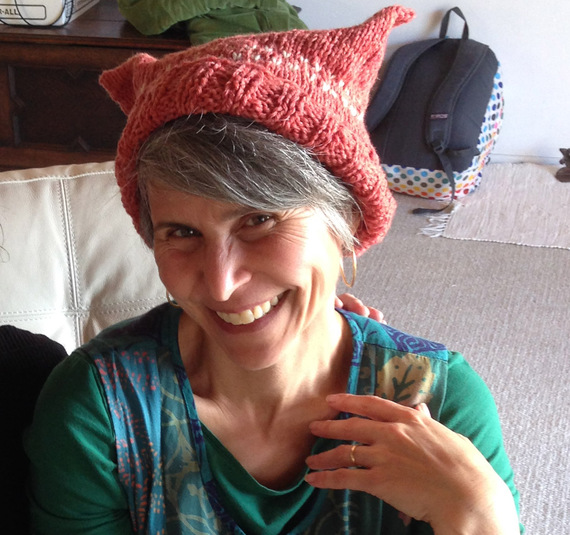 In this, Pussyhats differ drastically from the red caps of the 'make America great again' campaign. Those caps are factory-constructed and therefore interchangeably uniform. Not gifted but purchased, Trump's red caps stand as a symbol of our industrial economy, in which money splits (or, as Karl Marx might say, alienates) producers from their labor and from the products of their labor, and separates production from consumption. When money changes hands in a capitalist society, human relationships are severed. Consumers pay for red caps and take them, without a second thought for the sellers, let alone the makers. So acquired, mass-produced objects entail no ties that bind. All things being equal, they are easily discarded.
In contrast, Pussyhats, received and given as presents instead of bought and sold, are handmade (locally or "in America," as people at my March pointed out). Handcrafting an object these days is a labor of love and the love put into knitting a gift gets passed along within it. Marchers given Pussyhats and those who made them were tied to one another through the gifting process in a way not unlike that described by theorist Marcel Mauss nearly 100 years ago. Wearers sent (and still are sending) knitters cards, email, and photos of their hats in DC (or wherever) and some knitting circles that formed expressly to foster Pussyhat-making will continue their get-togethers into the future.
There is another difference, too, between the red and pink toppers--a difference I alluded to above. Red caps reduce their wearers to a degree of conformity that Pussyhats, each with their own history and appearance, simply cannot--at least not when viewed individually. Pussyhats were uniform in neither hue nor detail or material: "every Pussy's different," more than one Marcher no doubt said.
And yet, when viewed en masse, Pussyhats did transform individual marchers into one sea of pink, unifying them in a way not unlike how red hats do. In addition, many Marchers identified with their pink hats as much --if not more--than the prior day's inaugural attendees likely identified with their red ones. Therein lies the problem.
In a country so divided as ours is now, anything intensifying polarization spells danger. Our inherent diversity notwithstanding, humans are social animals. Friends and relations do influence us. The social desirability of maintaining one's status or esteem in the eyes of one's community ('cultural cognition')--the importance of protecting one's sense of belonging--can make it hard to embrace, let alone explore, alternative viewpoints. Further, the contrived dualism of red and pink can become self-reinforcing when people feel compelled to choose. And once someone has committed to a 'side'--whether red or pink--defending that choice can become a point of pride: one's identity can become tied up in the color and shape of one's hat. Once in uniform, people can have a hard time reclaiming their individuality or adopting non-conforming positions. Military and religious organizations as well as certain kinds of non-democratic states have leveraged this propensity for eons.
The intimate meaningfulness of the Pussyhats leaves us on the horns of a dilemma. Like many Marchers, I feel very close to my hat. A thing handmade, each Pussyhat is as full of meaning as it is of its maker's caring effort or essence. It can be hard to part with such a care-filled gift. It can be hard to put away something symbolizing a heartfelt desire for a more compassionate nation. Today is much too soon to even consider it.
Yet maybe later, on a day not too far, if our democratic efforts make their mark, we will be able to repurpose these hats. We can unravel them and, without losing touch with their original purpose or makers, we can recycle their yarn. We can create something even better--just like I did with those socks.
Popular in the Community