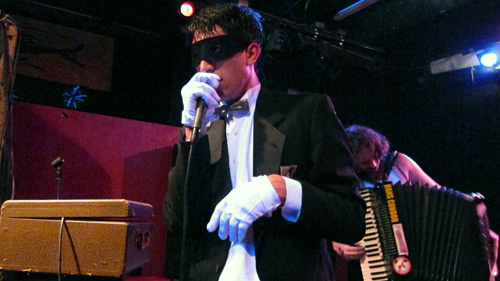 I first heard of Pink Lightning through the many times I visited the now closed Record Time, the legendary Detroit area record store that the band's lead singer Chris Butterfield used to work at. I first caught a live Pink Lightning show at the now closed Club Bart in Ferndale and I was amazed at the energy and talent of this band. The establishment closures are a mere coincidence, in no way will Pink Lightning shut your place down. They might turn it into a party, but it's all great clean fun.
Pink Lightning is a rambunctious quintet that puts the fun back into rock-n-roll without surrendering themselves off as a cheap novelty act. They have that "it" thing about themselves that conjure up the days when bands were not afraid to let loose and have true personality. "Pink Lightning embodies an underdog spirit," says Chris Butterfield in a recent chat. "The anxiety we still manage before every show, we channel into energy. Often times, we'll approach a performance with a theme in mind. We enjoy that process."
Along with Chris Butterfield on the vocals and circuit bender, Pink Lightning is originally comprised of Neal Parks (Drums), Everette Rinehart (Bass), Leo McWilliams (Accordian), and Matt Paw (Guitar) for the recording of their debut album Happy To Be Here, but Paw has since been replaced by fellow Detroit guitarist Tom Bahorski who you might have heard as a member of The Ashleys.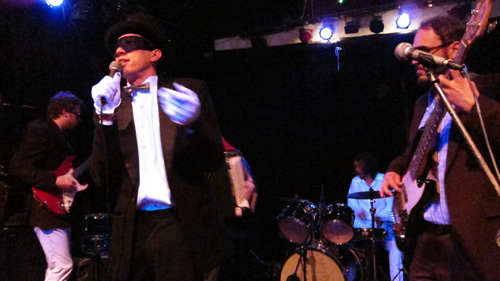 With Happy To Be Here, the band debunks everything "too-cool-for-school" or "emo" in indie rock and makes a record that's all about enjoying the party of life. "Pink Lightning is a Venn diagram," explains Butterfield. "Despite the amalgamation, we've always considered ourselves a rock-n-roll band with some quirks, sure. The songs are happy accidents."
Pink Lightning celebrated the album's release with a show this past Saturday at The Old Miami in Detroit. The band's lead singer Chris Butterfield takes the awesome foolery of the band to the next level on stage. Donning a magician's tuxedo paired with everything including a top hat, Butterfield is an energetic epicenter of the band, setting a boisterous tone throughout. "Jerry Lewis may be my single greatest inspiration as a performer," describes Butterfield on being the band's lead. "His films demonstrate a unique and unrestrained physicality. I'm drawn to that kind of expression. Absurdity is also subversive. That's how I idealize rock-n-roll. I project my cartoon self. That excitement is a direct response to the music of my bandmates. They provide the perfect context."
Pink Lightning is completely serious about not taking everything so serious, and that's where the synergy of the band hits its mark both live and on record. The balance of good bluesy, rhythmic, indie rock with their play on absurdity creates this musical dichotomy that makes Pink Lightnings's potential real. And when I asked Chris Butterfield to describe Pink Lightning as a band, he simply says "We like to laugh."
(Photos by Kelly Frazier)