Pink is always candid about what it takes to make her marriage to Carey Hart work. And mostly, she said, it involves a whole lot of therapy.
The singer spoke about her relationship with the motocross rider in an Instagram post on Monday, accompanied by a photo a friend snapped showing the couple in a happy embrace. (See it below.)
"He and I have been at this a long time, and it is our relentless and stubborn idealism that keeps us together," Pink wrote of her husband, who she wed in 2006.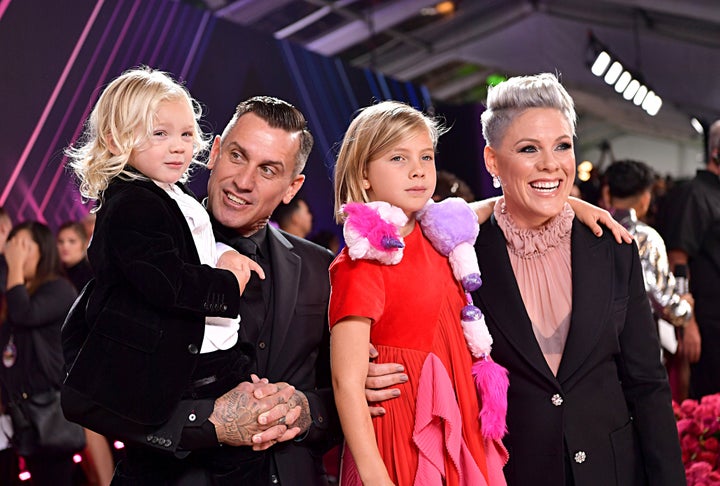 "Marriage is awful, wonderful, comfort and rage," Pink said. "It is boring, terrifying, and a total nail biter. It is loving another fallible creature while trying to love yourself. It is a lifetime of coming back to the table."
Some people "laugh" at the couple because they're "either fighting or laughing," Pink wrote. Others "roll their eyes" when they talk about counseling. But in the end, all the work is "worth it," she said.
"Therapy isn't for weak people or hippies or liberals. It's for broken people that want to be whole," the "What About Us" singer wrote.
"It's for runaways that want a family. It's a lesson on how to sit down and listen. How to love yourself so that the other person can, too. I love you babe. I'm grateful we made it to this photo."
Just a few months ago, Pink did a live interview on Instagram with her therapist Vanessa Inn, who also leads Pink and Hart in couples therapy.
Pink said she'd endured "a lot of shit" for being so open about counseling. And yet, "It's the only reason that we're still together," she said.
"Because you know, I think partners after a long time, we just speak — I can't say it's a man and woman thing, I think it's a partner thing, a spouse thing — that you just speak two different languages," Pink said. But luckily, having a therapist can "hear both of you and then translate it for you."
Popular in the Community