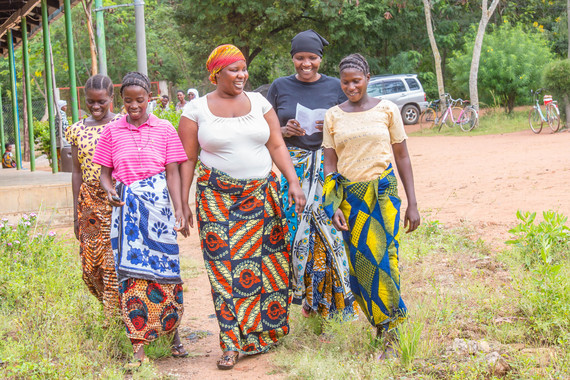 By Celina SchockenUnwavering bipartisan congressional support for the U.S. President's Emergency Plan for AIDS Relief (PEPFAR), now in its second decade of programs, has resulted in huge numbers of lives saved. Hailed as the largest commitment by any nation to combat a single disease internationally, PEPFAR not only saves the lives of those suffering from HIV/AIDS; it also leverages investments to make progress against related health threats including cervical cancer.
Cervical cancer is a preventable, treatable disease. Yet, it continues to have a devastating impact on women in low- and middle-income countries around the world. In 2015 alone, there were nearly half a million cases and 266,000 deaths from cervical cancer globally, with nearly 90% of deaths occurring in low-resource settings.
Much of the global cervical cancer burden is concentrated in sub-Saharan Africa, where it is the leading cancer and most common cause of cancer death among women. This is attributed to the lack of screening and treatment programs in the region, and to the fact that women living with HIV are five times more likely to develop cervical cancer.
PEPFAR's role in the global fight against cervical cancer comes as a result of the United States' interest in protecting its investment in women who receive antiretroviral therapy through PEPFAR. We want to ensure that women who survive HIV do not succumb to cervical cancer.
To achieve this goal, PEPFAR became one of the original four founders of Pink Ribbon Red Ribbon® (PRRR), a global organization powered by partners that leads coordinated action to save lives from women's cancers in countries where the need is greatest. PRRR's work is driven in part by the strong belief that through greater access to cancer prevention and treatment, healthy women strengthen families, communities and nations, and drive global economic growth and prosperity.
Launched in September 2011 by the George W. Bush Institute, PEPFAR, Susan G. Komen® and the Joint United Nations Programme on HIV/AIDS (UNAIDS), PRRR has since grown to over 30 partners. This month marks the historic 5-year anniversary of the partnership.
In addition to the invaluable efforts of PEPFAR to prevent cervical cancer deaths, the U.S. National Cancer Institute (NCI) and the Centers for Disease Control (CDC) supports PRRR and its country partners with cancer control planning, cancer registries, cancer research, and cancer screening, treatment, and prevention.
Pink Ribbon Red Ribbon's innovative public-private partnership marries the U.S. government's exceptional global health expertise with the resources of the private sector, as well as multilateral, philanthropic, and non-governmental organizations. This allows the American taxpayers' support for global health programs to go far and maximize impact.
PRRR and its partners work on a full continuum of interventions to prevent and treat cervical cancer - from prevention to palliative care. These efforts include vaccinating girls against the Human Papillomavirus (HPV), the primary cause of cervical cancer, increasing access to care through community outreach, training and equipping healthcare providers, and screening and treating women for cancer using effective and low-cost methods.
Since program inception, PRRR and its partners have vaccinated over 100,000 girls against HPV, screened over 260,000 women for cervical cancer, and provided cervical cancer treatment to nearly 19,000 women. Our "Lives Saved" model, developed by experts at Johns Hopkins University, indicates that the screening and treatment programs PRRR supports have averted about 34,826 deaths from cervical and breast cancers since our launch in 2011.
Now on our fifth anniversary, we recognize and are grateful for the ongoing support of PEPFAR, PRRR's partners, and the global fight against cancer.
Celina Schocken is the Chief Executive Officer of Pink Ribbon Red Ribbon.
Popular in the Community