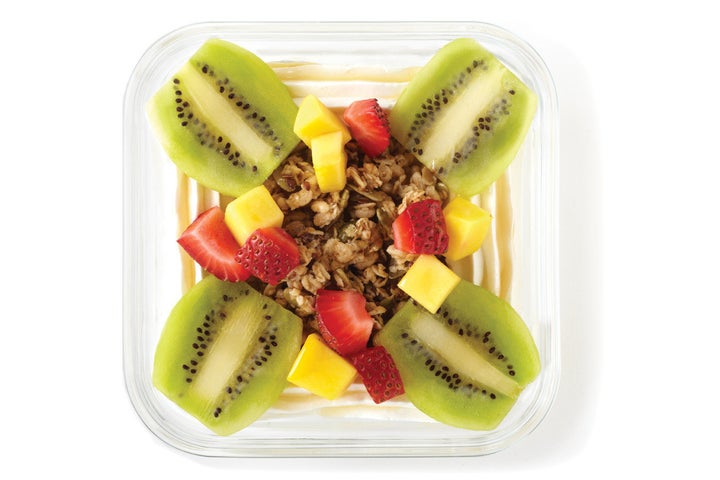 Pinkberry is going Greek.
No, the Los Angeles-based yogurt chain Pinkberry isn't joining a UCLA frat; they're hopping on the bandwagon and serving nonfat Greek yogurt!
The company -- whose first store opened in West Hollywood in 2005 -- is making a surprising move in a number of ways. While Pinkberry is known for its upscale frozen yogurt, the Greek yogurt that they're starting to sell is unfrozen.
Furthermore, the chain is serving savory combinations that might shock the palates of most customers, who are used to the likes of fruit, granola, or honey on their yogurt. With tomatoes, cucumbers, and peppers on the menu, Pinkberry seems to be trying to put a new twist on a somewhat old fad.
Select Pinkberry stores are also now serving coffee and opening at 8 a.m., in an attempt to make the brand a one-stop breakfast destination. Customers can eat berries on their Greek yogurt in the morning, and then return for a mid-day snack of something savory. Pesto yogurt, anyone?
Considering this craze, it only makes sense that Pinkberry would try to get a piece of the proverbial yogurt pie. However, only time will tell if this capitalization on the Greek yogurt trend will work out for Pinkberry, especially considering their relatively unusual approach to it.
There's no better place to gauge the trend than in LA, where Pinkberry was "born and raised," in the words of Pinkberry CEO Ron Graves. If Angelenos want to try for themselves, four locations in LA are now serving the new yogurt:
South Beverly: 240 S. Beverly Blvd., Beverly Hills
Third Street: 1456 Third St., Santa Monica
Century City Mall: 10250 Santa Monica Blvd., Los Angeles
Waterside Shopping Center: 4708 1/2 Admiralty Wy., Marina Del Rey
Greek yogurt is also being served at select Pinkberry locations in Boston and Washington, D.C. And, if you just want to look, check out some pictures of the new offerings.
PHOTO GALLERY
Pinkberry Debuts Greek Yogurt
Calling all HuffPost superfans!
Sign up for membership to become a founding member and help shape HuffPost's next chapter