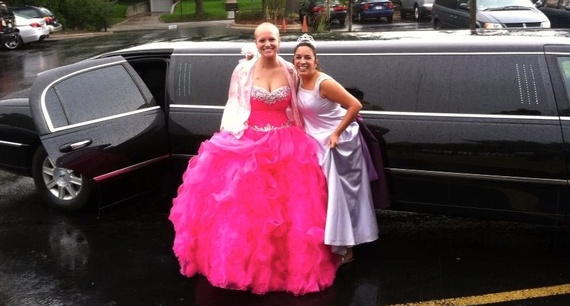 I am currently living through my second October as a breast cancer patient/survivor. My first involved a lot less hair and this one involves a lot more bandages and scars. October has become somewhat of an emotional month for me. Breast Cancer Awareness Month is something I didn't care much about before, and suddenly it has me laughing and smiling.
Almost every person I come across this month loves repping pink to support awareness. Starting October 1, every form of social media I use has been tagged by people wanting to share something breast cancer-related. I've laughed at dogs with pink balloons fixed to their chest like boobs. I loved when someone made me "mammo-grahams" or s'mores that are crafted to look like boobs being smushed by a mammogram. I felt inspired when a friend shared a photograph of a breast cancer patient dressed in a perfect Mr. Clean costume with her beautiful bald head gleaming. But when a stream of anti-Pinktober articles started coming my way I became frustrated. How dare someone rain on my parade?
Now before I share why I love Pinktober, I want to say to everyone who opposes it: I hear you. I hear you when you say that when you have breast cancer it isn't minimized to 31 days in the fall, and you feel it every minute of every day, forever. I hear you when you scratch your head at someone deciding that a "National No Bra" day means sharing photos of braless breasts in support of cancer when it can actually be a reminder that when you go braless you have no nipples (and maybe even no boobs) to show. I hear you when you question the actual proceeds going to "the cure" with every pink can of soup and pink bag of coffee. I hear you say you're tired of the attention it attracts to you and how you would like to be seen as something other than a breast cancer patient/survivor. I hear you.
When I was first diagnosed, I told people that I would not be wearing pink and I would not like to receive pink things. Breast cancer was something that I was diagnosed with but there was no way that it was going to define me. I would not be attending any support groups and I would not be a victim of this awful disease. I call this stage my "anger mixed with denial mixed with I have no idea what I'm getting myself into" phase.
What I didn't know then was how amazing it can be to fight cancer. Before you all start microwaving Styrofoam with your chest pressed against the microwave, understand what I mean by that. Cancer requires courage. Cancer requires being loved. Cancer requires strength and patience and acceptance and advocacy. Cancer presents you with important decisions and issues that you are forced to address. Cancer fighters, and many of their supporters, must reach deep into a place of their heart that most will never know. No matter the outcome of the fight, I automatically place those who receive a cancer diagnosis in a category separate from everyone else. We're not better than you, but I can share with great confidence the strength and beauty we have in common. The "cancer club" that I so passionately tried to turn down my membership to is now my place for safety, strength, and encouragement. So how does Pinktober make me feel? It makes me feel honored and loved.
I love that for 31 days the whole country acknowledges what the past 17 months of my life has been devoted to. I love that people are posting and sharing stories, like my own, to bring breast cancer into topics of conversation. I love that for an entire month, the thing that is always on my mind is also on the minds of others. I love the joy my friends who fought this stupid disease with me get when they see breast cancer things. I love the way it pays tribute to those who have suffered from breast cancer. I love that people are able to honor my fight along with thousands of other women's battles with this terrible disease. I love that the 8 percent of total proceeds raised by the NFL in October is 8 percent more money than was raised before. I love that people get free mammograms and forgetful people remember to get mammograms. I love every reminder to my army of support out there of the power of their love. I love all of the good intentions directed to a cause close to my heart. I love it.
I wish every month brought awareness to breast cancer, but isn't one month better than none? Because in reality, there are a lot of other terrible diseases that people suffer from every day. Cancer in general isn't even the number one killer of Americans, it's heart disease -- and I'm happy to give focus to those that suffer from heart disease in February. I never really care about the "what" people want to do to raise awareness and support, I'm grateful for every action that brings attention to breast cancer. I understand why people inquire about where all of the funding raised is really going, but isn't some funding better than no funding? If you feel cheated by a product or promotion after finding out only a small portion of your money is going to the cure know that at least one cancer patient is thankful for where your heart is.
I love seeing pink in October. I wasn't lucky to get breast cancer, but at least I had a disease that the whole nation is excited to support. These "pink outs" give me strength. Pink makes me feel loved. It honors our suffering in a way that even those without money to donate can show support to breast cancer patients, survivors, and their caregivers. October's "pink washing" can be a way for us to all stand together for a cause.
I love the opposition to it, too. Controversy keeps the conversation alive -- and I don't think breast cancer awareness it's something we should ever stop talking about.
This article originally appeared on reimagine.me a new online magazine for those who have been touched by cancer, and an education resource that teaches a powerful set of skills to take your life back from cancer.