I want to begin this by saying that I would never speak for any other woman or man who has gone through treatment for breast cancer. This opinion is mine and mine alone. Everyone is different, and no two experiences are identical.
With Pinktober full steam ahead, I want to come right out and say this: Pink Stinks. I am sick and tired of the pink ribbon, Pinktober and massive amounts of pink-washing products that line the shelves year after year. My dogs Boomer and Mal are more likely to start speaking in full sentences than these crap items will in any way contribute to a cure for cancer.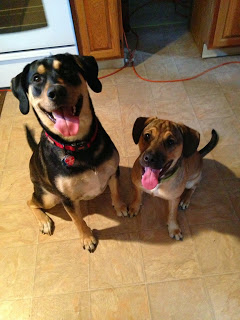 "We think pink stinks, too!"
For almost 10 years before my own diagnosis, I used to participate in Race for the Cure every year to honor my mother. Several years, I raised a great deal of money for the Susan G. Komen Foundation. I walked those three miles every year, believing that I was honoring my mother, who died of metastatic breast cancer. I purchased several pink items when I saw that proceeds went to Komen. Heck, I even went into my treatment believing that the pink ribbon meant something, that important change was afoot!
After falling down the breast cancer rabbit hole, I came out viewing the pink ribbon in a completely different light. I see the pink ribbon now still as a symbol, but not as a symbol for anything positive. I see the pink ribbon as a symbol of failure or as a way for companies to make a lot of money. Instead of working toward a cure or heck, even a way to prevent this disease from affecting one in eight women in their lifetime, the focus of the pink ribbon has veered violently off course. Companies are slapping a pink ribbon on any product that they can with little to no transparency regarding where the money is going.
Last year, the New York attorney general issued this release "Issues Best Practices For Breast Cancer 'Pink Ribbon' Campaigns," which made me stand up and applaud:
While these campaigns have resulted in substantial donations, the attorney general's review found that consumers often do not have sufficient information to understand how their purchases will benefit charity.
Doesn't that make your blood boil a tad or a lot or so much so you're about to have a rage stroke? These companies are creating these lines of pink products and customers are just snapping them up, but a majority of these consumers have no idea where their money is going. These companies are profiting obscene amounts of money, and meanwhile, so many (mostly) women are dying of metastatic breast cancer each year. This cause marketing technique is a growing billion dollar industry, but where is the money going? This has to change.
The pink ribbon campaign wants you to forget that breast cancer is this:
It was only until last year that Komen actually featured a Stage 4 patient in its awareness ads, according to Peggy Orenstein's article entitled "Our Feel Good War on Breast Cancer." (This article is a must-read, and I want everyone and their mother to read this.)
It isn't easy to face someone with metastatic disease, especially if you've had cancer yourself. Silberman's trajectory is my worst fear; the night after we spoke, I was haunted by dreams of cancer's return. Perhaps for that reason, metastatic patients are notably absent from pink-ribbon campaigns, rarely on the speaker's podium at fund-raisers or races. Last October, for the first time, Komen featured a woman with Stage 4 disease in its awareness-month ads, but the wording carefully emphasized the positive: "Although, today, she has tumors in her bones, her liver and her lungs, Bridget still has hope." (Bridget died earlier this month.)
If breast cancer awareness is ignoring the group of patients who will actually die from the disease, then where's the awareness? You can't "bring awareness" to a disease and completely ignore the fact that women are dying from this disease. If the pink ribbon ignores metastatic breast cancer patients, then it ignores women like my mother. She died from this disease, and her story, along with all the other men and women who died from breast cancer, matters. The pink ribbon either stands for all of us or none of us.
Taking a road less pink requires fundamental changes in the way we organize around breast cancer and in the questions we are willing to ask of ourselves, our families, our elected officials, our corporations, our medical system, our scientists, our media, and those who represent us in advocacy.
I really want anyone reading this to think before you pink every single time. Will your dollars be better served at another organization, like Stand Up 2 Cancer or Gilda's Club (which provides emotional support to cancer patients and their loved ones) or any smaller organizations? Please please please, I beg of you to put your dollars to good use and not to companies using cause-marketing to tug on your heart strings just to get you to buy some meaningless item. The pink ribbon is an empty gesture. You know what's not an empty gesture? Fighting back.
Let's prevent other children from growing up without their mothers or fathers.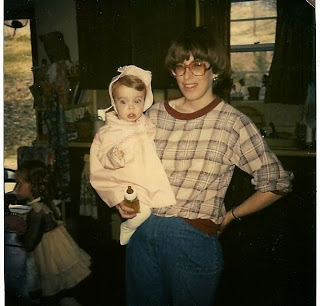 Related
Popular in the Community