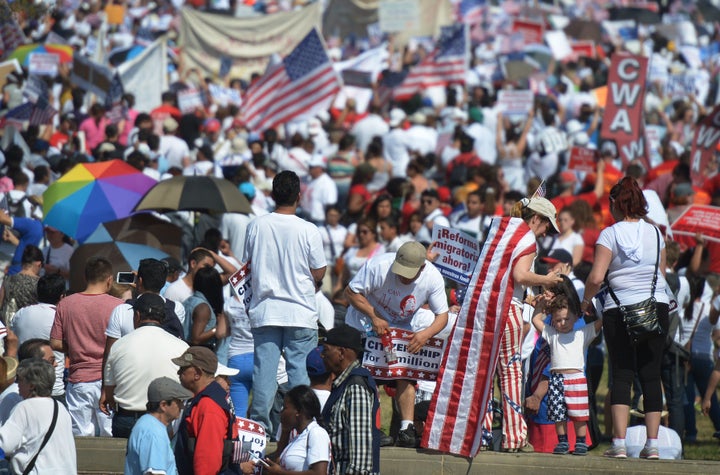 Co-authored by Justin Feldman
As marchers for immigrant rights took on Capitol Hill last week, some of us saw the return of the Human Rights Campaign's "equal sign" logo, which had adorned countless Facebook profiles in late March during the Supreme Court hearings on marriage equality. But on their return, the equal signs were rotated 90 degrees to look like the number 11. The idea was to show solidarity with a campaign for immigration reform that certain nonprofit organizations and Democratic politicians allege will provide 11 million undocumented people in the U.S. with a path to citizenship. At the same time, the image drew an implicit connection between comprehensive immigration reform and issues of LGBT rights, particularly the legalization and federal recognition of same-sex marriage.
For a while now, immigration advocacy groups, gearing up for the introduction of "whole enchilada" immigration reform legislation, have lauded the LGBT rights movement and engaged LGB organizations such as HRC, the National Gay and Lesbian Task Force and the National Council of Lesbian Rights on immigration issues. Some of these organizations have responded by endorsing comprehensive immigration reform.
HRC, for example, published a position statement calling for the inclusion of same-sex couples in immigration reform legislation. The publication's release came just days after HRC attempted to prevent a queer undocumented activist from talking about his legal status at a marriage equality rally in front of the Supreme Court. This may seem an ironic contrast, but HRC's superficial adoption of immigration concerns and their suppression of any queer or immigrant speech falling outside their assimilationist narrative is a prime example of what we refer to as the pinkwashing of immigration reform.
Pinkwashing, in this context, involves making immigration reform look pro-gay to garner LGBT support in order to mask the severe drawbacks of the legislation. Because LGBT people have been at the bottom of society for so long, many people mistakenly see some forms of "gay rights" as a marker for progress or modernity.
Both immigration and LGBT advocates have gone to great lengths to ensure that immigration reform appears to be inclusive of LGBT immigrants, even if the legislation contains nothing LGBT-specific. They have repeated ad nauseum that 267,000 undocumented immigrants are queer. They have written kind, albeit inaccurate, words about the movement for marriage equality. In particular, queer undocumented youth have been fetishized and misappropriated to push for an enforcement-loaded immigration agenda, which does not particularly serve migrant communities and serves to mask U.S. militarism. Meanwhile, issues of economic justice and transgender rights take a back seat.
There are serious, deleterious harms as a consequence of what some may view as coalition building between mainstream immigration reform advocacy groups and LGBT groups. The end result of pinkwashing immigration reform is threefold. First, the United States masquerades as a haven for gays, lesbians and undocumented immigrants, who wrap themselves up in an American flag and declare their allegiance to U.S. nationalism, even as the state produces and reproduces conditions that lead to more migrants fleeing their homes. Second, through pinkwashing, the United States continues to expand the immigration detention and deportation complex even while appearing to pursue reforms for all. And finally, pinkwashing ensures that the only piece of legislation that could have directly benefited gays and lesbians -- providing immigration rights to same-sex partners of U.S. citizens and lawful permanent residents through the Uniting American Families Act -- gets thrown under the bus.
The pinkwashing of immigration reform has its roots in President Obama's reelection strategy. When it launched in April 2012, the Obama campaign saw LGBT and immigrant voters as crucial demographics for them to target, but the president had thus far achieved little for either group. In the first few months of the campaign, Obama announced his personal support for same-sex marriage and unveiled his deferred action policy for undocumented youths. By the time of the Democratic National Convention in September, the campaign was able to present itself as a progressive rainbow coalition and have most liberals take this image seriously.
But behind this civil rights façade lay an illiberal reality: Obama was creating conditions that deepened the oppression of queer people, immigrants and queer immigrants. By the end of his first term, Obama had already deported 1.5 million non-citizens, more than any other president in U.S. history. He had also greatly expanded the Secure Communities program, which multiplies the state violence of immigration enforcement by attaching it to local police departments. For his next term Obama was poised to continue down the road of fiscal austerity, cutting Social Security, Medicare and other safety net programs that are of particular importance to LGBT and immigrant residents, all while continually refusing to ban anti-LGBT discrimination for federal contractors and excluding deferred action recipients from benefiting under health care reform.
Obama's foreign policy has not differed much from that of his predecessor, the main difference being that gay and lesbian soldiers serving in the interests of U.S. imperialism would be able to do so openly. Despite reluctantly disengaging from Iraq and promising to withdraw from Afghanistan, the president's aggressive use of drones expanded U.S. military involvement in at least four other countries. Of particular interest to queer migration is the case of Honduras, where Obama and then-Secretary of State Hillary Clinton tacitly endorsed a right-wing coup in 2009 by quickly resuming aid payments and drug war collaboration while pressuring the Organization of American States to accept Honduras back as a member. Since the coup, there has been a string of assassinations of LGBT Hondurans, particularly transgender persons and political activists. Honduran LGBT organizers view the coup government as complicit in the murders. Threatened LGBT Hondurans will undoubtedly migrate to the U.S., where they will be greeted by the most militarized immigration enforcement system in our history.
Pinkwashing immigration reform also negatively affects gay, lesbian, bisexual and transgender immigrants, particularly detainees. While masquerading as the purveyor of human rights, the U.S. continues to detain and deport immigrants -- both legal and undocumented -- at record numbers. The U.S. detention system is especially cruel to transgender detainees. No immigration reform proposal put forward will ameliorate the growing immigration detention complex. Instead, the enforcement mechanisms of the bill would criminalize migrants, making life harder for many who cannot qualify for the rigid legalization provisions.
Pinkwashing, a criticism often hurled toward same-sex binational couples vying to be included in an immigration reform bill, will now serve to exclude these couples by painting immigration reform as a gay issue. Advocates say that immigration reform would broadly help LGBT people, and that should be enough. Alas, it is not enough.
Status quo immigration laws do not treat gay and lesbian couples as a family for purposes of green-card petitions because the federal Defense of Marriage Act (DOMA) doesn't recognize same-sex marriage. There are more than 28,000 American same-sex binational couples, who would be shut out by the Senate bill. While proponents of immigration reform are quick to point out that DOMA repeal would provide immigration benefits to these couples, even in the best-case scenario, LGBT immigrants will be left out. Without legislation for permanent partners, and even in the event of DOMA repeal, people who are too sick or poor to travel to one of the few states that provide for same-sex marriage lose out. Without recognition for permanent partners, asylum seekers cannot get follow-to-join benefits for their partners left behind. Without permanent partner recognition or detention reform, people who are detained in anti-marriage-equality states would also be left to fend for themselves.
While few know the specifics of the House or Senate immigration proposals, the proposed legislation may include stringent requirements around length of residency, English-language proficiency, continuous employment, payment of fines and back taxes and returning to one's country of origin. It is not unreasonable to assume that legislation will exclude millions of people from a path to legal status while at the same time increasing immigration enforcement significantly, including mandatory E-verify and national ID cards. Whether or not such a bill would be worse than the status quo is a question worth asking.
All families, and not just ones with heterosexual couples, deserve to benefit from just and fair immigration reform. This includes ending all deportations, eliminating the Secure Communities program and repealing the draconian detention system and unlawful presence bars, providing immigration benefits for same-sex partners -- all of which won't make it into the final legislation that is likely to be hailed as a victory by the immigration and LGBT nonprofit industrial complex, even as it spells a disaster for migrants and Americans alike.
Popular in the Community