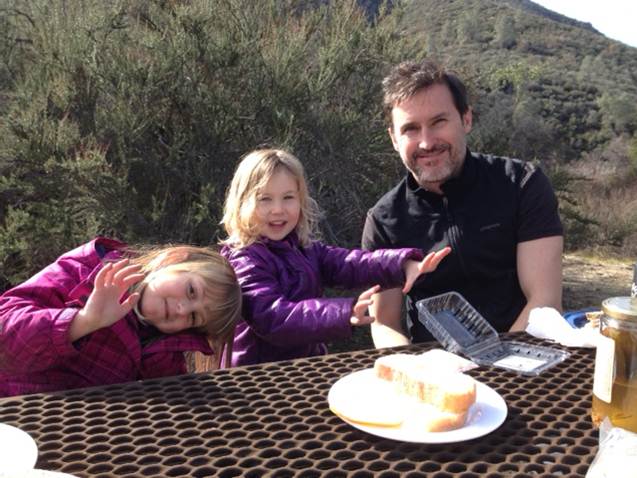 Mike Sweeney with his daughter and her friend at Pinnacles National Park (c) The Nature Conservancy.
One of California's best kept secrets is blown. This is a bummer for me, since Pinnacles National Monument has been my secret for years - the secret to escaping San Francisco Bay area campground crowds and advance booking insanity. A little over two hours from San Francisco, Pinnacles, just became America's newest national park. The incredible geology of the park makes it a mainstay of the region's climbing community. Right near the San Andreas Fault, millions of years of shifting tectonic plates created the amazing rock formations from which Pinnacles takes its name. From massive boulders to soaring spires and deep crags, Pinnacles has it all. There are literally hundreds of climbs ranging from easy to downright suicidal.
Pinnacles isn't just for climbers, though. My trips there are decidedly more horizontal, but no less rewarding. Not to promise everyone a Pleistocene instant fix, but the first time I set foot in the park, I caught my first view of a California condor riding the thermals over the campground. Not a turkey vulture, a condor! These massive birds -- the biggest in North America -- ride columns of warm air up to heights of 15,000 feet. And speaking of warm air, the park has it. That's an important factor for heat seekers like me fleeing San Francisco in the cooler months, which, let's face it, is practically all of them.
An important note: I'm a backpacker who's now well-adjusted to my new reality as a car-camping dad. The campground is clean and well-maintained and rarely gets too crowded. My four-year-old daughter loves the hike through the caves up to the reservoir and the evening nature talks by rangers in the amphitheater. When it comes to trails, the High Peaks Trail has to be one of the most spectacular hikes in the state, especially during spring in a good wildflower year.
The secret is out now that Pinnacles is a national park, and all joking aside that's good news. Our national parks stake out the best nature has to offer -- from outstanding scenic features to natural phenomena -- and make it available to anyone who wants to see it. Teddy Roosevelt recognized the importance of Pinnacles when he set it aside as national monument in January 1908. (He made Muir Woods and the Grand Canyon national monuments that same week.) Presidents can designate national monuments. But elevation to national park status takes an act of Congress. National parks are the best of the best.
Don't let the relatively small size of this park fool you. At 27,000 acres, it's tiny compared to Yosemite, but Pinnacles has some spectacular vistas. The amazing landforms offer a glimpse into a prehistoric world. The California condor I saw was one of about 32 free-flying condors in the park. The park is also one of only three condor release sites in California. The location, on the central coast, also makes it an important link in a stunning stretch of open country between the San Francisco Bay area and Los Angeles. With the number of people in this region growing fast, untouched natural places like this one are more and more important. The Nature Conservancy helped add about 2,000 acres to the park a few years ago purchasing Pinnacles Ranch, which is the gateway to the park's east-side entrance and houses the campground and store.
There's an incredible diversity of nature in California and I'm lucky to live here. We now have more national parks than any other state to prove it. There is really no better place to experience all the central coast has to offer than at Pinnacles National Park. So visit the National Park Service website and plan your visit.
Related
Popular in the Community