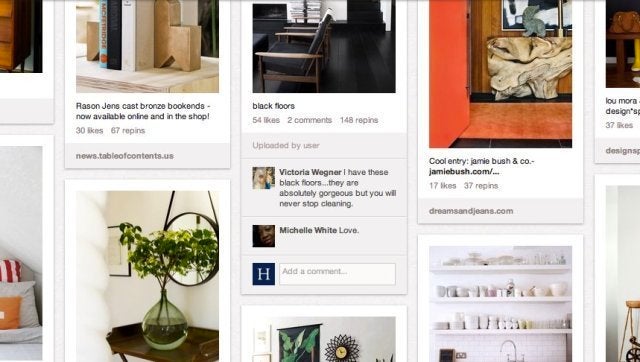 It's all about interiors this week on Hot On Pinterest. The five Pinners we're featuring each approach living areas with unique lenses, giving us a well-rounded idea of the different ways we can revamp our spaces.
Casey Keasler: This Pinner is based in Portland, Oregon, a city famous for its unique aesthetic cultures and lifestyles. With over 30 boards to choose from, Keasler focuses her Pinterest selections on a variety of inspirational themes. Though we encourage you to look through all of her boards, make sure to go straight to Inside, which is devoted to collecting fascinating images of interior spaces. Take a look for yourself.
Birchbox: Here's a company whose primary concern is making sure the best of beauty is delivered to your Pinterest feed. You'll find a wide array of boards that are dedicated to most things beauty related. In the spirit of interior exploration, we want you to check out the board called Living Rooms, an eclectic medley of pieces of furniture and accessories as well as interior compositions.
Lauren Zwanziger: Based in Nashville, Tennessee, this Pinner pins attractive, lofty images on a little over 25 different boards. The photos she curates are all equally mesmerizing, so to help you navigate we recommend that you check out Space, a board that features interior dynamics that have a refined, rustic sensibility (with antique wooden furniture and polished antler skulls, what else could it be?)
Steven McGaughney: This Pinner is attracted to original architectural structures. This interest appears in a handful of his boards, and the one labeled Inside Spaces is no exception. Whether the photos he's pinned are space-bending illusions produced by paint or images of books scaling the entirety of a wall, his pins in this board all meditate on the use and experience of interior space.
Michelle Halford: This week's nominated Pinterest account goes to Michelle Halford, a Pinner whose board living perfectly fits this week's objective. If we can make one assumption about her design tastes, it would be a tendency to pin clean, sophisticated spaces. The pins she has pulled together in this board are exceptionally inspirational to peruse, and the board just keeps growing.
Want to see your account in our weekly top 5? Then send us an email! Simply click "Send Us A Tip" (below) with a link to your account. (We also accept nominations!) And don't forget -- HuffPost Home is onPinterest, too.
And be sure to check out other Pinners to follow in our slideshow below: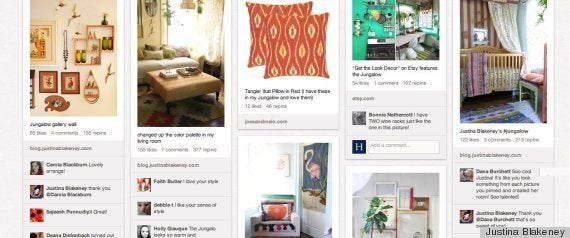 Hot On Pinterest
Do you have a home story idea or tip? Email us at homesubmissions@huffingtonpost.com. (PR pitches sent to this address will be ignored.)
Popular in the Community