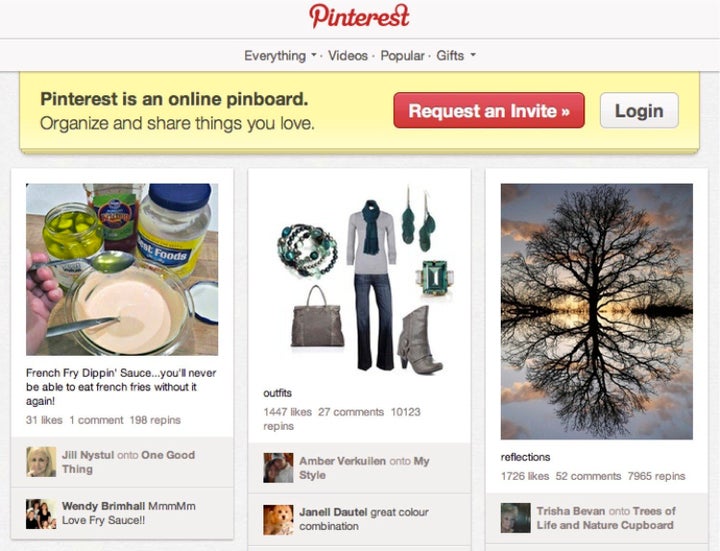 Over the past few months, Pinterest has become the go-to guilty pleasure for many of us. If you're not yet familiar, Pinterest is the recently launched online version of a bulletin board - a place where you can save all your favorite images from across the web and organize them by boards. (Get all the details and score an invite to join here.) Warning: It is not uncommon to lose the better part of an hour to the site, even when you had the intention of "just browsing for a few minutes."
But - while Pinterest is great for checking out new outfits, drooling over tasty-looking food, and picking out furnishings for your future dream house, it can be a great tool for work, too. Here are four easy ways you can bring Pinterest into your job or business.
My desktop is eternally grateful to Pinterest. Instead of saving every image I like to my desktop, I can now pin them and organize them with one simple click. (Plus, I can access the photos easily, from any device with an Internet connection.) And since the source is often linked to the image when it's pinned, I no longer have to worry about infringing on copyright or forgetting where I found the image. Genius.
2. Give a Presentation Some Oomph
Gone are the days of clipping magazines and gluing them to a poster board. And now, so are the days of spending hours in Photoshop trying to figure out how to make a collage. Next time you have to put together a presentation at work or need to convey your vision for a product or project, use a Pinterest board to visually represent your ideas. Then simply link to it in your PowerPoint presentation or take a screenshot and print it on a poster board - neat and simple, and looks great.
Have a brand for yourself or your business? Use Pinterest to help people recognize you as an expert. Want to own a vintage dress boutique someday? Start pinning products from your closet, ads of vintage dresses from days past, or vintage dresses from others' boards that you love, and people will start to recognize you as the go-to source for beautiful vintage dresses. If you're a graphic designer, pin your own work, as well as work that you love from others.
If you're in a less visual industry, you can also post infographics that relate your field, images of work you've done, or books, quotes, or poems that you're reading. And since every pin comes with a source linked, this can also help drive traffic to your site or blog.
Pinterest just cracked the list of Top 10 Social Media sites, so if you use social media to market your company or brand, it's time to consider throwing Pinterest in as part of your mix. Lands' End recently hosted a (quite successful) contest on Pinterest, asking participants to create a pin board featuring their favorite Lands' End products. The 10 people who made the best boards won a gift card - and Lands' End got tons of its products promoted throughout the site.
See what I mean? Pinterest doesn't have to be just about play. While you're being inspired by the stream of new images, you can build your own brand and reputation, plus get a little more organized, too. And have fun while you're at it!

What are some of the ways you use Pinterest?
Born and raised in Ukraine, Yelena moved to the United States at the age of eight. She is currently a marketing and management major at Drury University and the editor in chief of the Drury Mirror. God willing, she is planning on attending law school, starting her own business, launching a clothing line and getting elected to Congress by age 35. Follow Yelena on twitter @yelenabosovik.
Calling all HuffPost superfans!
Sign up for membership to become a founding member and help shape HuffPost's next chapter